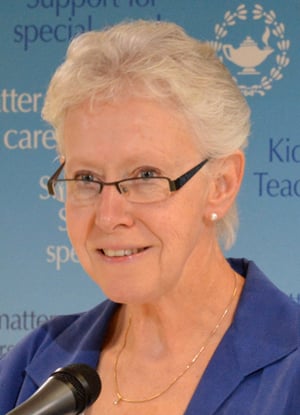 [Editor's note: This is adapted from an address given by BC Teachers Federation president Susan Lambert to members of her union this summer.]
"Discover our own river of revenue at the schoolhouse gates!" -- Brochure advertising the 1997, 4th Annual Kid Power Marketing conference.
Four institutions form the basis of a functioning democracy: universal adult suffrage and a robust electoral process, legal rights to which all citizens are equally entitled, a free press, and of course the most critical institution: comprehensive universal public education.
Each one of these cultural institutions is in danger.
Sometimes, not even half the electorate votes.
Charging hearing fees and limiting legal aid reduces access to legal justice.
The press is increasingly under the monopoly control of people like Rupert Murdoch.
And public education is under attack world wide. It is under attack both by the privateers and the education "reformers."
We are in an era when public education is being radically "reformed" as a private rather than a public enterprise. There are about six key elements to this "reform." They say that:
1. Private alternatives offer parents and students "flexibility and choice" to design their own programs;
2. Promoting competition between schools, through testing and ranking, provides for more efficient and effective service delivery;
3. Policy decisions must be "data driven" to hold teachers accountable;
4. Teacher tenure is bad, bad teachers can be identified through testing and bad teachers must be fired promptly;
5. The lessons of so called "effective" teachers, (those who achieve high test scores) are "best practices" and should be adopted as standard practice; and
6. Class size and composition are not key indicators or drivers of education quality, "teacher effectiveness" is and teacher effectiveness is the only variable that can be modified to increase student achievement.
The so-called debate over these "reforms," especially the debate that pits "teacher effectiveness" against class size is particularly troubling because it is so dishonest.
The entire debate is a smokescreen for privatization. As professor Alex Molnar of the National Education Policy Center at the University of Colorado says, the reform movement is shoving education toward privatization. Private interests must make the case for larger classes because fewer teachers lower their expenses and maximize profit.
Solid empirical evidence and pure common sense tell us that small class sizes benefit students.
But we live in a crazy time. This craziness is not confined to the rural right wing regions of the United States. It's not confined to the likes of Stanford's Eric Hanushek who proposes the firing of the bottom 10 per cent of teachers according to their students' test scores, or Frances Gallo, the superintendent who fired the entire staff at Central Falls High School. No, the so-called teacher effectiveness movement is alive and living right here in the BC Liberals' education plan.
Our B.C. Ed Plan is a panicked and reckless call for rapid change for change sake: envisioning a time when we will all welcome online education for kindergarten children.
The plan emphasizes teacher effectiveness and ignores the context of child poverty, class size and composition.
At the bargaining table our rights were characterized as "impediments" to these reforms.
Our government is so eager to open up public education to the highest bidder that it has set our education system adrift. We're lost in time and space. There are no geographic boundaries that anchor kids in a caring community. School boards no longer have to adhere to a standard calendar: summer vacation is up for grabs and why stop there? Why not schooling 24/7? What makes the weekend sacred?
Of course business welcomes these changes. This from Ian Cook, director of the BC Human Resources Management Association: "School calendar changes make sense for B.C.'s employers, employees and students alike. It's hard to stay competitive when you are used to taking the summers 'off' while your competitors do not... From an employers' point of view, and for the HR people who have to manage the effect of the two month school break, we foresee a scenario where a shorter summer break would encourage productivity... In an increasingly competitive global market, combined with shaky economic conditions, any opportunity to increase productivity for businesses in B.C. is a benefit."
Everything is market driven.
Those who see children's minds as a business opportunity
Entire public school systems in the United States have been sold to private, for-profit corporations. And we're buying into the most powerful privateer in the field: Pearson International.
Pearson, the largest for-profit education corporation in the world, is actively pursuing the market in Canada. It bought BCeSis and is currently promoting a primary student evaluation software package in Ontario.
Pearson and other education corporations created the testing agenda. They design curriculum, script lessons and sell tests. "Failing" schools and entire "failing" districts are then bought and sold to the highest bidder. Pearson has a five year testing contract with Texas that's costing taxpayers nearly half a billion dollars. As Diane Ravitch notes, "An American child could go to a public school run by Pearson, study from books produced by Pearson, and have his or her progress evaluated by Pearson's standardized tests... and the only public participant in the show would be the taxpayer."
A big revenue stream exploited by the privateers is online schooling. It's estimated that revenues from the K-12 online industry will reach $24.4 billion in 2015.
In Virginia last year, a rep of the on-line company Connections Inc. explained that its services were available at three price points per student:
"Option A: $7,500, a student-teacher ratio of 35-40 to 1, and an average teacher salary of $45,000.
"Option B: $6,500 , a student-teacher ratio of 50 to 1, with less experienced teachers paid $40,000.
"Option C: $4,800, and a student-teacher ratio of 60 to 1, as well as a narrower curriculum."
Connections is the second largest on-line school business company in the world with revenues estimated at $190 million. It was acquired by Pearson for $400 million last year.
The frenzy to privatize education in the U.S. is driven by the industry's brilliant public relations and lobbying campaigns that hype testing, the pace of change, rapidly evolving technology and cost saving efficiency, as Lee Fang lays out in The Nation magazine article "How Online Learning Companies Bought America's Schools."
Private education money funding politicians
These companies are major players in American elections. Funding political action committees such as the "Alliance for School Choice" and the "American Federation for Children," they have been pivotal in electing Tea Party candidates and were key in the Wisconsin recall campaign.
The efforts to improve test scores in the States have led to calls for a "common" or "core" curriculum, standardization and teacher scripts. Seventy-one per cent of school districts in the U.S. have cut back on subjects like Social Studies in favour of knowable, testable subjects. Florida has banned the teaching of interpretations of history, avowing that there is only one true record.
The Republicans in Texas this July adopted their political platform, including their intention to outlaw the teaching of higher order thinking skills (a program named HOTS) because critical thinking skills "challenge student's fixed beliefs and undermine parental authority."
And yet, as education researcher Diane Ravitch has argued, "If we think about what our needs are for the twenty-first century, and not just how do we compete in the world but how do we live in the world, how do we survive in the world, we need a generation of people who will succeed us who are thoughtful, who can reflect, who can think."
Meanwhile, Bill and Melinda Gates are now spending 1.1 million dollars to develop a way to physiologically assess students' galvanic skin responses to measure their engagement level and therefore their teachers' effectiveness.
But hidden in all this rubbish are glimmers of hope. Parents are beginning to worry. A study by Ontario's "People For Education" has revealed a drastic decline in the joy of reading over the past decade. The parents think testing, an over emphasis on the mechanics of reading, and the lack of teacher-librarians is to blame.
They say, "If reading scores are going up at the expense of children's acquiring a love of reading, we need to be very concerned."
Well, yes.
Customers or citizens?
In B.C., as elsewhere, we have deified the economy, and with this deification comes a philosophy that everything can be made into a commodity. But that deification, that philosophy comes at a terrible cost.
As professor Molnar writes, "The principal reforms promoted in education policy right now are not reforms associated with education. The reforms are about money. Class size reduction can't be allowed as a policy matter because it directly reduces the trajectory that's being attempted. It threatens the possibility of making a profit."
It all hinges on what we consider to be the purpose of public education. Are we recruiting customers or cultivating citizens?
There are many effective voices calling for an end to the insanity.
Joel Westheimer of York University says that standardized testing focuses us on what John Dewey called "mean and repellant" bits of information.
"Calls for uniformity and standardization and related attacks on teacher professionalism are the greatest obstacles to quality education," Westheimer has said. "The theme is one of an attack on professional autonomy but the effect of testing is not only to shine a spotlight on probably the most meaningless bits of information learned, it also simultaneously darkens other aspects of learning, aspects that cannot be readily tested."
Westheimer believes that current education reform in Canada and the U.S. called 21st century learning, personalized learning or career focussed education is an attack on the very power of public education. "Everyone recognizes the power of teachers and education to shape the world; that's why we frighten some who have a different vision of the world, a vision that devalues the notion of the public commons; there are people who would prefer an acquiescent and compliant population."
Westheimer's mother, as a 10-year-old child, was put on a train by her parents in WW2 Germany to escape the Nazis. She never saw them again. Joel asked his mother what she thought was the purpose of public education. She replied: "To teach children how to recognize good in the world and pursue it."
What teachers stand for
And so, of course there's us. Teachers and teacher unions worldwide are rising up and resisting these attempts to hollow out public education. And that's why we are under attack.
Last year we fought and we won. Let's be clear on the nature of the battle and the significance of the victory. Last year we fought against those who would systematically starve public education in order to promote privatization and we won. It was a trying and tiring year. It required our constant attention, our thoughtful analysis of motive and intent, our agility in determining and sometimes rejecting strategies and our dogged determination to remain strongly united. And we did so because we understood the consequences.
There are those in this world who believe that commodifying everything adds value without penalty. To them public education is low hanging fruit and ripe for the picking and the profit.
But there is an even more insidious view. It's the view of the privateers that democracy has constrained the growth of the free market economy. It's the view that regulations of industry are detrimental to growth, that corporations are persons and must have unfettered rights to exploit opportunity for profit.
Our prime minister is of that view. That's why he has relentlessly gone after the institutions which guard our rights as citizens: the regulatory frameworks that demand companies like Enbridge consider the human and natural environments they operate in; the scientists who have guarded our health, our oceans and forests; the CBC; Stats Canada and unions both private and public.
These people would privatize public education to take control and create a system that produces both profit and compliant citizens.
Our mission as teachers has always been clear: we value and teach the whole child, every child.
Our vision has always been clear: we endeavour to cultivate confident engaged citizens dedicated to the social justice of a better world.
We reject the brutal and snarling, snapping and predatory world of the marketplace.
We reject that ruthless competition and instead work for a world that embraces everyone's right to economic fairness, to freedom from want, from prejudice, and from fear.
We see the world through the eyes and minds of the children we teach, the refugees from Sudan, the children of violence, the children of fear, the anxious children and the children who come to school with every need and emotion satisfied and loved. We see the world in our children and through them and with them we hope to make it a better place.