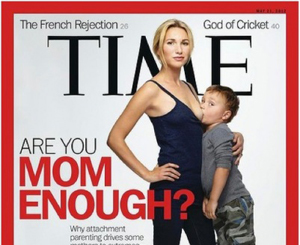 I held my breath as I read my son's Mother's Day card, which featured his dictated response to the phrase, "I love my Mom because..."
I could hear his nasally, barely audible voice going on and on in a stream-of-consciousness monologue. "She loves me a lot and brings me to school," he started out. But I could see where he was going: "...and she sleeps with me in the night," (oops) "and takes me to the store and buys a car" (not every time!) "...and she turns on the TV and gets a movie on the computer for me."
I breathed. There were most of our dirty family secrets. I wasn't sure how his British-educated preschool teacher, a paragon of wisdom and calm, would feel about my undisciplined bedtime routine. I knew she wouldn't approve of the simultaneous Treehouse and Netflix-viewing. But I was spared. He had omitted the one thing I definitely didn't want anyone to know. I imagined him drawing out the memory: "she helps me ride my bike," he would whisper, "...and she lets me hold her milk."
That's his own euphemism for sticking his hand down my top and grasping on for what seems like dear life. Breastfeeding is a not-so-distant memory to him, which puts me in the category of "extreme" mom along with Jamie Lynn Grumet, a lactation consultant who appears on the cover of this week's Time magazine blissfully suckling her three-year-old.
Attached and dangerous
The image (with the headline, "Are you Mom Enough?") illustrates a story about Attachment Parenting, a philosophy developed by Dr. William Sears, whose first of many books on the subject was published 20 years ago. A popular speaker and pediatrician, he recommends bonding with your baby through such practices as co-sleeping, baby-wearing, breastfeeding, responding to your baby's cries, and avoiding techniques like "crying it out."
Lots of things are being said and snickered about Attachment Parenting and Jamie Lynn Grumet this week, on talk shows and Twitter and playground benches, and the reaction has the kind of vitriol that you might expect if she were promoting peanuts. The comments I've read generally fall into two categories. The first criticizes what she's doing ("It's not natural!") and makes all kinds of assumptions about her. She is called dumb, she is called sick, she is called a child molester. There are a few thumb-typers who express a self-righteous concern for the boy: "This kid will have a hard time in middle school," and others get much worse.
The second group are those who might support the notion of "extended breastfeeding," but not the way Time has portrayed it. Again, she is castigated for her age (at 26 she's not representative of most AP moms), the way she's standing (Mom and child are not bonding), and the controversy she's creating. "This picture set breastfeeding back decades by sexualizing it!" or "It angers me because it portrays AP moms as being totally extreme." Lots is also being said about media sensationalism, as if the editors at Time didn't know exactly what they were doing.
I'm not sure there's anything new here. As for the "shocking" and "deeply disturbing" photo, didn't everybody grow up browsing their parents' back issues of National Geographic? Remember in 1991 when Demi Moore posed naked and pregnant on a Vanity Fair cover? She was accused of sexualizing pregnancy, a notion that's well illustrated today in the tabloids fawning over celebrity "bumps." My guess is that this image will follow that same trajectory: from object of scorn to parody to imitation to shrugs. This will probably happen well before little Aram gets to Grade 7.
Lots of things are also being said about attachment parenting, and the Time article doesn't really do it justice. Dr. Sears, for example, is described hyperbolically by writer Kate Pickert as having brought America "to a point where mothering in particular requires more physical and emotional investment than perhaps ever before." Well, my great-grandmother had 12 kids on a farm. No matter how many hours I might spend "wearing" or "co-sleeping" or "bonding" with my two sons, nobody could possibly assume I made anything close to her investment.
To its credit, the Attachment Parenting website acknowledges that a lot of people use these strategies instinctively. It also includes information on things like bottle-feeding, and insists that it is about "tools, not rules." Some AP parents come off a bit smug, which you might read in Grumet's expression, and the superior tone probably doesn't help them. But the philosophy itself is far less strident and prescriptive than The Conflict, a crotchety book published recently by French academic Elisabeth Badinter. She bemoans the "tyranny of the suckling baby," the pressures of natural parenting, drug-free childbirth, co-sleeping, and using cloth diapers. She berates women like me for backtracking the progress of feminism. "The decision to step out of the workforce to devote themselves to their children is setting the cause of equality back to their grandmother's generation," she told The Globe and Mail.
'Narcissism of Small Differences'
Jamie Lynn Grumet pretends to be surprised by all the fuss. "There seems to be a war between conventional parenting and attachment parenting, and that's what I want to avoid," she tells Time. If this is a "war," it reminds me of the one in Dr. Seuss's The Butter Battle, in which the Yooks and the Zooks come to the brink of mutual destruction over their opposing preferences for toast with the butter side up vs. the butter side down. We're arguing about pushing a baby in a stroller or carrying him in a sling, about labeling labour as "contractions" or "surges," and whether parents should Attach to their babies or attach to their babies. A recent study finds no difference in behaviour or social development among children who "co-sleep" with their parents and those who don't. I suspect similar conclusions would be drawn about children who are breastfed for three months vs. three years.
I feel I should explain myself. I didn't read any parenting books or know anything about Dr. Sears when my kids were born. My "decision" to breastfeed a preschooler was more of a forfeit. I tried to make him quit, with toys, candy, reason, and a three-day trip to Banff alone. The boy is a scrawny little imp with long arms and big ears; people say he looks like Cindy Loo Who. But his anger is something to behold. He would wake me up at four in the morning, ornery and confused, and nothing but a fix would put him back to sleep. It seemed really important to him, and not important to me.
Now perfectly ready for kindergarten, he shows none of the psychological problems diagnosed by laptop quarterbacks. He tantrumed his way onto his older brother's baseball team and is doing just fine. He's a bit of a distraction to teammates in the outfield, but he can hit live pitches, and when he doesn't trip over the hem of his baseball pants he usually gets to first.
I think this controversy can be explained by a Freudian theory: not Oedipus, but the Narcissism of Small Differences. It means essentially that we harbour our most virulent emotions towards others who resemble us the most. We fixate on the miniscule details that differentiate us, because we want to feel special. You were blindsided by irrational feelings when you saw your slimy little newborn for the first time. You want to feel that your experience of parenting is unique, that no one else could be doing as exceptional a job as you are. When you're questioned whether you are "mom enough," you get your back up. So do I.
Why don't we talk about big differences instead? Children born in poverty, for example, whose mothers can't afford a sling. The fact that more than one in seven Canadian children live in poverty. Compared to their more affluent peers, they are more likely to have behavioural and social problems, to be obese, to go to jail, to have drug problems, to be hospitalized, and less likely to get good educations and jobs. The fact that Canada is ranked 13 out of 17 similar countries, that B.C. has the highest provincial rate, and that the problem is getting worse. Is that shocking? Is that deeply disturbing? Can we all Twitter about that?