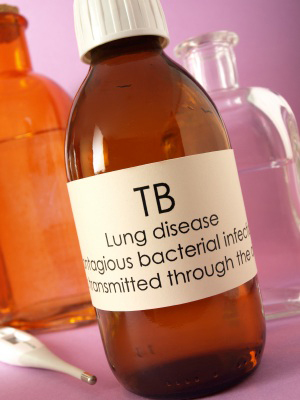 An obscure report from researchers in India appeared online late last year and sent a shiver through the medical community. In the weeks since then, the report has come under close scrutiny. As well it should, since it suggests we could lose a century of progress and find ourselves dying in the millions from tuberculosis, just like our 19th-century ancestors.
According to the original report, published Dec. 21 in Clinical Infectious Diseases, a hospital in Mumbai, India had identified 12 TB patients whose disease resisted all antibiotics. Nothing worked with them. All the patients appeared to have strains of TB known as multi-drug resistant (MDR-TB) and extremely drug resistant (XDR-TB).
They had been given antibiotics, but had not completed their course of treatment. Or they had been given the wrong antibiotics altogether, a common experience worldwide. Anything that doesn't kill the TB bacillus makes it stronger, and the doctors at PD Hinduja Hospital found nothing that could kill these patients' TB. As an Indian news report began, "This is as scary as it can get."
Scary, but not surprising. Ever since the advent of sulfa drugs and penicillin, we have been locked in an arms race with bacteria. Antibiotics originally had wonderfully lethal effects on many infections. But in some cases a few bacteria had genetic resistance to a given drug, or the treatment wasn't long or intense enough. Either way, the survivors learned to best such drugs. We came up with new drugs, and again they worked -- until a few bacteria survived and multiplied.
The age of superbugs
This is why we now have "superbugs" like MRSA (multiple-drug-resistant Staphylococcus aureus) and C. difficile, which spread easily in hospitals. In 2005, 94,000 Americans contracted MRSA and 18,650 died from it -- more than died from AIDS. In Canada, an estimated 220,000 hospital-acquired infections result in at least 8,000 deaths a year.
According to the Public Health Agency of Canada, drug-resistant TB is not yet a problem here. But out of 18,000 cases studied between 1998 and 2010, 210 (1.2 per cent) were multi-drug-resistant and five (0.03 per cent) were extremely drug-resistant.
So the report of a totally drug-resistant tuberculosis in India was not welcomed, in India or anywhere else. An Indian paper added to public worries by reporting in mid-January that out of 100 randomly selected TB patients in Bangalore -- almost 1,000 kilometres from Mumbai -- six were carrying the "TDR" strain.
Impossible to contain
A quick search on Google Scholar shows that the 12 Mumbai patients were not the first. In 2006, an Iranian team in Tehran had identified 15 TDR-TB cases in patients who included immigrants from Afghanistan, Azerbaijan, and Iraq. And two women in Italy had died in 2003 after years of unsuccessful treatment with all available drugs.
This untreatable TB strain, in other words, has been around for over a decade, and it has now turned up from Italy to Mumbai. It seems unlikely that we will be able to contain it. We can expect to find it in more places, if only because we'll now be looking for it.
The implication of TDR-TB is of course a rollback to the 19th century, when "consumption" was a major cause of death around the world. It is still a threat to poor people; the World Health Organization says that "one-third of the world's population is currently infected with the TB bacillus." WHO also estimates that 1.7 million people, mostly Africans, died of TB in 2009 -- 4,657 deaths every day of the year.
So the prospect of untreatable TB is a disturbing one. WHO notes that in the Americas, only 2.1 persons per 100,000 die of TB. With a totally drug-resistant strain, that rate could easily exceed Africa's current rate of 50 deaths per 100,000.
Not everyone accepts the Mumbai findings. The British medical journal The Lancet has reported on them without objections. But WHO has published an FAQ that takes issue with the whole idea: "the term 'totally drug resistant' tuberculosis is not yet recognised by the WHO. For now these cases are extensively drug resistant tuberculosis (XDR-TB), according to WHO definitions."
Indian health authorities have been quick to support WHO. The Ministry of Health and Family Welfare also dismissed the Mumbai cases as XDR-TB (which itself was appalling when WHO first defined it in 2006).
Grounds for caution
Both institutions have reason to be politically cautious. WHO was sharply criticized in 2009 when it declared the H1N1 flu to be a "pandemic," though very few people died from it.
India actively promotes medical tourism, inviting westerners to take advantage of cheap surgery. When the super-resistant NDM-1 enzyme was identified last year in India, the government and medical experts protested that it was just a plot to hurt the medical tourism industry. Their effort at damage control backfired, so WHO's skepticism about TDR-TB was welcome.
This new strain of TB may yet succumb to some antibiotic we'll discover before long. But even if we do succeed in controlling it, our victory will be short-lived. TB and a host of other diseases will always mutate one step ahead of us. Until we remove their root causes -- poverty, malnutrition, poor sanitation, ignorance -- we will remain both their victims and their allies.