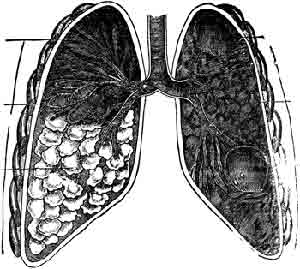 The story line is reliable, says Dr. Kevin Patterson.
"Granny starts coughing" and "losing weight" and then the "night sweats" start.
It sounds like a bad case of the flu and at first that's what it feels like. "It's not something that falls on you like a ton of bricks, like other infections might, it's usually a slow moving process," he says.
Granny doesn't like going to the doctor so she puts up with "the flu" for two months, until she's "lost 30 pounds."
When she starts coughing up blood, she finally gives in. By that time, the grandkids are coughing too.
"I don't know the death rate, but it certainly is regularly lethal," says Patterson. He's speaking of tuberculosis, a disease that most Canadians never encounter except perhaps in a storybook set long ago. Hasn't TB long been banished from developed countries like Canada?
No it hasn't. Canada's TB incidence rate was 4.8 cases for every 100,000 people in 2009, a bit better than Australia (6.4 per 100,000) and a bit worse than the U.S. (4.1 per 100,000).
But TB in some of Canada's First Nations communities is far more prevalent. The rate among Aboriginals living on reserves, in fact, is 31 times higher than among non-Aboriginal Canadians, while among the Inuit the rate is 185 times higher, according to evidence presented for a 2010 report by the House of Commons Standing Committee on Health.
And Patterson is all too correct that tuberculosis kills. One out of 25 First Nations TB cases ended in death in Canada between 1990 and 2000, according to Health Canada. Older Aboriginal people are particularly vulnerable; one in five with TB over the age of 75 died.
"Tuberculosis is fundamentally a flag for poverty" says Patterson, who knows first hand. Every year since 1995, he has spent a few weeks working in northern Inuit communities. Tuberculosis, he says, is "a barometer of social privilege and the fact that no TB exists in the south among Caucasians, for all intents and purposes, and that it's highly prevalent among the reservations and among the Inuit is just the most graphic evidence of the extent of the disparity."
Patterson says this as his sail boat, The Sea Mouse, heads out of the harbour on Salt Spring Island, beginning the first leg of a sailing trip to Desolation Sound. Patterson, who allowed a reporter to sail along with him for a day, lives on Salt Spring and works at the hospital in Nanaimo. He is a well-known author who has written a memoir of sailing from Vancouver Island to Tahiti. He also has written a novel, Consumption, about how life in northern Canada changed drastically in the latter half of the 20th century and the role played by tuberculosis, formerly called consumption, in advancing these changes.
If Patterson seems consumed with the persistent toll taken by TB, he explains why as his boat slowly makes headway. "It's a manifestation of poverty and crowding." Housing in many indigenous communities is "desperate," he says. "The fact of endemic tuberculosis really reflects that."
A new strategy
Many working in TB prevention and control are hopeful a favourable shift in the wind is about to occur.
The First Nations and Inuit Health Branch of Health Canada is releasing an updated version of its 1992 TB Elimination Strategy later this year. The new strategy, called the First Nations and Inuit Health Branch National Strategy Against TB, 2011 will "reflect current knowledge, best practices and lessons learned since the 1992 release," according to an email from a Health Canada spokesperson.
The strategy is meant to include national targets that will assist in evaluating TB programs. It is unclear whether the new strategy will also adequately address the social conditions that allow TB to run rampant in Aboriginal communities, an aspect that Patterson and others say is key to effective prevention and control.
In response to questions regarding the inclusion of social targets in the new strategy a Health Canada spokesperson replied, by email, that the strategy "encourages collaboration within Health Canada and among key partners" to address the poor social conditions. Key partners mentioned specifically included: the Assembly of First Nations, Inuit Tapiriit Kanatami, First Nation and Inuit communities, provincial governments and health authorities, Aboriginal Affairs and Northern Development Canada and the Public Health Agency of Canada.
The response also says that the government has made significant investments to address these social conditions but that "improved collaboration among partners is essential to further reducing the incidence and burden of diseases."
"TB is a medical diagnosis, but it's a social disease," says Gail Turner, chair of the Committee on Health for Inuit Tapariit Kanatami, a national Inuit advocacy organization. TB rates have increased among the Inuit over the past 10 years and her organization is creating its own TB strategy designed specifically for Inuit communities.
TB is caused by Mycobacterium tuberculosis, bacteria that usually affect the lungs. It is spread when someone with active TB coughs or sneezes, releasing the bacteria into the air. If a healthy person is exposed to active TB, the infection could remain latent, reactivating at a later time if that person's immune system is weakened.
Crowded housing has long been considered a key risk factor for the spread of TB and just like the disease itself, northern Canada suffers a disproportionate percentage of housing needs in Canada.
The Conference Board of Canada's Centre for the North reported last year that up to 25 per cent of homes in northern Canada are crowded, compared with up to nine per cent of homes in southern Canada.
According to Health Canada, "First Nations communities with higher average housing densities have higher TB rates."
Patterson prescribes more and better housing.
"I think you prepare a grid of the First Nations communities with the highest TB prevalence and incidence rates and you just go in and the first step of the response is medical, screening and contacts the next step is that summer you build 50 houses and keep doing it until the TB rate goes down. And it will. Every time there's a TB outbreak, that's just an argument for building 100 houses," he says.
Turner cites another key factor in the fight to reduce TB: ready access to healthy food. Patterson agrees, based on what he's observed first hand.
"It's often people who are vulnerable for other medical reasons who develop tuberculosis which makes it doubly dangerous," he says. Consider, he says, the nutrition-sensitive illness of diabetes.
"Diabetes can be thought of as being to the indigenous people of North America what HIV is to Africa," he says. It "causes impaired immune function in anyone that has it, especially if blood sugars are poorly controlled."
According to Health Canada, "before, older people used to get diabetes, but now, Aboriginal people are getting it a lot younger because their traditional lifestyle has changed so fast." Eating healthy foods is the government's number one suggestion for avoiding diabetes, something that might be difficult for a community suffering from widespread food insecurity to do.
The exact interplay of TB and diabetes isn't clear yet, but Patterson says "anything that makes you sicker... increases your risk of TB."
Very clear is the link between TB and HIV.
According to the WHO, "the risk of developing tuberculosis (TB) is estimated to be between 20-37 times greater in people living with HIV than among those without HIV infection."
Patterson says HIV has not "gotten loose" among Aboriginal people in northern Canada to the same extent as on the West Coast, "but if that ever happens, TB will become a much more serious problem."
That much more serious problem may not be too far away.
"It appears that HIV rates have been steadily increasing in First Nations and Inuit populations. They are at increased risk for HIV infections for several reasons. Social, economic, and behavioural factors such as poverty, substance use, including injection drug use, sexually transmitted diseases, and limited access to health services, have increased their vulnerability," according to Health Canada.
The medical response
When tuberculosis takes hold in a place, says Dr. Pamela Orr, a professor of medicine at the University of Manitoba, the burden increases sharply on local health workers who already may be struggling with few resources in remote places.
Where "there's a very high rate of TB, they need a lot of local workers to deliver care and provide education to the community," says Orr. "They need more nurses."
Even a single TB diagnoses in a community can mean a lot of extra work for a community health nurse or worker, says Dr. Victoria Cook, the director of Tuberculosis Services for Aboriginal Communities, a department of the B.C. Centre for Disease Control.
Diagnosing someone with TB means starting him on treatment and making sure the treatment is going smoothly, says Cook, but "there's also the follow-up."
"TB is spread through the airborne route so it's something that can be spread from person to person," she says, and "there's a lot that goes into what we call contact tracing."
Contact tracing involves identifying people that may have been exposed to TB through contact with a patient, testing those contacts for TB and starting them on treatment if necessary. Potential contacts include family members, friends and health care workers. Effective contact tracing takes a lot of time says Cook. "It can be quite onerous."
According to Orr, technological resources are also in short supply in some areas.
For instance, "on the Labrador coast many of the communities don't have x-ray machines, so people have to be flown out if they have a cough," she says, "and their system of trying to get a sputum [sample] from a patient to a lab is difficult." Sputum is mucus that is coughed up from the lungs and is used to test for TB.
A spokesperson from Health Canada said in an email to The Tyee that "in 2011-2012, Health Canada is investing more than $9 million to support TB prevention, treatment and outbreak control for First Nations on-reserve across Canada and Inuit in Nunatsiavut."
Health Canada had not responded to a follow-up question asking how the $9 million would be allocated by posting time.
Targets and accountability
When the new First Nations and Inuit Health Branch National Strategy Against TB is released in the coming weeks, many on the front lines will be looking for benchmarks that can be used to hold authorities accountable for achieving progress.
Targets are crucial, says Orr, for understanding what's working and what's not in terms of TB programming. Right now, she says "there are no national performance targets that apply across the country for the general population or for sub-groups like the Aboriginals."
Cook, from the BC Center of Disease Control, says the new strategy should have ways of tracking how quickly and thoroughly First Nations are treated for TB. The plan could look at "what percentage of active cases of tuberculosis get started on treatment within the first 24 hours, what percentage of active cases of TB are treated with Directly Observed Therapy, what percentage of active cases of TB complete their treatment... how many people screened for tuberculosis actually get put on treatment for latent infection" and "looking at how many contacts are screened."
These "are absolutely reasonable targets to look at," Cook says "and are things that are useful to compare, not only internationally but actually from province to province."
"Part of the challenge has been... looking at accountability and outcome measurement," says Turner, of the Inuit Tapariit Kanatami's Inuit Committee on Health.
Turner says the best chance to eliminate TB in Inuit communities is with "an Inuit specific" strategy that is "designed by Inuit, delivered by Inuit." The ITK TB strategy is going through approval stages within ITK now.
In the meantime, those on the front lines against TB wait to find out how ambitious will be the new national strategy. Given that rates are highest among Aboriginals, The Tyee asked both the Public Health Agency of Canada and Health Canada to provide what, if any, specific targets related to Aboriginal communities will be included in the new strategy. PHAC's spokesperson sent an email with a target number for the general population instead, saying, "the strategy outlines a course of action to help reach the TB target incidence rate of 3.6 cases per 100,000 people by 2015 in Canada, in the spirit of the Global Plan to Stop TB." The Global Plan to Stop TB is a comprehensive plan for eliminating TB as a global public health issue.
Kevin Patterson is eager to see what new map the government is preparing to deal seriously with tuberculosis among the Aboriginal people he's come to know over the 16 years he has visited their communities and tended their sick.
"You can't have 15 people in a three bedroom house for about 100 different reasons, one of which is TB," he says. "And if the other 99 aren't good enough reasons, then we can use TB as a reason to improve the housing issues on reservations."
Patterson's boat chops through the waves as he considers Canada's response so far to TB and its social causes. He scans the horizon, and finds a word. "Shameful."