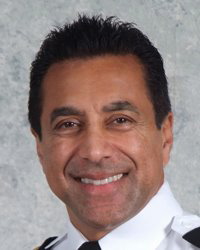 BC Liberal MLA Kash Heed's 2009 campaign manager, Barinder Sall, is alleging additional election overspending took place -- and the NDP is calling for a new investigation after Sall pled guilty Friday to Election Act violations.
Sall alleged in media reports since sentencing that "close to $40,000" in election spending was not accounted for, on top of $5,500 in overspending Heed has already admitted to and been fined $11,000 for.
Sall also alleged that additional amount includes two cheques for $6,000 issued to him and campaign worker Sameer Ismail from Heed's government-funded constituency account a month after the election.
That issue was first raised by 24 hours newspaper and The Tyee last month but not discussed in court Friday.
Forensic audit ruled out Sall's version: Heed lawyer
Heed's lawyer, David Gruber, in an interview Monday, strongly rejected all Sall's allegations.
"Mr. Sall is telling people there was $30,000 or $40,000 extra spent. In the forensic audit Blair Mackay Mynett did, I'm confident they would have found any other overspending," Gruber told 24 hours and The Tyee, declining further comment.
Both NDP MLA Leonard Krog and Heed's 2009 NDP opponent Gabriel Yiu are calling for a new Elections BC investigation.
B.C. Solicitor General Shirley Bond told Krog in the legislature Monday to contact the police if he has new information.
Elections BC's Don Main acknowledged receiving the requests but had no comment.
Repeated messages to the BC Liberal Party communications director, Jehn Benoit, were not answered by deadline.
Heed campaign manager's plea bargain
Sall admitted to wrongdoing in a guilty plea bargain deal that saw serious Criminal Code obstruction-of-justice charges dropped that could have brought up to a 10-year jail sentence.
Instead Sall was fined $15,000, given one year's probation and ordered to perform 200 community service hours.
The charges came after Heed's campaign distributed a vicious and inaccurate leaflet trashing the NDP but didn't report the costs -- exceeding election spending limits.
Sall and the leaflet mailing firm owner, Dinesh Khanna, admitted lying to mislead RCMP and Elections BC.
Khanna was fined $6,000, given 90 days probation and 50 hours of community service.
But no explanation was made in court about the $6,000 in cheques paid to Sall and Ismail.
Sall alleges in media reports he used the constituency account money to pay for the leaflet.
But Gruber told 24 hours last month that Heed signed both cheques because he "understood the cheques to be for services rendered to the constituency office."
'Matter is over... move forward': Heed
And late Monday Heed issued his own statement saying: "This matter has been thoroughly examined and a forensic audit has been conducted. The matter is over and it is time to move forward."
During sentencing on Friday, provincial court Judge Joe Galati told Sall and Khanna that: "They should consider themselves fortunate in the outcome of this case. Both of them, but especially Mr. Sall, had taken actions to circumvent the laws."
But Galati said he took into account that both men had no criminal record, showed remorse, were of past good character and had pled guilty, making a three-week trial unnecessary.
Yiu said outside provincial court in Vancouver that he was "very disappointed in the sentence," while NDP MLA Bruce Ralston said the case leaves Heed's legitimacy as an MLA in doubt.
"The laws were broken outrageously," Ralston said. "Voters must be asking themselves if it was a fair election."
'Sad precedent for democracy': NDP's Yiu
Yiu was even more critical about the whole situation.
"This is a sad precedent for democracy in B.C. -- will the RCMP actually spend the time to investigate Election Act violations in the future?" Yiu asked.
In court, Special Prosecutor Peter Wilson outlined the details of the plea bargain and how Crown and defence counsel had agreed to a statement of facts in the case.
The charges came after a complaint from the NDP when a Chinese-language leaflet appeared in the riding falsely claiming that the party would legalize cocaine, heroin and prostitution as well introduce a "death tax."
The statement of facts also says Sall arranged for $5,900 worth of radio advertising on Fairchild and AM 1320 -- Chinese radio stations -- and disguised the expenditure as third-party advertising by two persons who did not sponsor the ad. Sall paid for the ads through his business.
Sall a convicted 'pariah': judge
Sall's lawyer Richard Peck made a lengthy statement about the significant negative impact the charges had on Sall's reputation and ability to earn a living.
"This has been terribly depressing for him. He was on the cusp of signing a very significant consulting contract when this broke -- he did not get the contract. He has not been employed since April 2010, has incurred substantial debt, spent his life saving and some of his RRSPs and has been shunned by organizations he was involved with," Peck said.
Wilson agreed in his summation, explaining in part why he agreed to the sentencing deal.
"Mr. Sall has become a pariah in the community," Wilson said.
Khanna's lawyer David Unterman also said his client, owner of North American Mailing, has suffered since the events of May 2009.
"His business has become terrible as a result," Unterman said, noting that Khanna was "relatively unsophisticated with regard to the Elections Act."
Sall and Khanna were both given two years to pay their fines.
[See similar Tyee stories in: Politics and Rights and Justice.]