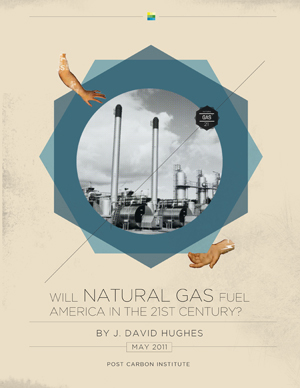 For several years now, the natural gas industry has been exclaiming Hallelujahs about the marvels of shale gas with the passion of a church choir belting out Handel's "Messiah."
The hallelujahs, which spring from the U.S. Energy Information Administration (EIA) or the likes of Chesapeake Energy ("American's Champion of Natural Gas"), come in three happy choruses.
The first says that the shale gas revolution will miraculously create 100 years worth of methane; the second chorus maintains that the price of natural gas, a volatile commodity, will stay low for decades; and the last chorus says that natural gas will green the economy and arrest climate change. Hallelujah.
But a new report by J. David Hughes, one of North America's foremost coal and gas experts, challenges every single one of these faith-based assumptions with hard science and clear-eyed math. In the stunningly lucid 64-page report for the Post Carbon Institute, Hughes squarely concludes that all three assumptions are highly questionable, if not total "impossibilities."
Hughes is no wide-eyed greenie or industry basher. He happens to be one of Canada's most credible energy scientists. The geologist worked for Natural Resources Canada for 32 years and mapped Canada's coal and coal bed methane fields. He has also served on Canada's Natural Gas Potential Committee and is regarded as one of the continent's top global energy analysts. (B.C. politicians take note: Hughes lives on Cortes Island on the West Coast.)
"Natural gas is a truly important resource. But industry has overblown what shale gas can do for us," says Hughes. "Shale gas is an exercise in creating greater complexity with lower and lower returns."
Shale industry 'hubris'
Until shale gas appeared on the scene, analysts predicted a high noon for natural gas. Gas production in the U.S. peaked in 1973, and has been on a bumpy production plateau ever since. But then companies started to use horizontal drilling, combined with hydraulic fracturing, to open deep rock formations once considered as inaccessible as bowhead whales in the Arctic.
Hydraulic fracking, a high-energy technology that uses millions of gallons of water, sand and toxic chemicals to blast open methane trapped in dense rock, created a shale boom from Pennsylvania to northern B.C. and beyond.
The fracking energy binge, which industrializes rural landscapes, sparked moratoriums in Quebec and New York due to widespread concerns about surface and groundwater contamination, and earthquakes from reinjected fracking fluids. U.S. Energy Minister Steven Chu just ordered a high level investigation on fracking issues. Even France has banned the practice to protect its water-dependent cheese makers and grape growers.
Although T. Boone Pickens, the natural gas lobby and some environmental groups now champion shale gas as a "transition fuel" that could possibly retire coal plants and even power vehicles, Hughes says the real production numbers don't add up without unprecedented levels of drilling.
For starters, industry hubris simply defies the law of thermodynamics. From 1990 levels, U.S. gas drilling tripled to 33,000 wells per year between 2006 and 2008 before collapsing back to 20,000 wells. In order to build a modest 21 per cent increase in natural gas production, the gas industry constructed a complex infrastructure nearly 100 per cent larger than what previously existed in 1990.
"What matters are flow rates and how fast the gas can be produced," explains Hughes. "There may be 100 years worth of methane in the ground, but it may take 800 years to produce it." Meanwhile, conventional gas production in both Canada and the U.S. is declining rapidly. In other words, shale gas might temporarily replace some of the air leaving the conventional gas tire -- but not for long.
Extreme, expensive, emissive
Next come the resource's extreme economics. A shale gas well with multiple fracks costs between $2 million and $10 million to drill. But unlike a conventional well, which declines between 25 and 40 per cent in its first year of production, a shale gas well drops like lead from 63 to 85 per cent. So, an initial whale of a return bought by fracturing an industrial scale land base (and watershed) abruptly becomes a sardine in short order.
Due to the high amount of capital, energy and water needed to frack a formation at high pressure, shale gas is expensive and is only economic in the best portions of today's shale plays. But due to over-drilling and the recession reducing demand, the actual market price has sunk to below the cost of production in many areas.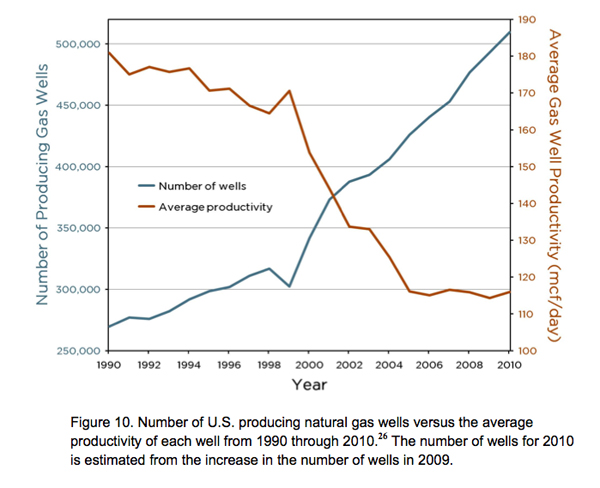 This explains why many producers have shifted their activity to shale oil exploration or sold a portion of their assets to foreign companies. (The British Columbian government has unwisely subsidized shale gas drilling with roads and low royalties and other billion dollar giveaways.)
"One thing is certain," adds Hughes. "Shale gas is expensive gas, much of which is marginally economic to non-economic at today's gas prices. The resource will require unprecedented rates of drilling to grow production, and we will need higher prices to justify that. We'll have to carpet bomb landscapes in Pennsylvania and New York with rigs and gas production infrastructure -- those folks haven't seen anything yet."
Last but not least, Hughes demolishes the claim that shale gas is green. For years, scientists generally assumed that the burning of natural gas produces 44 per cent fewer greenhouse gas pollutants than coal. But that's no longer true.
A recent study based on U.S. Environmental Protection Agency data, for example, found that the cleaner-than-coal claim fell to 25 per cent or less when scientists included methane leaks or "fugitive emissions" from wells and pipelines.
Two Cornell University studies went even further. After accounting for methane vents and leaks over the lifetime of a gas well, (and methane is a much more powerful climate changer than CO2 over the first few decades), these studies found that shale gas has few or no climate change benefits.
According to Hughes' analysis, shale gas repeatedly comes out a loser compared to dirty old coal for power generation over the next half century.
He concludes: "Best technology coal compared to best technology gas produces less emissions over a 50 to 60 year time frame... Thus, the concept of natural gas as a low-carbon bridge fuel to a future powered largely by renewable energy is cast in considerable doubt as a strategy to reduce global warming. Employing the best available methane capture technologies could reduce this impact, but shale gas would still be worse than coal over a 20-30 year timeframe because of the near-term global warming potency of methane."
'A small but important flame'
Asked if his U.S. report applies to Canada, Hughes replied "mostly yes." Since 2001, Canada's marketable gas production has declined by 18 per cent. Alberta's gas production (74 per cent of Canadian production) will drop by 44 per cent from 2006 levels by 2019, according to the Alberta Energy Resources Conservation Board. Given a National Energy Board prediction that shale gas will account for only 3.5 per cent of supply by the end of 2012, Hughes doesn't think that shale gas will begin to make up for conventional gas production declines.
"Why are all these companies planning on building a gas pipeline to Kitimat with an LNG terminal to export Canadian gas? It really leaves me scratching my head, except for the shale gas growth hype and the fact that global LNG prices are much higher than North American gas prices currently."
The implications of the Hughes report are disturbing. Without dramatic reductions in consumption of fossil fuels from outright conservation to energy efficiency (he strongly recommends more co-generation and targeting fuels to their highest-value applications), the rapid exploitation of shale gas will only confirm Eric Sevareid's law: "the chief cause of problems are solutions."
Moreover, "the growth mindset that has served us so well for the past few centuries no longer suits the situation we find ourselves in. Fossil fuels are a finite, one-time resource. Neither natural gas, nor oil, nor coal can fuel the 21st century to its end in the manner which we have become accustomed."
But that's not what industry or captured regulators are telling the public. "The people who own centre stage right now are the natural gas lobby," says Hughes. "The big picture analysis of where this is taking us and future generations really doesn't have much of a voice."
So the truth on shale gas burns down to this: It's a small but important flame. Due to extreme depletion rates and costly economics, it won't fuel the future or replace coal or imported oil. Like Alberta's dirty bitumen, the resource requires such high water, energy and environmental costs, that regulation must demand greater accountability. Incredibly, the resource may produce more global warming gases than coal.
What industry once pronounced as a "game changer," looks and sounds more like an Elmer Gantry sermon than Handel's "Messiah."