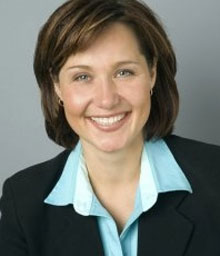 Like any good actor, Christy Clark kept us waiting before she finally raised the curtain. Her candidacy is the biggest story of the Liberal leadership race so far, though it almost lost its spotlight to a skirmish on stage left at NDP HQ over the weekend.
Sure, some of the buzz is because she has some small talk show fame, because she's a quasi-outsider with fresh blood needed by a party stale in voters' hearts while still being familiar (even though her past could haunt her, too). But I think much of the stir is because she's a woman.
We're a long way, though, from even the arrival of Carole James into the role of party leader just seven years ago. The political stage is being redrawn when it comes to female politicians as Clark steps on to it, ready to perform.
Clark's bid comes on the (high) heels of arguably the most significant election for women in the history of the world. The last U.S. presidential election saw more women run, more types of women run, and more interest in them in the U.S. and the rest of the world, including north of the border. So while Clark has been around for a decade in elected politics and another four years as a talk show host, she may be able to behave very differently as a female leader than she could have even when she was in office last.
'Big Girls Don't Cry'
In Big Girls Don't Cry: The Election that Changed Everything for American Women, Rebecca Traister writes about how a woman, Hilary Clinton, won a state presidential primary contest for the first time in U.S. history, and about how less than a year later, a candidate for vice president, Sarah Palin, concluded her appearance in a national debate by reaching for her newborn baby. More women affected the course of the election (Katie Couric, Rachel Maddow and Tina Fey, and so on). And people were riveted by that election politically, psychologically, culturally and emotionally. Traister says that the hunger to see Clinton and Palin actually compete against each other is "greater than any other political hunger this country has known for a long time. When I talk to people about their fantasy match up, that's it. There are all kinds of reasons for that, many of which are weird and fetishized," but that deep curiosity exists nonetheless.
So even though a big female match up currently isn't on the program, Clark's run for centre stage still holds a lot of fascination.
And yes, there have been female leaders before, at the provincial and national level. But until very recently, including James, female leaders tended to be older and experienced, like Margaret Thatcher and Madeleine Albright, and more recently, Nancy Pelosi and Hilary Clinton. "It had often been single, childless women or women whose children had grown and left the nest, so no one could attack them for running for office with young children," argues Traister.
But the last U.S. presidential and mid-term elections saw lots of young women run -- even ones in their 40s or 30s who had young children. There were a few women of this new type before that, of course. Belinda Stronach being one. But now, because more women have entered the ring, it feels like it's reached a kind of tipping point. And because there are more women, and more types of women, it means there's room for lots of different kinds of behavior and identity.
Putting family first, Clark style
On the Bill Good show Wednesday morning, Clark talked about how her platform will put family first. Good said, "People will challenge you on putting family first when go to a job that is going to be a 24-hour a day, 7-day a week job when you have a young family."
To which Clark responded, "Steven Harper manages to go home for dinner with his kids every night, or most nights when he's in the country, and he has breakfast with them in the morning, and he's a pretty busy guy. He does a pretty good job.
"Every family has their own circumstances and makes their own decisions. I've talked about this with my family. My son is no longer a toddler. We've had this conversation. And we can handle it." Zing.
On the one hand, I doubt Bill Good would ever ask a man about whether his family can handle his career in politics, even if the man said he was making "family" a key plank in his platform. But on the other, Clark's confident answer was enough to move the conversation to the next topic -- something that wouldn't have happened so lightly in the past.
Another reason Clark's bid holds appeal, politics aside, is because it's a chance to see what kind of role she plays as a woman in power, and see what kinds of female characteristics resonate with voters. In the U.S., the two competing female types were a young, attractive, charismatic right-wing mother, and an experienced, highly educated, and credible left wing mother. The battle never happened, of course, so we never found out which type voters prefer.
But interestingly, Clark is a synthesis of some of their key characteristics: she's a young, attractive, charismatic, right wing mother of a young child who draws on a talk radio/reality TV base (Palin), and she's highly educated, elite, connected and politically experienced (Clinton). She's not as experienced, powerful or educated as Clinton, but whatever you might think of her politics, she's not a wingnut like Palin.
Christy Clark, 45, was educated at SFU, the Sorbonne and the University of Edinburgh. She won the seat in Port Moody-Westwood for the BC Liberals in 1996 and became the opposition critic for environment, children and families; became the campaign co-chair for the 2001 election in which the party won 77 of 79 seats; then became the minister of education and deputy premier. Her husband of the time, Mark Marisson, was the campaign co-chair for the national Liberal party. She became only the second woman in Canadian history to give birth while serving as a cabinet minister. She resigned from politics in 2004, to spend more time with her family, got divorced, ran for the Vancouver NPA mayoral nomination but lost to Sam Sullivan, and became a talk show host on CKNW in 2007.
No formulas work
I asked Traister what came out of the last U.S. election about what characteristics American voters prefer when it comes to women in power, politics aside. Being tough, motherly, sexy, independent, family-minded, qualified, experienced, intellectual, qualified, ordinary, knowledgeable-about-issues or what?
She says while there are "a million hypotheses," nobody knows what voters would choose because both Palin and Clinton lost, and they didn't square off against each other. But she said both "types" resonate for people. "Palin is more appealing to one group of people. She's young, beautiful, charismatic. She's a fast mover. She's got an enormous amount of energy and power.
"And we're told all the ways that Clinton is unappealing, but Clinton is one of the most popular politicians in the country right now."
So what lessons can our female politicians take from the last two American elections? "Technically, the lesson is that nothing works...so there's no formula we've figured out yet," says Traister. But she has a few thoughts.
Traister said to be aware that beauty can be a detriment if you're seeking political power. "Culturally, it's difficult for us to take seriously women whom we find beautiful, or worse sexual. The aesthetic pleasure of looking at a woman comes with a diminished assessment of their intellectual and psychological power. We're not used to holding in our brains that a woman can be both beautiful and brilliant. It's an obstacle for women in both parties. Palin got some votes for being hot, but suffered more from being attractive, for being diminished for being a sexy librarian."
She said Palin might not in fact have got any male votes for being beautiful, as some pundits concluded. "If you look at the fact that Palin's approval ratings were higher with men than women, that could be because more men are Republicans, and therefore share her politics." She points out that in the last midterm elections, all the Republican women candidates had more favourable ratings with men than women, "and not all were babes."
Traister says that authentic femininity now works. She says in the case of Clinton, she was more popular when she was being herself. "Not like, 'I am woman, hear me roar,' but 'I'm Hilary Clinton, and by the way, that includes the fact that I'm female.'" Traister says that at the beginning of the campaign, Clinton was trying to pass for male, and trying to look like the presidents who had come before her, and that was "a terrible mistake." But by the end of her campaign, she was more confident about presenting herself in an authentic way, and that garnered a lot of support and energy.
Moms who might just slash your face
And complexity now works with voters. While in the past, women in politics were often reduced to a simple type, now those identities are becoming much more complex. Palin started out as the sexy hockey mom, but quickly brought out the pit bull in lipstick metaphor, then finally the mama grizzly bear (and coined the phrase, bull in high heels, for one of her Tea Party candidates). For the Tea Partiers, it's about taking a tough animal and mixing it with something feminine, and about reappropriating toughness as a feminine trait. As Traister puts it, "'We're moms, we're tough, we're gonna slash your face.'"
"Historically, we've never had a tolerance for a more motherly version of a politician, or for a young mother as a political leader." But in this last election, moms became tough. "We're taking ways we're used to approaching femininity, and making them more complicated."
We won't get a chance to see two different, intelligent, complex women metaphorically slash it out, since Carole James is no longer the leader of the NDP. But we now have a chance to see how a woman navigates the lead role in the new multi-colored light of this stage. Should be interesting.