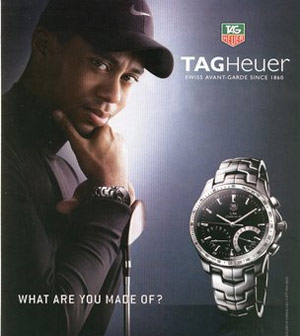 What's the biggest public relations sin? It's not infidelity, not kinky or non-hetero sex, not even making or watching sex tapes. But hypocrisy: pretending to be one thing -- profiting from it -- and behaving otherwise.
Case in point: Tiger Woods, golf's alpha dog, is currently in the dog house this week -- and likely will be for much longer. The first sports figure to cross the $1 billion mark in total earnings, Woods made most of his fortune as a result of his "squeaky-clean model athlete" reputation. Last year, of the $117 million Woods made, $7.7 million was on the golf course; the rest came from endorsement deals. And that endorsement empire is built on the image of a hardworking, clean-living family man complete with wife, kids, dogs, and "values."
Tiger Woods' car crash this week was clearly mysterious (liquid gold to Internet media), but speculation about what was really behind the crash (including this astonishingly bad CGI reenactment on Chinese TV) was what turned a minor SUV accident into the black eye of the tiger. There are hundreds of media stories, and tens of thousands of cumulative comments on the possibility that Woods' has had multiple affairs, one possibly lasting 31 months.
Is anyone really surprised that a billionaire celebrity may have committed infidelity? No. With American infidelity rates at between 30 and 60 per cent, it's hardly shocking. But the commenters in blogs, tabloids and mainstream media sites are overwhelmingly indignant about Woods' possible affairs because they constitute a kind of fraud.
Be a saint, pay the price
Plenty of celebrities and public figures participate in non-standard sexual behavior, affairs included, and get away with it. Just this week, Ian Halperin's biography Brangelina: The Untold Story of Brad Pitt and Angelina Jolie was released. In it, Halperin accuses Jolie of having a jungle hideaway in Cambodia where she visited her former lover, Jenny Shimizu, for trysts while in relationships with other people. There's been almost no interest in or comment on this story.
And when Brad Pitt left his wife Jennifer Anniston for Angelina Jolie, many critics said that one reason Jolie won the public relations battle, and avoided the scarlet letter slur was that she never pretended to be a so-called virtuous or family values woman. She is a brother-kissing, vial-of-blood wearing, out-of-the-closet bisexual. The public goes farther than just accepting her non-standard, non-puritan behavior: Forbes named her the world's most powerful celebrity this year (Tiger Woods was number five).
Would anyone be surprised if Paris Hilton admitted to affairs? If Russell Brand did? No. And would they be punished if news came out that they had had affairs? I doubt it. Because neither of them pretends to be chaste, and neither of them profits from a puritan image.
Even Dave Letterman escaped largely unscathed from his admission that he'd had multiple affairs with younger female staff members -- partly because he admitted it fully in a kind of public relations offensive move, but partly because Letterman's image isn't built on what gets called "values." The final public relations verdict wasn't that his affairs were OK, just that they weren't relevant; that they were a private matter.
But Gordon Ramsay suffered a public relations nightmare after a woman came forward and said she'd had a multiple-year affair with him -- because although Ramsay's reputation was for being an aggressive, swearing brute, it was also built using his supposedly idyllic marriage.
And Carrie Prejean's sex tape was the straw that broke the (silicone-enhanced) camel's back. I have no problem with anyone who makes a sex tape, and don't think women should be criticized for expressing their sexuality. But Prejean's used her platform to push those pesky family values, and I do object to her hypocrisy. Those who live by the sword...
Pride comes before the fall
The sword also cuts deep for another reason. There's something smug and better-than-thou about people who purport to live perfect lives, and profit from it -- through power or money -- from that construction. No one likes someone who thinks she or he is superior. People I've talked to about the Woods case have told me they feel he deserves the criticism, that it's a kind of justice for his sin of pride -- and interestingly, "Celebrity Justice" is the section the Woods' stories are filed under on the TMZ gossip blog.
There's such appetite for justice right now that I doubt even Woods' "profound apology" will deflect the spotlight. Most reports suggest he'll keep his endorsements, and the acclaim he's earned from the heights he's reached in golf, but he's permanently lost the moral high ground. It was as fake as the chemically fertilized grass he plays on.