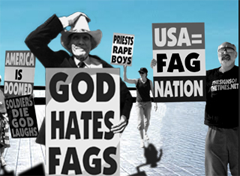 http://www.signmovies.net/videos/signmovies/ghf.html
Vanessa Richmond: When I first saw this, I thought it was a spoof video. I actually laughed and contemplated sending it along to friends like a funny viral video. The real horror was realizing it's not a joke at all. And not only that, but in their planned protest of the Laramie Project play in Vancouver, they're targeting people in my own neighbourhood. (My jaw also dropped when I saw the announcement on their site that Barack Obama is Antichrist, and that they're planning to picket his grandmother's funeral.)
Elaine Corden: Whoa. I need a minute with this one. I honestly thought it was a wind-up. I suppose I just don't ever encounter people like this, so it seems like a joke. And then I remembered that Proposition 8 passed with a comfortable margin in California, as did similar anti-gay marriage propositions in two other states, and I realize that it's not a joke.
All things being equal, I suppose these people have the right to believe what they believe. Even if it is, as some members of the Facebook group dedicated to organizing a counter-protest point out, as absurd to most people, including most God-fearing Christians, as saying, "God hates bananas" or "God hates linear algebra." Personally, I wish God would direct some of his righteous anger towards wobbly tables, a genuine problem that you think His Grace would have allowed us to solve by now. Will.I.Am can be a hologram and we haven't licked the universal problem of wobbly tables? I smell divine intervention.
But dealing with this seriously (which is much, much harder than with outright mockery), what scares me the most here is the Westboro Baptist Church's instructions for the protest "We cannot make you behave," it says, "but we can tell you some words, to wit: Ps 9:17 The wicked shall be turned into hell, and all the nations that forget God." It reads to me as an incitement to violence, especially in the context of the hate-filled website and text.
VR: Or the fact that they say it's a "satanic mission... that the wicked shall be turned into hell," that "they" (gay people?) are "really, really evil and hateful." I think the issue of incitement of hatred is why Mark Robins of Gay Vancouver says Phelps should be stopped at the border. On CBC's Sunday Night, he said (way more calmly than I could have) "I'm all for freedom of speech, but when that freedom of speech incites hatred that could potentially cause violence against another person, that's where I draw the line."
I talked to a few friends about the planned anti-gay protest after I saw the report last night, and one said even though he thinks peaceful protest is the only way to fight this kind of intolerance, and he'll be there peacefully, hearing Fred Phelps' comments about innocent people made him more angry than anything ever has.
EC: As long we're we're pulling passages willy nilly from the bible to support our individual viewpoints, let me share with you mine: Corinthians 13:13, which I learned in Sunday School at age five, and which stuck with me long after I left the church because there are so many hate-filled fellows like Mr. Phelps. As I declared to a pastor once, who asked why I left the fold: Jesus is like Led Zeppelin: love the band, can't stand the fans. Oh, yes, that passage: "And now abideth faith, hope, love, these three; but the greatest of these is love."
In older versions of Corinthians, I later learned that the word "charity" was interchangable with "love," in many versions. I suppose I think, what greater act of charity than to show up at the simultaneous anti-hate protest and exchange ideas with these hate-mongering crusaders peacefully.
Related Tyee stories: