A free drug-testing service in Vancouver has tested over 50,000 illicit substances as part of a harm reduction initiative that lets people know what is in their drugs.
Anyone can walk into Get Your Drugs Tested at 880 E. Hastings St., hand over a sample of their drugs (staff need about 10 milligrams, or a match head's worth) and get a phone call, text or email with an explanation of what's in the substance. Results take under two hours — and sometimes as little as 10 minutes.
Staff can let you know, for example, that the street opioid you've purchased as "down" is actually fentanyl cut with caffeine, that what you thought was MDMA is actually MDA or that your meth is clean of adulterants.
Vancouver Coastal Health lists Get Your Drugs Tested, which is open seven days a week from 12 to 8 p.m., as an overdose prevention site.
This means you can't get arrested for getting your drugs checked, says founder Dana Larsen, a longtime drug reform activist. But, he adds, on-site drug use isn't allowed.
Vancouverites may know Larsen for his cannabis advocacy and for founding the non-profit Vancouver Dispensary Society, which runs the Medical Cannabis Dispensary. Get Your Drugs Tested was founded in 2019 after the society decided to fund a drug-checking service, he says.
To this day, the funding for Get Your Drugs Tested comes from "mushroom and cannabis sales," Larsen says.
The service helps people make informed decisions about their drug use and avoid a toxic drug overdose.
"Drug users need to be able to drop in somewhere to test their drugs any time, not have to plan for a week in advance," Larsen says.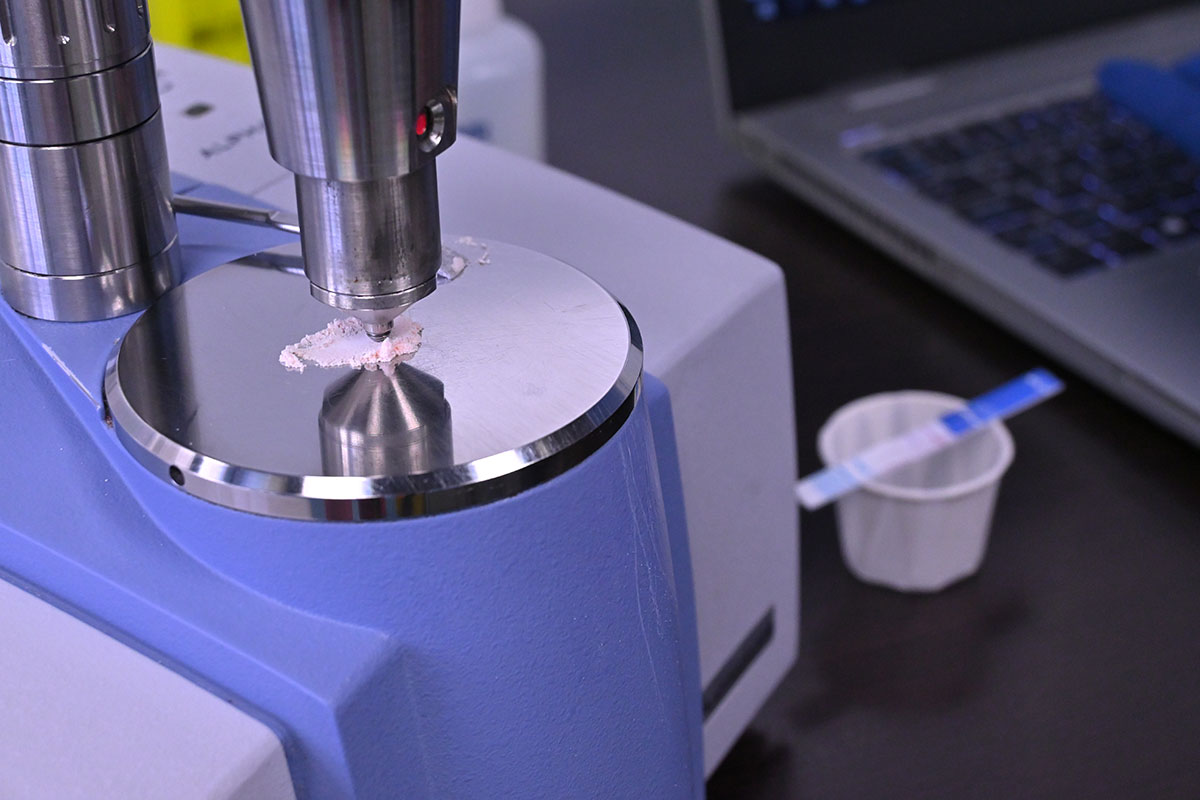 The provincial government, Larsen says, should be offering more all-hours drug-testing services in accessible locations. Making these services more available would help reduce toxic drug deaths in B.C.
Toxic drug deaths are the leading cause of death in B.C. for people aged 10 to 59, accounting for more deaths than homicides, suicides, accidents and diseases combined. Last week the BC Coroners Service reported 174 people died from toxic drugs in August, totalling 1,629 deaths so far this year.
How it works
Vancouver Coastal Health told The Tyee it ran a drug-testing pilot project at Insite from 2016 to 2017 and found that when people knew their drugs contained fentanyl, they were more likely to reduce their dose and were less likely to overdose.
Today VCH runs two Fourier transform infrared spectrometers at Insite, available from 10 a.m. to 4 p.m. Monday to Friday.
Get Your Drugs Tested has four FTIR spectrometers and uses test trips to check for the presence of fentanyl and benzodiazepines. The test strips are great at detecting trace amounts of fentanyl and benzodiazepines but can tell you only if the drug is or isn't present, not how potent it is or what analogues it contains.
FTIR spectrometers test how the molecules of a substance absorb light, which creates a distinct pattern. This pattern can then be run through a library of known drugs to see what the pattern most closely matches.
The computer finds similar patterns and a technician confirms the reading, identifying the substance.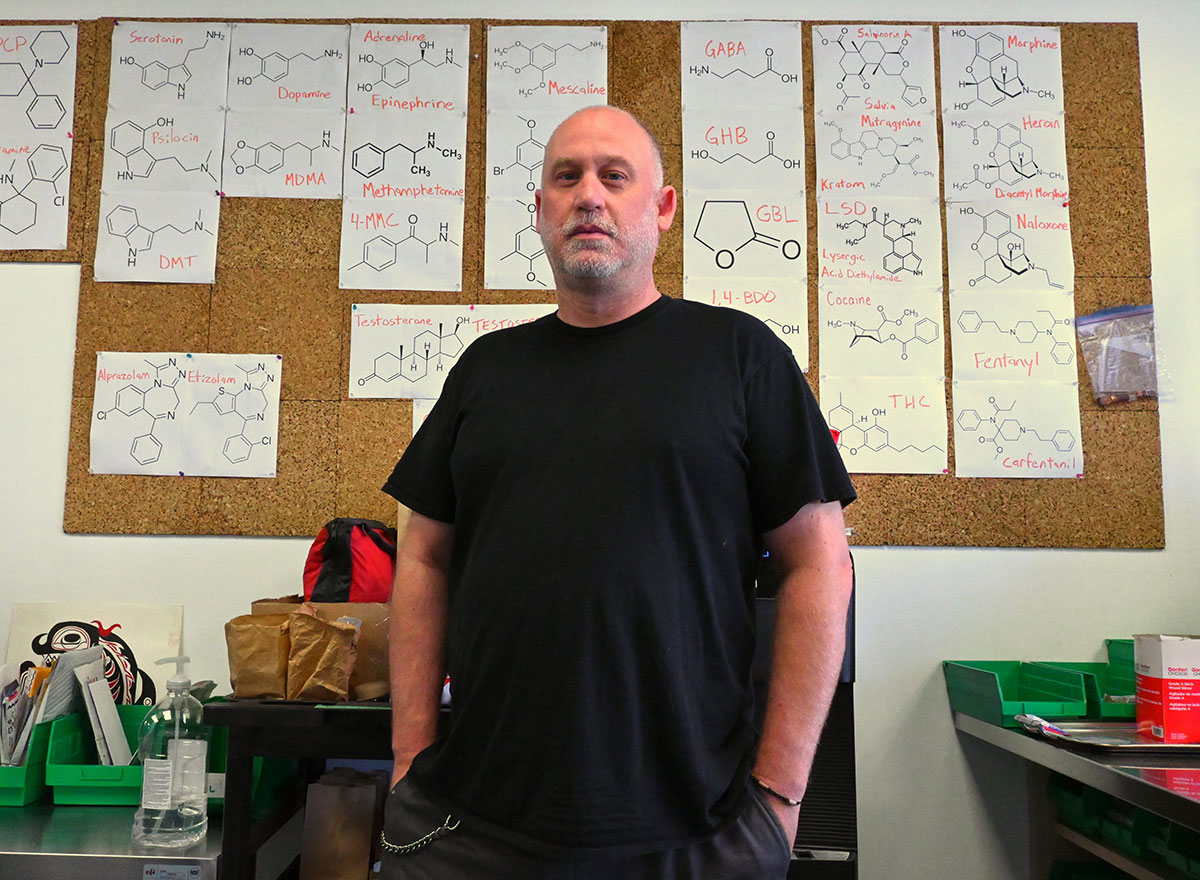 This technology has some limitations, which Get Your Drugs Tested lists on its website.
The FTIR spectrometer can only say approximately how much of each substance is in a sample and cannot detect anything that makes up less than five per cent of it, which is an important limitation to note when certain substances, such as carfentanil, can cause an overdose even with trace amounts.
"We can say we detected nothing other than 60 to 65 per cent cocaine and 40 to 45 per cent of a buffer and for most cases that's enough for people. But with fentanyl or benzodiazepines, even with less than five per cent there can be huge health impacts, which is why we always also use the test strips," Larsen says.
The machine also cannot identify the substance unless it is already in the library, which means novel substances may end up with "no match" results.
But FTIR spectrometers are relatively affordable compared with other testing options. Larsen says he bought his four machines for $60,000 each. Training a technician is also relatively affordable because anyone can learn to operate the machine after a couple of weeks of training — no chemistry background required.
And using FTIR spectrometers allows the Get Your Drugs Tested team to do an incredible amount of testing. According to the BC Centre on Substance Use's drug-testing dashboard, they do about 55 per cent of all current drug testing in the province.
Scaling up — without trade-offs
Dennis Hore, co-lead for the Vancouver Island Drug Checking Project, who also teaches chemistry and computer science at the University of Victoria, says he's working on building drug-testing technology where there won't have to be a trade-off between cost, expertise, time and accuracy.
The gold standard for drug testing is a mass spectrometer, which costs hundreds of thousands of dollars and requires a full lab and team of experts to run, he says. A test could take a week to come back and cost $100 — but you'd know every particle in it, he says.
Then you've got a Raman spectrometer, which can be built using a dollar-store laser beam and a $300 spectrometer, he says, adding he met someone who'd built one into their phone. Ultra low-cost versions of this tool aren't able to test drugs but can be used in other contexts, like determining plastic types for recycling purposes.
Raman spectrometers can be great for testing drugs at a festival, where you aren't likely to find a lot of opioids, he says. But when you're doing community drug testing, you're expecting many of the drugs you test to be opioids, which complicates things.
Many opioid samples can have dyes mixed in or shine or glow under bright lights, which makes it harder for a test that uses light to figure out what the drug is, he says.
One way to get around that is the surface enhanced Raman spectroscopy, which dissolves the sample in a liquid with nanoparticles in it. This decreases how much the particles shine and increases the sensitivity of the machine by "several orders of magnitude to the point where detection of trace components is possible," Hore says.
The technology still needs some work before it can compete with the industry gold standard of mass spectrometry, he adds.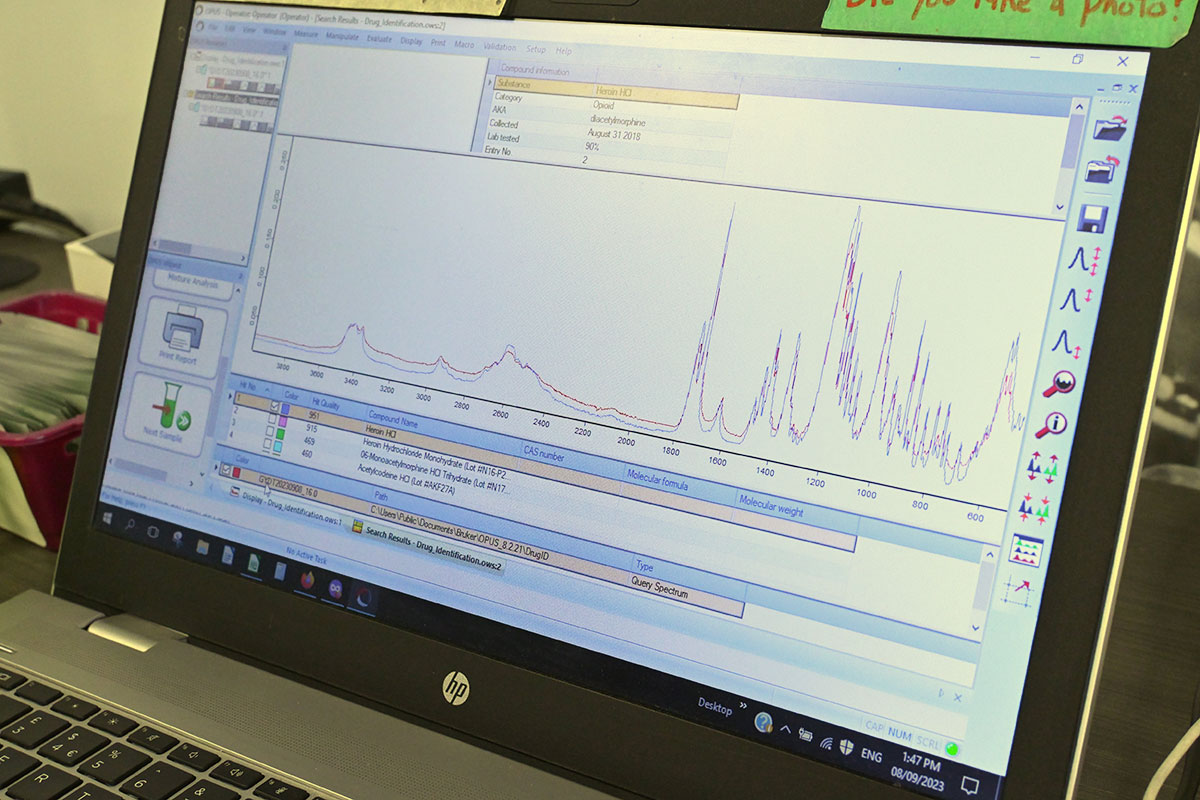 Hore says the Vancouver Island Drug Checking Project has distributed drug-checking "kiosks" to smaller communities, like Port Alberni, Campbell River, Comox Valley and Duncan.
The kiosks use FTIR spectrometers and test strips, just like Get Your Drugs Tested does.
Hore says he's working on an initiative that would allow a Vancouver Island Drug Checking Project staffer to collect the week's samples from the kiosk and send them to a lab that uses a mass spectrometer. This will produce a report so that the next week, when someone tests their drugs, they can also read a report of all of the substances that were found in their community's drug samples from the previous week.
He says he'd like to eventually have kiosks available in every community to offer quick, low-cost, reasonably accurate drug-testing results and several mass spectrometers spread across the province to offer weekly test summaries for each community.
Larsen says he'd like to see the province step up and offer more drug-checking services so that Get Your Drugs Tested can be "put out of business." He says the amount his store is used is proof the province isn't offering adequate services.
People also mail in their samples, with Larsen joking he's likely the Guinness World Record holder for the person most mailed drugs — he's been sent more than 5,000 samples, he says.
While VCH didn't answer The Tyee's questions about why it doesn't offer more drug-checking services, or what barriers are preventing it from offering more services, Hore says he's been meeting weekly with the province. There seems to be a lot of interest in ramping up drug-testing services, he says.
"Everyone needs to do more because the situation is getting worse year after year," Hore says.
"But I'm encouraged by the technology out there and see a future where we'll be able to fine-tune these machines to expand the reach and scope of drug checking."
This will aid smaller communities to access these services, he adds.
For more information on where to get drugs tested in B.C. or to check drug-testing results in your community, visit the BCCSU Drug Checking Project.