Normally, Ainsley Barteluk doesn't worry about finding work.
Barteluk works as an art director in Vancouver's film industry, one of the biggest and busiest hubs in North America. She digs through scripts, researches scenes and crafts the sets that bring TV shows and movies to life.
But Barteluk hasn't worked on set in months. Neither have thousands of her colleagues in British Columbia's film business, who say a pair of strikes in the United States have caused almost all film and TV work in Vancouver to grind to a halt.
Ellie Harvie, the president of the Union of BC Performers, says an American writers' strike that began in May has caused huge upheaval in B.C.'s film and TV business, which employs tens of thousands of people across the province.
Harvie expects that to get worse after American actors also took to picket lines last month.
"Normally we have 50 productions in town. Right now we have five," Harvie said.
Harvie, Barteluk and other unionized film workers interviewed for this story say they still support the striking writers and actors in the U.S.
Many believe the issues their American counterparts are fighting for — better pay and limits on the use of artificial intelligence — will set key precedents for the Canadian market.
But they also say the upheaval has been devastating for local actors, technicians and designers, some of whom are moving to other centres less dependent on American productions or picking up odd jobs to make ends meet in the interim.
"Even though I support what they're doing, it's going to get nasty," said Barteluk. "People are going to lose their homes."
'We could feel the strike coming'
Screenwriters represented by the Writers Guild of America put up picket lines in May. But even months before that, Barteluk said she saw the writing on the wall.
She finished a show in August 2022 and returned to work in October with the expectation of starting another job. But it fell through.
Normally, Barteluk said, there could be 25 to 30 TV shows filming in Vancouver at a given time. Now, there were suddenly just a handful.
"We could feel the strike coming as of last year," Barteluk said.
Producers had already begun putting projects on hold as negotiations between the writers guild and the Alliance of Motion Picture and Television Producers broke down. That had a huge effect in B.C., where most film work stems from American studios.
"Unlike every centre in Canada, we are living this strike, because most of our work is American," Harvie said.
Then, in July, actors represented by the Screen Actors Guild-American Federation of Television and Radio Artists, or SAG-AFTRA, also went on strike.
Eleanor Noble, the national president of the Alliance of Canadian Cinema, Television and Radio Artists, or ACTRA, says she expects even more productions to be put on pause since SAG-AFTRA members won't be able to work on American productions in Canada.
"There's a huge trickle-down effect," Noble said. "If production is shutting down, there's going to be a lot of crew out of work when this dispute is ongoing."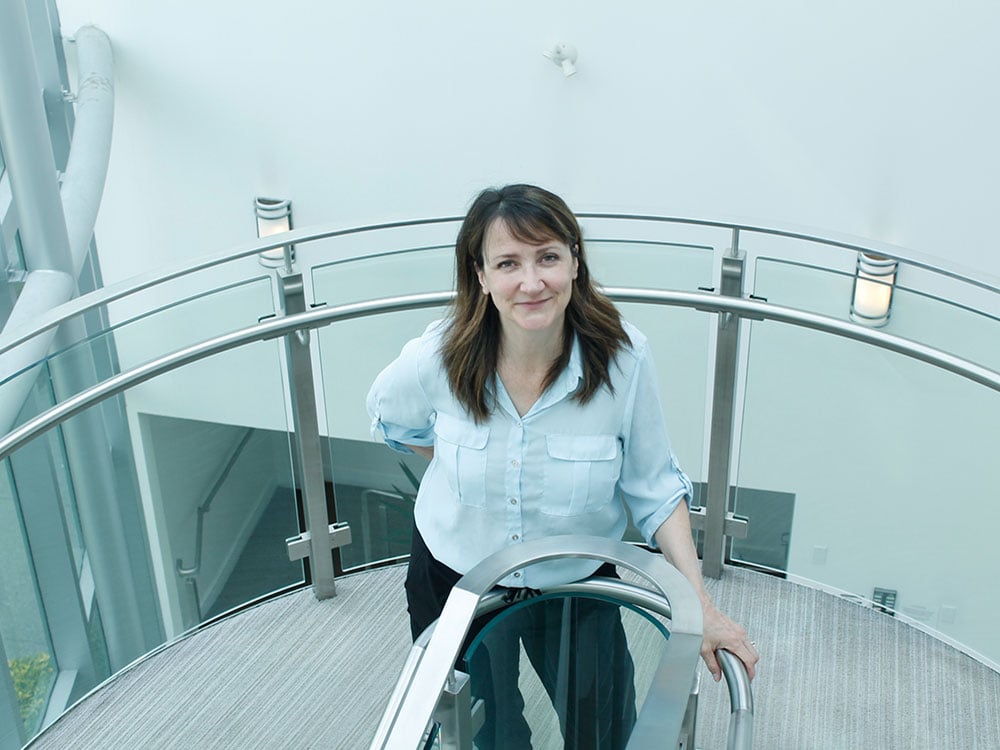 CreativeBC, the provincial government's arts agency, estimated the film industry spent $3.6 billion in B.C. in 2022. That year, the agency estimated film employed more than 40,000 people in British Columbia — more than double that if you include freelance workers.
CreativeBC declined to comment for this story but referred The Tyee to a statement on its website, where it said the strikes would have "significant" impacts on American productions doing business in B.C. as well as B.C. productions that employ striking members of the U.S. unions.
Tracey Wood, the vice-president of the Canadian Affiliates of the Alliance of Motion Picture and Television Producers, said in an emailed statement that "very little" production was happening in B.C.
"Anything filming will have Canadian writers (or WGA product without the need for revisions) and local (no SAG) actors," Wood wrote. "That impacts a lot of Canadian producers as well, as many Canadian productions will have at least a couple of SAG actors."
Most Canadian workers cannot join their American peers on the picket lines. Productions in Canada are governed by a separate collective agreement negotiated by the Alliance of Motion Picture and Television Producers, Canadian producers and a group of unions.
But members of those unions did recently vote to extend their existing master agreement by one year, in exchange for a five-per-cent pay increase.
That agreement was due to expire in March 2024. Wood, in an email, said producers were leery of beginning negotiations so soon given the simultaneous strikes in the U.S.
Harvie said unions, including her own, voted to ratify the contract extension in part because they didn't want to scare away productions with the possibility of further labour disputes. But she also said that entering negotiations while her members are feeling pinched would have also led to a bad deal.
"It's not a good position to be entering negotiations when your members are not working. That doesn't bode well for any substantial gains. The producers can undersell you there knowing the membership is eager for work," Harvie said.
Some were critical of that extension. The Hollywood Reporter wrote this month that a group of prominent Canadian actors, including Elliot Page, had signed a letter urging B.C. film workers to reject the extension. Those actors argued that the extension would undermine the strikes in the U.S. and might prevent B.C. unions from addressing key issues at the table.
Harvie, though, says SAG-AFTRA understood their decision to extend the contract and that she fully supports her sister union. "We are 100 per cent behind them. We are weathering the lack of employment with them," Harvie said.
She and other film workers interviewed for this story say they expect the result of the labour disputes in the U.S. to set key precedents for negotiations in Canada.
Both the WGA and SAG-AFTRA are seeking changes to how performers and writers are compensated after streaming services upended traditional pay structures.
Many actors say the residual payments they receive when their work is re-aired have shrunk, even as studios rake in massive profits.
Traditionally, TV studios and broadcasters gave actors, writers and other creators a cut when a work is re-broadcast.
That's still the model for streaming services today, but many actors like Noble say the size of those residual payments is considerably smaller.
"With streaming, the business models have changed. Producers are making a huge profit and we're not getting a slice of that pie," Noble said.
Many actors are also worried about whether artificial intelligence could be used to appropriate their voices and likeness without compensation. Some actors are concerned that AI could be used to effectively replace background actors in movies and TV shows.
Harvie noted that B.C.'s master agreement already contains provisions limiting the use of an actor's likeness, but she and Noble agreed that stronger, more explicit guidelines were needed around the use of AI.
"Their likeness could be used in inappropriate ways, something they would never consent to," Noble said. "We need to put really strong guardrails around AI."
Barteluk said many of her peers in the film industry are worried about whether they can make ends meet. Many film workers, she said, work long, intensive hours to bring productions to life.
She says she has some peers who may work as much as 16 hours a day while they're on set, and that many of those same workers, including her, may lose their life savings as a result of the strikes.
But she blames the disruption on producers, who she says are making huge profits but aren't investing that money in their casts and crews.
"That's why this is still happening, because there's a power imbalance," Barteluk said. Her hope is that those employers will grant the demands from the WGA and SAG-AFTRA, and soon.
"I want us to get back to work and for the actors and the writers to get what they're asking for. I think what they're asking for is not unreasonable," Barteluk said.