[Editor's note: This story contains graphic details related to police-related injury and body trauma. It may be triggering to some readers.]
Again and again, the police officers used the same words to describe how Myles Gray looked and behaved before he died in a South Vancouver backyard on a sweltering summer day in 2015.
Constables Hardeep Sahota, Kory Folkestad and Beau Spencer described Gray as "animalistic." Folkestad and Const. Eric Birzneck said he had "superhuman strength." Const. Josh Wong said he was "super strong," while Derek Cain described Gray lifting up another officer who was trying to press Gray down to the ground.
"His muscles had muscles," said Const. Nick Thompson during a coroners' inquest that ran for 10 days and will wrap up Monday. Thompson admitted he had likely ruptured Gray's testicles — one of his extensive injuries — when he was hitting the back of the man's thighs with his baton.
No amount of force seemed to cause Gray any pain, said the seven officers who hit him with their batons on his legs and arms, squeezed his neck, kneed his torso, pepper sprayed him twice and punched his face repeatedly in an attempt to knock him unconscious. Because he didn't respond to what the officers called "pain stimulus," they hit him again, as hard as they could.
The constables said this force was necessary because no matter what they did, the 33-year old business owner from Sechelt would not stop fighting their attempts to arrest him. Police had been called after Gray was seen acting strangely and had sprayed a woman with a hose.
Nine of the 10 officers involved in trying to arrest or restrain Gray said they thought he was in a state of excited delirium, or listed the symptoms of excited delirium during their testimony.
Excited delirium — a state of extreme agitation thought to be caused by drugs or mental illness — has been frequently identified as a cause of death in cases where people die in police custody, and it's listed as one of the possible causes of death for Gray on the autopsy report.
Symptoms include "superhuman strength," and "fighting with police and not stopping." Officers said they know a person in a state of excited delirium can't be reasoned with — de-escalation doesn't work.
But increasingly, the diagnosis has been questioned by medical researchers and advocates. It's no longer used as a cause of death by the BC Coroners Service and it is not recognized by the American Medical Association or the American Psychiatric Association.
The skepticism is not new: in 2009, former RCMP psychiatrist Mike Webster called excited delirium a "dubious disorder" during an inquiry into the death of Robert Dziekanski. Dziekanski died after RCMP officers shot him with a Taser at Vancouver's airport in 2007.
Despite his bulging muscles, Gray was not superhuman, or an animal. By the end of the altercation, both his eyes were black and one eye socket was fractured. His skin was covered with bruises and his jaw was dislocated. His ribs and nose were broken, along with several bones in his throat.
He was also dead.
Pathologist changes suggested cause of death
Gray's case has been shrouded in mystery for eight years, and his family will likely never know exactly what happened. There is no video of the incident, and the only living witnesses to the altercation itself are the 10 police officers who confronted him, struggled with him and restrained him until he stopped breathing.
Five officers say their union told them not to take notes after the incident, in contravention of Vancouver Police Department policy. Four said they didn't remember which union reps gave them those instructions; Thompson said Tom Stamatakis, a Vancouver Police Union rep at the time and now the head of the Canadian Police Association, was the person who told him not to take notes.
Others took notes on their personal computers an unknown time after the incident, and uploaded those statements many months later at the direction of their union.
The Independent Investigations Office of BC had to resort to filing a BC Supreme Court petition to compel Sahota to sit for a second interview in 2018, three years after incident. And while the IIO submitted a report to the BC Prosecution Service so it could consider charging the officers with manslaughter and assault, the service announced in 2020 it would not approve any charges, in part because a definitive cause of death couldn't be determined.
Coroner's inquests don't find fault, but seek to determine how a person died. A jury of five people hears evidence and then recommends changes that could help prevent similar deaths. The jury for the Myles Gray inquest will deliver their findings later this week.
During the coroners' inquest that ran from April 17 to 28, the forensic pathologist who did the original autopsy drastically altered his suggested cause of death.
Dr. Matthew Orde's 2015 report listed nine possible factors that may have contributed to his death, including suffocation, "agitation, in keeping with instances of excited delirium," pressure on the neck and an enlarged heart.
But after hearing the testimony of police officers, paramedics and others during the inquest, Orde said he no longer believes excited delirium is a useful description, and recent medical studies show it's unlikely to cause death on its own.
Today, Orde said he would word Gray's cause of death this way: "As a result of cardio-pulmonary arrest, complicating law enforcement subdual restraint (involving the application of [pepper] spray, multiple blunt force injuries, neck compressions, dorsal handcuffing [being handcuffed behind the back] and forcible prone positioning in an individual exhibiting acute behavioural disturbance)."*
Orde also ruled out two other factors he had originally identified: Gray's enlarged heart, which Orde said was somewhat larger than normal but was unlikely to have led to his death. Further toxicology testing also found that a stimulant drug, Mitragynine (also known as kratom) that had previously been detected was actually a false result. Although Gray used non-prescribed testosterone injections, Orde said his steroid use was unlikely to have contributed to his death.
Myles' mother, Margie Gray, said Orde's testimony finally revealed the truth of what happened to her son at the hands of Vancouver police.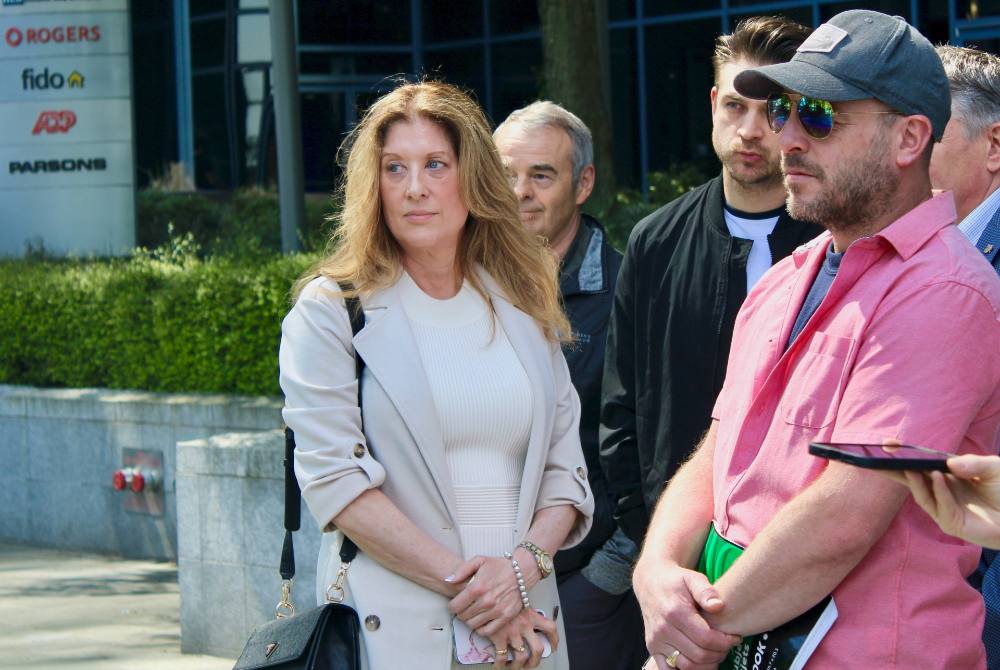 "As a mother, that is what I needed out there — the pathologist spoke the truth, the toxicologist spoke the truth," she told reporters on the last day of the inquest.
"The pathologist said he wouldn't have died that day if he hadn't been held down in restraints."
On Monday, the coroners' inquest jury adopted Orde's suggested cause of death. They also determined that Gray's death was a homicide, "a neutral term that does not imply fault or blame," according to presiding coroner Larry Marzinzik, but does acknowledge that the death was caused due to injury "inflicted by another person" — in this case, the Vancouver police officers who tried to arrest Gray.
The jury recommended the VPD speed up its adoption of body cameras, review and improve training when officers are responding to people in mental health crisis, and improve training on communication and planning when multiple police officers are responding to an incident.*
A summer day in south Burnaby
Gray was born in 1982 in the small town of Powell River on B.C.'s Sunshine Coast. His younger sister, Melissa, told the inquest that from the time she was a small, Myles "was my barometer for everything cool." He was always surrounded by friends, she said, and had a nickname for everyone. He was the person she would go to if she was feeling frustrated or down.
Mike Whyard was one of a tight-knit circle of Myles' Powell River friends who stayed close throughout high school and young adulthood.
"There were so many inside jokes, so many one-liners — he was a bit of a goofy guy," said Whyard. "But nice-goofy, mature. He liked to joke around a bit, but he was never the type that would offend someone."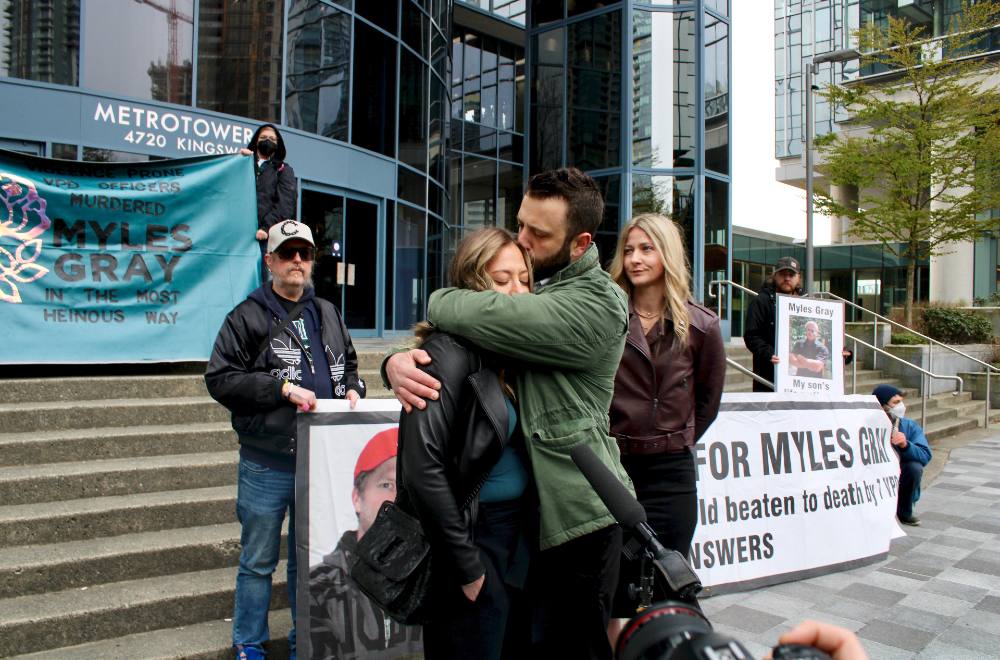 In his last year of high school, Myles had a frightening episode of psychosis when he believed he had superhuman strength and was invincible.
"I remember him jumping on my mom's car — he was really psychotic," said Melissa, who now works as a psychiatric nurse. "It was very scary for him."
After a stay in hospital, Myles was diagnosed with bipolar disorder, a mental health condition that causes periods of severe depression and of hypomania or mania, and can usually be successfully treated with medication.
For years after that one incident of psychosis, Myles was stable, his doctor and Melissa told the inquest.
In his early 20s, Myles started lifting weights. He'd never been interested in sports before, Whyard said, but bodybuilding became a passion for Myles. He wasn't interested in martial arts or boxing, Whyard said — just building muscle — and went from weighing around 150 pounds to 185.
Myles was careful about his diet and didn't drink much, Melissa said. But his doctor, Christoffel Mentz-Serfontein, said in the two years before Myles died he had two conversations with Myles about his use of unprescribed testosterone, which can increase the risk of blood clots and destabilize people with mood disorders.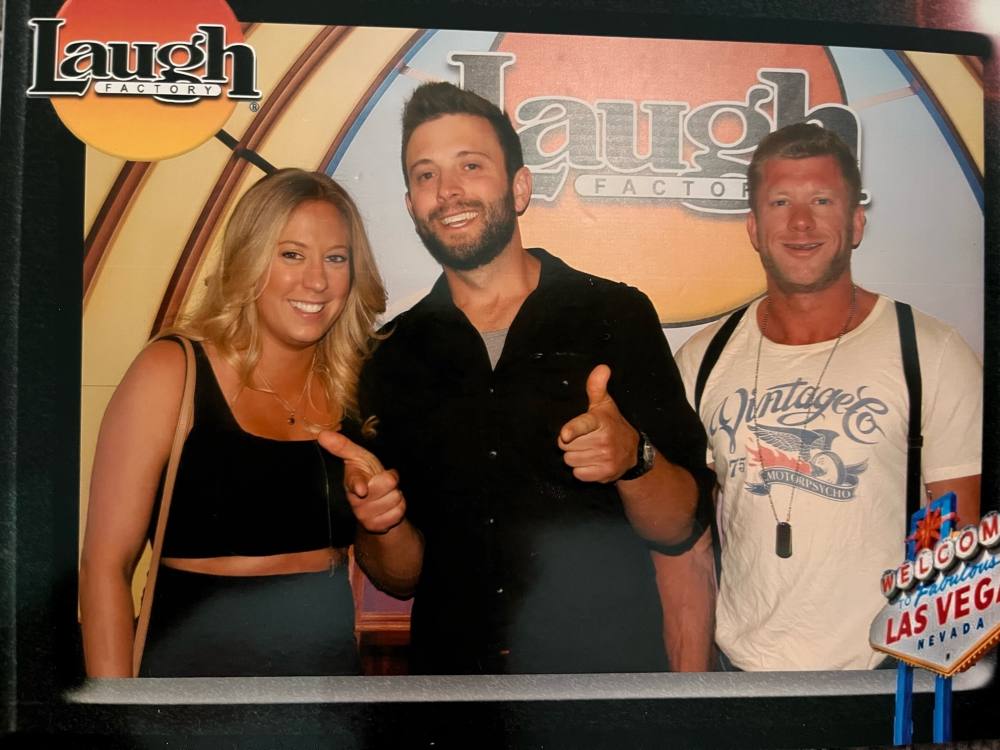 Myles trained to become a mechanic so he could work in the automotive repair shop his dad owned. But soon he wanted to try other jobs: he worked as a prawn fisherman and volunteered with the Canadian Coast Guard. In his mid-20s, he moved to Vancouver to work on construction projects like the Robson Street Safeway and a new library in North Vancouver. He was able to save money and buy a condo near Joyce Station. But the work was taking a toll: he had shoulder and back pain, and re-injured a broken wrist.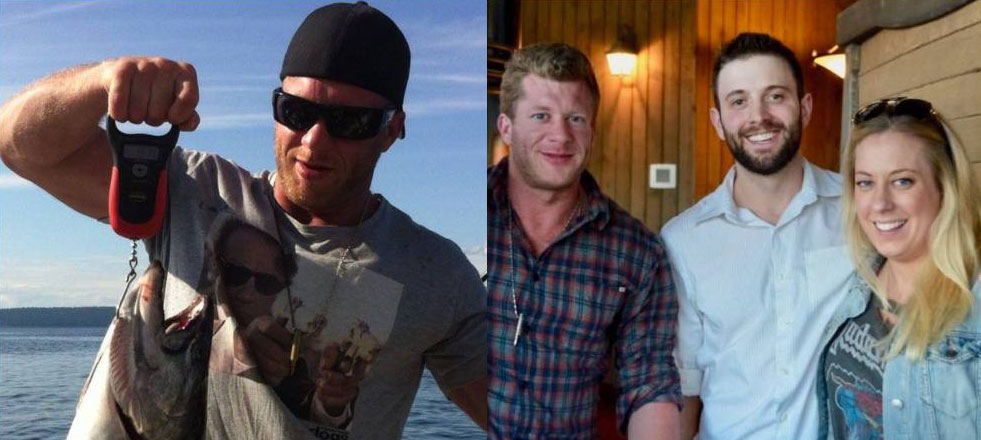 Myles decided to move back to the Sunshine Coast and buy a florist supply business that had been started by his uncle. Selma Park Evergreens harvests and supplies salal, evergreen boughs and other plants to florists in the Lower Mainland. On Aug. 13, 2015, Myles was making a regular delivery at Florists Supply Ltd. in south Burnaby when he walked away from his van, leaving his wallet and keys inside the vehicle.
Everyone who saw him after that point was a stranger to Myles, but they all agree something was wrong: Andrea Pilgrim and Derek Haddleston, who worked at an insurance brokerage in the area, saw him pacing, talking to himself, shaking his fists at the sky and looking under bushes.
In Champlain Heights on the Vancouver side of Boundary Road, Myles grabbed a hose from Songeo Reza, sprayed her with water and called her "hot" and "beautiful." Her son, Muhammed Reza, called police, then watched as Myles knelt on the ground, walked in circles, tried to wave down passing cars and spoke nonsensically. At that point, he wasn't wearing shoes. Reza told a police dispatcher he was worried about his neighbours' safety.
When VPD Const. Hardeep Sahota drove up to Myles and tried to talk to him, she said it went well at first, but then he aggressively moved towards the uniformed officer and told her to call for backup. She retreated back inside her police van and said Myles tried pressing her half-open window down, then attempted to pull the door open. Sahota said she feared for her safety and called for backup, then followed Myles as he walked over the Vancouver-Burnaby border. She saw him disappear into the wooded yard of a home on Joffre Avenue.
From the top of a hill on the property, Sahota said, Myles looked down at her, flexed his arms, and said, "Welcome to the jungle."
'I thought we would have to shoot him'
When VPD constables Birzneck and Folkestad joined Sahota on Joffre Avenue, Folkestad made a radio call saying "he's going up into housing at 8375 Joffre, we're going up to challenge." Birzneck testified that he thought Gray may have gone up to a public walking path and because of the danger of Gray encountering someone on that path, there was no time to make a plan with Folkestad and Sahota.
Birzneck — a trained conflict negotiator — said he extended his baton and held it behind his leg as walked up into the yard with Sahota and Folkestad following.
Sahota told the inquest that when the officers saw Gray in the backyard of the home, Birzneck told the unarmed man to kneel on the ground. When Gray didn't comply, Sahota said, Birzneck sprayed him with pepper spray. She told the inquest that Gray had not moved towards the officers and was about eight feet away from them when Birzneck pepper sprayed him.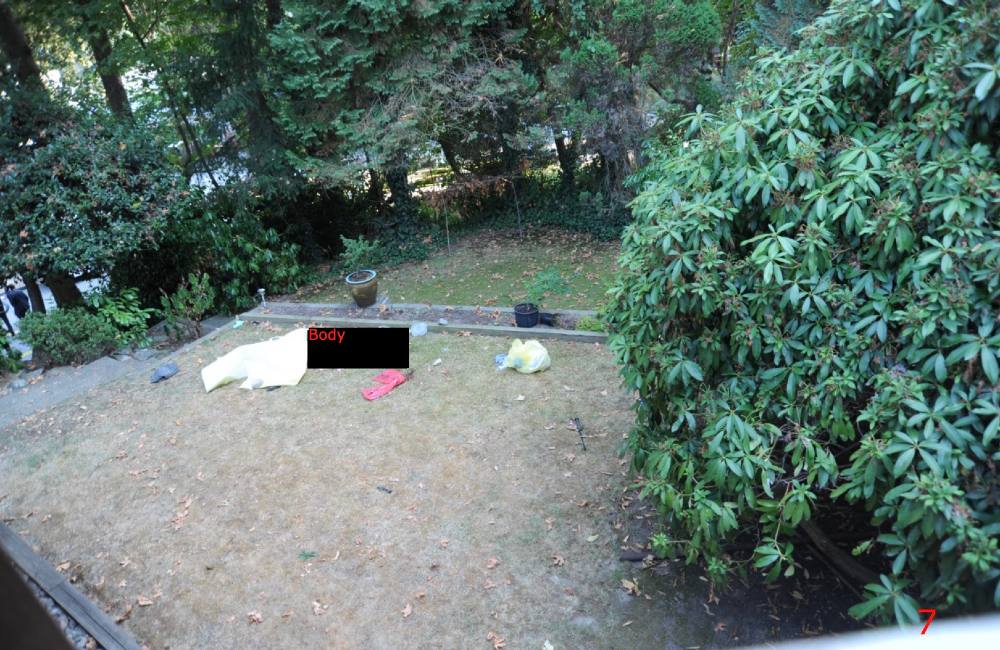 Birzneck and Folkestad had a different version of events: they said Birzneck did try to talk with Gray for some time, but then Gray "dropped his head and started coming at us" and that's when Birzneck used the pepper spray.
Sahota and Folkestad say Gray was affected by the pepper spray, and they took that opportunity to move in to try to handcuff him. Sahota managed to handcuff one wrist, but then Gray wrenched his hands out of their grip.
Sahota, Folkstad and Birzneck said they managed to wrestle Gray to the ground and Birzneck ended up straddling Gray, with Sahota and Folkestad trying to hold Gray's legs down. At some point, Folkestad had walked into the cloud of pepper spray, been punched in the jaw by Gray and told the inquest that he had lost consciousness for a short time. In return, Folkestad said, he'd punched Gray repeatedly, as hard as he could, in an attempt to knock him out because it was clear Gray was very strong.
"I thought we would have to shoot him," Folkestad testified.
Other officers arrived and joined the struggle. Thompson hit Gray with his baton, and accidentally injured Sahota's arm when he hit her instead of Gray. Thompson was also bleeding after hitting the top of his head on a tree branch. Wong joined the fray, using knee strikes, then a baton, and then another burst of pepper spray. He testified that Gray kept attempting to punch him, and Wong said he also attempted to tie Gray's ankles together using a strap called a hobble.
Cain said he knelt briefly on Gray's shoulder and head, but then Gray moved and he lost his balance. John Gravengard, Beau Spencer, Chris Bowater and Kyle Dent were also involved at this point in holding Gray down.
All this time, the officers testified, Gray would not stop fighting them and would not stop resisting, although none of them had told him he was under arrest.
Finally, Birzneck said, he was able to wrap his arm around Gray's throat from behind and squeeze — a hold the VPD calls a vascular neck restraint, and is supposed to reduce the flow of blood to the brain without damaging the throat.
Birzneck said squeezing Gray's neck had no effect, so he tried it again. This time, he said, officers were finally able to handcuff Gray.
Hobbled and in handcuffs, Gray began to have breathing problems. He lost consciousness, then woke up — and started to struggle again with police, officers told the inquest.
'He looked like he'd been in a battle'
None of the 10 officers who were involved in the altercation or restraining Gray after he was in handcuffs said they saw any injuries to Gray's face or body.
Blaming "tunnel vision," the officers involved in the fight also said they didn't know what the other officers were doing when they were kicking, hitting or choking Gray.
But the firefighters and paramedics who arrived after Gray lost consciousness the first time all say they noticed Gray's face was swollen and bruised. He had two black eyes and was bleeding from his mouth; investigators later found a pool of his blood under a tree in the yard. Welts and bruises in the shape of police batons could be seen on his arms, legs and chest.
When Scott Frizell, Travis Nagata and Young Lee climbed the stairs that led to the yard, the Burnaby firefighters saw Gray on his stomach on the ground, face-down. He was handcuffed and his ankles were tied together tightly enough to leave a bruise. Five police officers were pressing down on him with their hands and chests and holding his head down, Lee said. Gray's face was pressed into the ground, Lee and fire captain John Campbell testified.
Gray's position on his stomach would have made it more difficult to breathe, paramedics testified. Lee also described seeing an officer push Gray's cuffed wrists towards his shoulders, a position that could have pressed him further into the ground and made breathing difficult.
"The patient was struggling, trying to lift himself up to get these guys off him," Lee said. "He was obviously in duress."
The firefighters were told it wasn't safe yet to treat Gray, so they waited. Nagata remembered that he and Frizell were saying to each other, "Is he breathing?"
Lee said he saw Gray stop struggling while the officers "were on top of him."
Nagata said Frizell then repeated, a little louder so the police officers could hear: "Is he breathing?"
When officers checked for a pulse, they couldn't find one. They took the handcuffs off Gray and rolled him onto his back. Nagata could see his face and neck were blue.
When Nagata tried to insert an airway tube into Gray's throat to start resuscitation, he found blood in Gray's mouth. Stephen Shipman, an advanced life-support paramedic who arrived after firefighters, found more blood deeper in Gray's throat when he tried to insert a longer airway tube and had trouble pushing the tube farther down Gray's throat. Shipman said it was apparent Gray's throat was injured.
"I didn't think — I'm not trying to be rude, but — I didn't think he was a white guy," Shipman told the inquest. "The first looks I had on him, I thought, 'this guy has dark skin.' Well, it wasn't dark skin, it was the bruising."
Shipman also told the inquest that he and his partner had been called to the scene by police to sedate Gray, a common practice at the time to treat someone who was considered to have excited delirium.
From 'excited delirium' to 'acute agitated behavioural disturbance'
Excited delirium was first described by two American doctors in 1985, at the height of concern about the growth of crack cocaine use and how it made some users behave. Charles Wetli and David Fishbain used the term to describe six people who had suddenly died after becoming extremely agitated, paranoid, overheated and showing "superhuman strength" before "cardiorespiratory collapse and death." All died after being restrained by police.
In 1989, Wetli floated the outlandish theory that excited delirium, combined with sexual arousal could be behind the deaths of 17 young Black women in Miami. Investigators later determined the deaths were the work of a serial killer.
Critics call excited delirium a "pseudoscience" and say it's used as a convenient catch-all for deaths that happen in police custody.
According to a 2020 study published in Forensic Science, Medicine and Pathology that analyzed 168 cases of excited delirium syndrome, 90 per cent of the fatal cases also involved police restraining the person.
The authors say their findings show that more attention should be paid to the use of "aggressive restraints" in people who are assumed to be in a state of excited delirium. "Some form of restraint was described in 90 per cent of all deaths, making it the most common factor that is a plausible cause or contributing cause of the death (via asphyxia)."
Mike Massine, a use of force expert, told the inquest that Vancouver police are trained that people showing signs of excited delirium must be restrained and brought to hospital for their own safety because it's believed their agitated state may be fatal. Psychologists, psychiatrists and doctors were involved in developing that training, Massine said.
Orde said Gray's strange behaviour should still be considered a factor in his death, because the prolonged struggle with police may well have made it more difficult for Gray to breathe and for his heart to effectively pump blood through his body to help him recover from the exertion.
Orde said he now prefers the term "acute agitated behavioural disturbance."
"I think that's a better term than excited delirium syndrome, because it acknowledges the uncertainty as to what the cause of these behavioral patterns would have been. And it's not suggesting that this is a definitive, discreet diagnosis," Orde said. "This is just a descriptive term, suggesting that Mr. Gray was acting strangely on the morning of which he died."
The position Gray was placed in — on his stomach, with some witnesses saying they saw his face pressed directly into the ground — was the position most likely to put stress on his respiration and heart, compressing his chest, abdomen, blood vessels and heart, Orde said.
"The data shows clearly that people restrained forcibly in a face-down position have an increased risk of death," Orde said.
* Story updated on May 1 at 10:30 a.m. to clarify the suggested cause of Myles Gray's death according to Dr. Matthew Orde, and on May 3 at 5:04 p.m. to include the jury's finding and recommendations.