When my family and I arrived in Canada from Bosnia in 1995, we stayed at Sonya Roeder House, a welcome centre and temporary housing facility for refugees in Winnipeg. After about a month, our refugee sponsors helped us find a one-bedroom basement apartment and we moved out.
Life in Winnipeg was hard those first few years, as my parents struggled to take language classes and work multiple jobs in factories, as cleaners and delivering newspapers in the freezing winters.
But in my memory, I was always happy, warm and well fed.
While writing about the issues facing refugees looking for housing in Toronto, where I live today, I thought back to my family's own experience and the difficulties we faced.
In many ways, we were luckier than most. We flew into the country by plane and didn't have to risk our lives walking through fields of snow at an irregular border crossing; we had private sponsors to help us with our first few months in Canada, rather than enduring the stress of facing it on our own; and we had access to an affordable housing market in Winnipeg, in stark contrast to the high prices and low vacancy rates in Toronto today.
Welcome centres, like Sonya Roeder House, offer a range of services to all kinds of refugee newcomers and serve a vital role. "They're really kind of a place of interpretation, translation, getting people connected and into Canadian society," says Jennifer Hyndman, a professor and the director of the Centre for Refugee Studies at York University.
In Toronto, however, specialized shelters are filled to capacity and unable to assist all those arriving, with many refugees and refugee claimants overflowing into temporary hotel housing and the mainstream homeless shelter system.
The fact that many of Toronto's refugee newcomers are claimants who arrived at irregular border crossings (and therefore lack permanent resident status) can prolong the process of finding jobs and make finding housing more difficult.
Finally, on top of all this, there is a severe shortage of affordable housing in Toronto.
The situation, compared to what my family faced in Winnipeg, is one where people need more help, but are facing more difficult circumstances.
Sonya Roeder House was our first point of contact with life in Canada. The name is as rooted in my memory as the name of my first stuffed animal or my kindergarten teacher. So when I began looking for information about the centre online, I was surprised I wasn't able to find much.
In my search to learn more about refugee housing in Winnipeg, I spoke with Tom Denton, who has worked with refugees in the city for decades, including running the International Centre which was, for a time, the principal settlement agency for government-assisted refugees in Winnipeg. He is currently the executive director of administration and sponsorship at Hospitality House, also in Winnipeg.
I asked if he had ever heard of a refugee welcome centre called Sonya Roeder House. To my surprise, not only had he heard of the centre, he had helped run it.
Denton recalls that he bought the building from an order of Catholic nuns who had lived there. It was a 140-bed, two-storey facility, with a kitchen and dining hall that served more than 75,000 meals a year. "You were probably in one of our highchairs," he said.
Though Sonya Roeder House no longer exists, Winnipeg has other facilities available for newcomer refugees, including two large refugee housing buildings run by the Immigrant and Refugee Community Organization of Manitoba, with more than 100 units of one, two and three-bedroom apartments where refugees can stay for up to three years. "There's been a response here in Winnipeg to whatever the need has been, such that people do have a place to go," says Denton.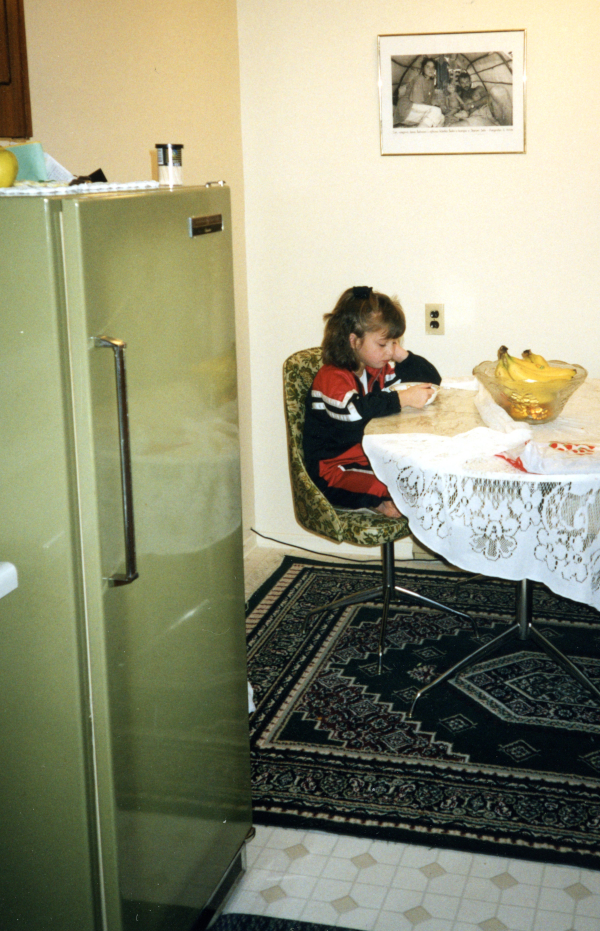 And when refugees eventually move out, they're entering a much kinder housing market. The average rent for a one-bedroom apartment in Winnipeg in 2017 was $880, with a three-per-cent vacancy rate in the city, compared with about $1,200 in the GTA and a vacancy rate of 1.1 per cent. Almost twenty-five years ago, my parents paid about $500 per month for our first apartment in Winnipeg.
My family and I arrived during a relatively good time to be a refugee.
Denton has seen firsthand how the way Canada deals with refugees has changed over the years.
"When I started off it was simply as a member of the Rotary Club in Selkirk, Manitoba, and persuading them to take on a case of boat people," he says. Denton helped sponsor a family in the 1970s and remembers the process as remarkably streamlined. "Oh, it was simple in those days. All I had to do was go into Winnipeg to a government office and sign my name three times on pieces of paper and that was it… Now it's unbelievable how mountainous the paperwork is to sponsor someone. That's the huge difference between then and now."
Another big difference, implemented in 2012, is the limit on the number of privately sponsored refugees coming into the country, even if sponsors have all the basic needs, like housing, ready and available for the incoming refugee family.
In a policy brief co-authored by Hyndman and other experts, among their 10 recommendations was one that advised that "current limits on the number of PSRs [privately sponsored refugees] should be reconsidered."
"Policies should aim to harness and sustain the interest and engagement of Canadians in refugee sponsorship, not undermine them," the report said.
Though the need for refugee resettlement continues to grow, with more than 25 million refugees in the world still searching for safety, the acceptance of refugees into Canadian society has hit some roadblocks.
As Hyndman notes, how the public perceives refugees changes with government policy and current events. "I think that the wave of pro-refugee sentiment three years ago has been replaced by a tempered kind of suspicion of people crossing the border," she says.
Denton agrees. "There's more resistance and more concern being expressed today than there used to be. And I think that's true right across the planet."
Recent events certainly seem to bear this out. On Oct. 2, a Toronto hotel that provides temporary housing for more than 500 refugees was struck by an attempted arson. An individual, caught on surveillance tape but not identified, apparently lit a gas can in a third-floor hallway. The fire alarm went off, and fortunately the fire was put out before anyone was hurt. The hotel was filled with families with children, and the residents were understandably shaken.
The same hotel had been subject to harassment by far-right YouTubers and served as a backdrop for white nationalist fringe Toronto mayoral candidate Faith Goldy during a makeshift public speaking event.
A now discredited but widely circulated Toronto Sun article, published on Oct. 3, stated, among other false and inflammatory claims, that the hotel's bathrooms were being used for goat slaughter.
"I think the word refugee does a lot of damage actually, because it kind of defines someone as 'not us,'" says Hyndman. "These people are like us, they are our neighbours, they are our colleagues, they are the other parents at school, they are all these things and we need to somehow bridge and get beyond that host society/guest refugee kind of binary."
My family and I arrived in Canada as Muslims, refugees who couldn't speak English and who relied on government services for a time to help us survive, but we had the advantage of being white, a fact that no doubt kept us immune from the worst of xenophobic public sentiment. Our new neighbours could more easily accept us as being just like them.
Refugees are, by definition, seeking a home. Arriving in Canada the way we did, with a warm bed to sleep in the very first night, made a difficult experience easier. With the right policy changes, and with a more compassionate attitude, we're capable of offering the same to all those coming to Canada today.