A comprehensive report on Canada's energy sector says the nation's remaining fossil fuels "are being sold off in an environment of low prices with minimal and declining returns to governments."
More than 30 years ago many Canadian governments earned substantial income from oil and gas production primarily through royalties or taxes, but that is no longer the case, says the report.
Royalty revenue from hydrocarbon production has plummeted 63 per cent since 2000, and corporate taxes earned by government on drilling and refining activity have declined more than 50 per cent.
Canada's Energy Outlook, researched and written by earth scientist David Hughes, one of the nation's foremost energy experts, takes a hard look at Canada's energy production, emissions, low carbon alternatives and resource-based revenue over time.
Drawing on data bases as diverse as Natural Resources Canada, DrillingInfo, BP Statistical Review of World Energy and provincial budgets, Hughes found the lucrative energy industry is putting less and less money into Canadian government coffers despite daily claims that its profits are paying for better schools and hospitals.
Overall the statistical and fiscal evidence paints a picture of dramatic and sustained revenue shrinkage.
The report, peppered with graphs and sources, documents that royalty revenue from fossil fuels peaked in 2008 along with a large spike in oil and gas prices and has fallen ever since.
Royalty revenue, usually a percentage of bitumen or gas production, has declined by 63 per cent since 2000, despite national oil production growth of 75 per cent and combined oil and gas production growth of 27 per cent.
"Canada's non-renewable energy resources are clearly being sold off for ever-decreasing benefit," Hughes said.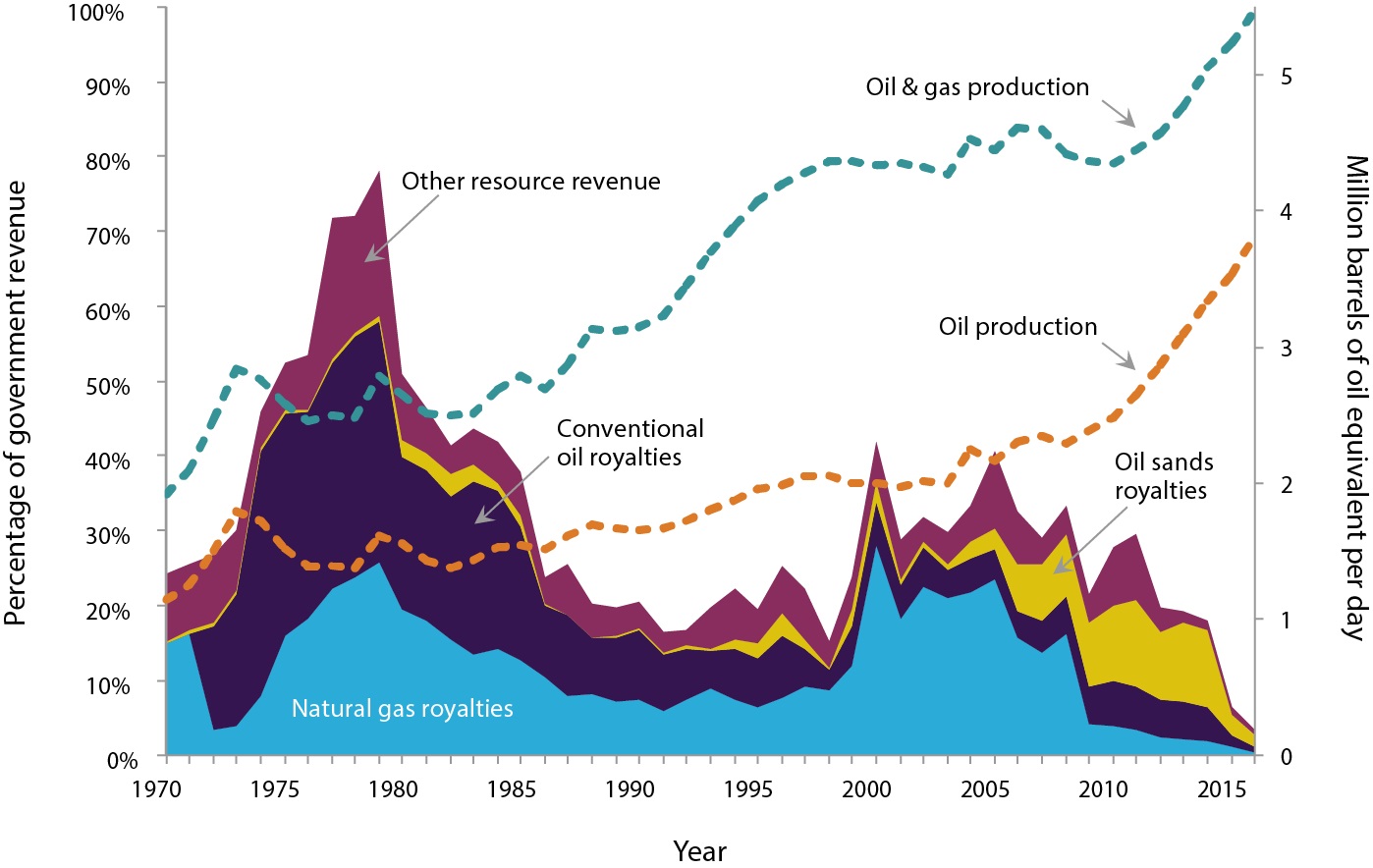 Alberta, Canada's premier petro state and largest oil extractor, has led the way in earning less and less for the owners of the resource.
While oil and gas production has doubled in Alberta since 1980 primarily due to expansions in the oil sands, revenue from royalties has plummeted from an 80 per cent share of government revenue in 1979 to an estimated 3.3 per cent in 2016, reported Hughes.
Alberta government revenue from oil and gas extraction hit a peak of $14 billion in 1979 and spiked again to $17 billion in 2005. (The bulk of that windfall in 2005 was from conventional natural gas, a resource now in steep decline.)
Since then the government share has rapidly diminished partly due to a low royalty system that has favoured rising production over maximizing value for resource owners.
"Estimated 2016 revenue of $1.4 billion is down 90 per cent from 2005 levels, despite considerable production growth since then," said the report.
Citing data compiled by the Canadian Association of Petroleum Producers, Hughes also found that royalty revenues paid to oil exporting provinces such as Alberta, Saskatchewan, Nova Scotia and Newfoundland "have declined 63 per cent between 2000 and 2015, from $11.1 billion to $4.1 billion."
These declines happened during a period when oil prices hit global highs of more than $100 a barrel.
According to the report, royalties once accounted for between 13 per cent and 17 per cent of the sales revenue from oil and gas between 1990 and 2000.
Since 2000, royalties barely made a dent in things and have declined to 4.5 per cent of sales revenue, a decrease of 74 per cent. Meanwhile oil and gas production grew by 27 per cent.
Corporate tax revenue, which once made up 30 per cent of total government revenues from fossil fuel production between 1997 and 2015, has also been declining.
Corporate income tax revenue peaked in 2006 and has declined by 51 per cent since then. Corporations paid less to government despite a 45 per cent growth in oil production and a 15 per cent growth in combined oil and gas production since 2006.
"The oft-cited claim that growing oil and gas production is vital to Canada's economic well-being and its ability to protect the environment has become progressively less true over the past decade," the report said.
British Columbia, Canada's second largest miner of natural gas, has also experienced declining royalties.
While gas production has doubled in northeastern B.C. since 2005, royalty and other non-renewable resource revenue "has declined by 84 per cent, such that it was only one per cent of government revenue in 2017."
(The Tyee has reported that between 2009 and 2014 the B.C. government actually subsidized oil and gas companies fracking shale basins by extending more than $1 billion in the form of tax credits.)
The report also provides a reality check for pipeline proponents who portray the energy sector as a dominant job creator and economic force in the country.
The evidence suggests a mature and shrinking industry now dependent on the extraction of lower quality and energy intensive resources such as bitumen and unconventional shale gas.
Oil and gas workers, for example, account for only 2.23 per cent of the national workforce, and the majority of those jobs are temporary construction work in the oil sands.
In Alberta, where industry has massively cut workers since the oil price collapse of 2015, fewer than seven per cent of the workforce is employed by fossil fuel extraction and distribution.
As a percentage of Canada's GDP, the energy industry declined from 9.2 per cent in 1997 to 7.4 per cent in 2015.
Hughes, whose work has been cited in the Economist, Bloomberg and Canadian Business, says the evidence paints a consistent pattern: "In short, Canada's remaining non-renewable energy resources are being sold off in an environment of low prices with minimal and declining returns to governments."
The report concludes that politicians don't understand that the nature of oil and gas production "is to high-grade the most economic resources first and leave the lower-quality, higher-emissions and higher-environmental-impact resources for last."
Given that nobody knows how successful a transition to renewable energy will be (renewables are now three per cent of the nation's energy supply), Hughes argues that Canada's oil and gas resources remain a valuable backstop "should renewable sources prove to be insufficient."
"Selling off the best of Canada's remaining non-renewable resources at low prices, with minimal and declining returns to the public, compromises future energy security."
The report was published by the Corporate Mapping Project, the Canadian Centre for Policy Alternatives and the Parkland Institute and largely funded by Ed Schreyer's Canadian Shield Foundation and the Canadian Centre of Policy Alternatives. You can find the original report here.