On a sunny afternoon in September, a barge roughly the size of a dump truck pulls into a dock in Delta, B.C., piled high with marine debris. Foam, plastic bottles, frayed rope — all of it hand-picked from the western shores of Vancouver Island by dozens of volunteers and stashed in 200 giant white bags.
"Too bad that ain't gold," a bystander remarks from the dock.
"You just wait," replies Chloé Dubois, standing on deck. "One day it will be."
Dubois, the executive director of Ocean Legacy, one of a handful of organizations that took part in what was dubbed the largest marine debris cleanup in Canada over the summer of 2016, is startlingly passionate about plastic — something people throw away every single day. The month before the barge's arrival in Delta, I joined Ocean Legacy's cleanup of Mquqwin/Brooks Peninsula Provincial Park southwest of Port Alice and saw Dubois work 12-hour days sorting foam, dragging giant necklaces of buoys across the scorching sand and moving crinkly sacks so full of water bottles they dwarfed her 1.5-metre height. She cleans with full knowledge that the beaches will be covered in plastic again in a few weeks.
This summer's sweep was funded by the remains of a $1-million grant from the Japanese government to clean debris from the 2011 tsunami off British Columbia's coast.
But we don't need a tsunami to get plastic in the ocean. Ocean Legacy estimates that only a third of the debris it collects comes from the 2011 disaster. Every year, coastal nations send 4.8 million to 12.7 million tonnes of plastic into the ocean. But Canada, which has more coastline than any other country, has little to no funding or mainstream solutions for dealing with what washes up here. Left to degrade on shore, the plastic breaks down into ever smaller fragments that animals eat or that leach flame retardants, insecticides and other toxic chemicals into the environment.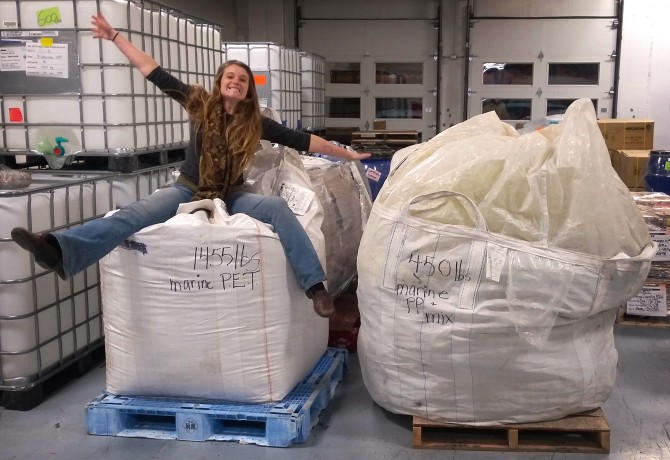 Conservation groups often have no choice but to landfill the sun-bleached, brittle plastic they collect. But that ending isn't good enough for Ocean Legacy, which Dubois founded with her partner, James Middleton, three years ago. With an ambitious goal of upcycling the 20 tonnes or so of material they collected this summer, they aim to prove that plastic waste can become something valuable — and ultimately to disrupt the cradle-to-ocean cycle of plastic mismanagement. Otherwise, debris will keep washing up on shore and the cleanups will truly become the Sisyphean ordeal they seem to be. If they succeed, they will have pulled off the greatest alchemy the modern world has ever seen: turning garbage into gold.
****
Along a dreary road lined with warehouses in Vancouver, a door is propped open with a salt-eaten buoy. "How are you?" I ask a long-haired man sitting out front sipping coffee. "Sick of taking caps off bottles," he answers. This is Eric McGillveray, Ocean Legacy's head of mechanical operations, whom everyone calls Dexter, after the cartoon character from the TV show Dexter's Laboratory.
True to his nerdy namesake, he flourishes in the dark engine room of Ocean Legacy's trawler that dragged the barge into Delta. But right now the team needs hands, not mechanical expertise. After the trawler docked last month, Lush cosmetics donated this warehouse to Ocean Legacy to sort the debris it had collected. In addition to its own haul, Ocean Legacy offered to pick up, sort and recycle material from other organizations that conducted cleanups: Sail and Life Training Society, the Surfrider Foundation and the Nuu-chah-nulth Tribal Council. Now, Dubois and her colleagues have only 14 days to prepare a pile roughly the size of a blue whale for recycling.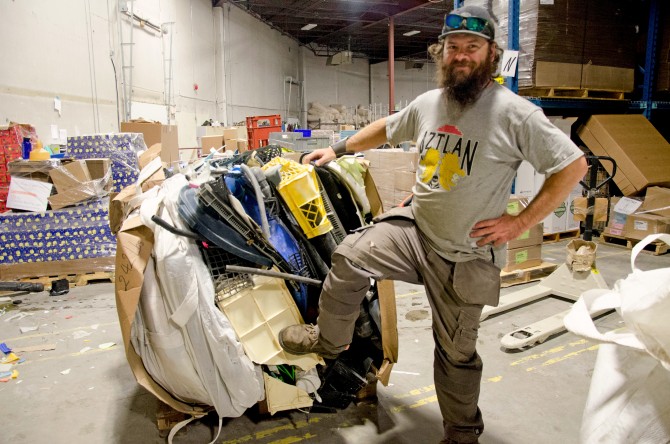 Little-known fact: recyclers have high standards. Residential recyclers specialize in recognizable domestic products that come from a home, not the ocean. They're wary of breaking their state-of-the-art sorting machines on whatever may be stuck to marine debris. There's an identification problem, too. After a long journey at sea, ocean plastic is often missing its imprinted code that says what type of plastic it is. In short, most recyclers have neither the equipment, nor the time, nor the financial motivation to process plastic that is way past its prime. "Everyone has been saying, 'No, no, no,'" says Dubois.
This means Dubois, McGillveray, and Middleton are spending every day from 8 a.m. to 8 p.m. dumping sack after sack onto the warehouse floor and combing through the contents by hand.
"Until we create artificial intelligence robots that can see and feel as well as we do, [the process] is completely manual," says McGillveray. The common plastic water bottle is a particular pain. Carved into the underside is a "1" surrounded by a triangle: a resin code that stands for polyethylene terephthalate, or PET. The bottle's cap is resin code five for polypropylene. Recyclers separate PET from polypropylene in order to sell a homogenous plastic for the highest price possible. And yet, people are surprisingly good at screwing caps back onto bottles — tightly.
Meanwhile, the bags of mysterious multicoloured foams are multiplying. Without a recycler in place, the foam might scotch Ocean Legacy's lofty zero-waste goal.
Four days into the sorting, Dubois takes me on a tour of what they've separated so far. There are 18 sections, each marked with a handwritten sign: rubber, metal, glass, foam, bags, buoys and so on. There's a section for shoes — many of them lost soles from the victims of the 2011 Japanese tsunami. (This is one of the many reasons Dubois bristles when people call ocean plastic "garbage.") Some sections, such as foam and buoys, are divided into smaller sections: dirty foam, mixed foam and clean foam, or good buoys, broken buoys and cork buoys.
In lieu of mainstream recyclers, Dubois and the team have spent years tracking down experimental processors willing to take a chance on ocean plastics: companies like Lush and Adidas and factories in nearby Coquitlam and in Ohio. The trick, however, is delivering a homogenous resin that these companies can vaporize into petroleum, remold into cosmetic bottles, or spin into fabric for shoes.
"We have to be pretty determined about getting this done. Then we can go back to having a life," Dubois says as she surveys the warehouse. She opens a bag of the mixed foam and peers at the orphaned blue, pink and caramel-coloured chunks inside. The team still hasn't found anyone willing to take it.
"It may end up in the landfill," she says wistfully. A few days earlier, McGillveray left a voice mail for a chemical engineer he found on a defunct-looking website who was developing a system for recycling mixed foams. It's a shot in the dark, but it's the best hope they have this late in the sort.
Across the warehouse are mini mountains of styrofoam and bottles and rope, and there are only nine days left to sort it all.
****
Six days later, I return to the warehouse just as 60 school children are moving giant chunks of white styrofoam, like tiny worker ants. Over the weekend, Global News reported on the sort and the television spot drew dozens of volunteers. Dubois tells me about a Japanese couple who sat on the cold concrete floor and painstakingly sieved foam pellets from dirt.
Miraculously, Ocean Legacy is now three days ahead of schedule. The quiet sorting of last week has given way to noisy momentum inside the warehouse. Children drum on garbage bins, bottle collectors come and go with pushcarts, volunteers show up looking to help. The sprawling pile that was once the size of a blue whale has been dissected into tidier sections ready for shipping. Even the troublesome mixed foams may find a home after all: the chemical engineer returned McGillveray's call and will soon drop by the warehouse to check out the goods.
Dubois sits on her shins, sorting the last bag. Despite all the good news, her mood is uncharacteristically downcast, her voice flat. This is the first time in three years that Ocean Legacy has attempted to recycle everything from its summer cleanups and the experiment has not come cheaply. Ocean Legacy gets by on grants, while the team works various contracts throughout the year to make ends meet.
But the debts are mounting and their savings dwindling; everyone is donating their time. "James and I have been covering additional expenses," Dubois says, mentioning an expensive boat part that broke and stalled their operations.
As Dubois sorts, Middleton returns with a $45 bill for tipping a truckload of rusted cylinders and other items that couldn't be recycled into the landfill — one more receipt to add to the pile. They always suspected it would be impossible to find a home for every last ocean scrap.
****
One day before the deadline, Dubois is back to her upbeat self. The white-foam mountain has disappeared to Coquitlam, where it will be upcycled into siding for new homes. Three tonnes of mixed plastic sit in shrink-wrapped cubes, waiting for shipment to an Ohio factory that vaporizes plastic into fuel. Lush will later buy the water bottles and hard plastics to recycle into cosmetic containers. Dubois is excited about a grant proposal she's writing. If she succeeds, the funding will buy a plastic washer and chipper that can break pieces of ocean plastic down into a sellable commodity — and move Ocean Legacy one step closer to turning plastic into gold.
Around 1 p.m., a well-dressed chemical engineer named Kambiz Taheri arrives at the warehouse to check out the mixed foam — "the last big question mark," as Middleton calls it. If Taheri takes the foam, they'll ending up sending just under a half tonne to the landfill.
Taheri says that the pink and blue foam must be separated from the caramel-coloured urethane he specializes in chemically reducing to liquid and reusing. However, he promises to take the urethane and direct them to another recycler for the pink and blue foam. Dubois, Middleton, and McGillveray cheer, happy and exhausted.
Outside, a storm lashes the warehouse parking lot — the remains of Typhoon Songda heading toward the Pacific Northwest, sending wave after wave of plastic.