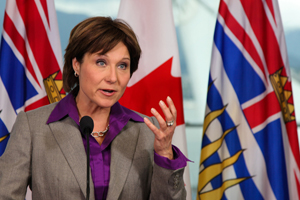 Ban corporate and union donations and stop taking a party stipend or risk losing the May 2017 provincial election.
Those are the overarching themes of email received by Premier Christy Clark's office after spring media reports about the BC Liberals' fundraising tactics.
Globe and Mail columnist Gary Mason revealed that Clark had attended an exclusive $10,000-a-plate dinner party and was receiving a five-figure stipend from the BC Liberals every year, on top of her $195,000-a-year payment as premier and MLA for Westside-Kelowna. The party later revealed it paid Clark $50,000 in 2015.
Correspondence released to The Tyee under Freedom of Information covering several days in late March and early April and late April and early May, when media attention was most intense, shows that none of the citizens who contacted Clark's office wanted the status quo. There were no favourable comments in the 47 pages released.
"I am beginning to wonder whom you are working for," said a March 30 email (the government censored all email writers' names for personal privacy). "By the way I do not support the NDP but I do not like what is occurring within the B.C. government one bit."
"I was dismayed to see that you accepted $40-$50,000 in a salary 'top-up.' This is money collected by Liberal party bag-men from private interests," wrote a citizen on April 28. "These private interests expect something in return!!! My conclusion: This is corruption. You have lost my vote."
"While I voted Liberal in the last election and have been a member of the Liberal Party, those days are gone," according to an April 27 email. "No more Madam Premier! At the expense of the working people of this province and at the expense of the wildlife of this province, your government clearly doesn't care about anyone but your friends in corporate B.C.!"
An April 28 email from a Clark constituent said: "Give the graft money back or lose my vote in the future."
"If only some of that money went towards solving real problems like homelessness, addictions and mental health issues, our whole society would be better off, rather than your party coffers," said an April 27 email. "I love B.C. but am so disappointed in this government. You will need to convince me to vote for your party in the next election."
"I think you run the risk of paying the price in the next election," said another on the same day. The next day, April 28, this: "Payback is only a matter of time. We voters have long memories."
An April 5 writer suggested a big red light be installed over the entrance to the legislature. "Of course the unions and businesses are able to buy political favours!" the email continued. "Would they continue to do it if it didn't work? Of course not! They are not stupid! By continuing the practice of holding very expensive fundraising dinners for the elites, you are confirming that the provincial government is for sale to the highest bidder!"
An April 27 writer, who copied Prime Minister Justin Trudeau, proposed only Canadian citizens whose primary residence is B.C. be allowed to donate to B.C. parties and candidates.
"We need to take the large amounts out of politics and get in line with other jurisdictions with stricter rules on campaign financing," wrote an April 28 writer.
'I cannot pay $10,000 to have dinner with you, but... '
The most-passionate correspondence was dated March 29 under the subject "an invitation to meet some ordinary British Columbians."
It referenced Simon Fraser University chancellor Anne Giardini's hosting Clark for a $10,000-a-plate fundraising dinner for 10 and criticized the premier for "spending time" with condo marketer and party fundraiser Bob Rennie and others in the real estate industry.
"If they are controlling your view of the housing crisis in the Lower Mainland, then you are seriously out of touch with reality. The development and real estate industry is not at all interested in regulation. They do not want to put the brakes on foreign investment. They have been doing very well out of the great sell-off of British Columbia and they don't want the provincial government to interfere.
"I cannot pay $10,000 to have dinner with you, but I would like to invite you to come to Vancouver and meet with some ordinary Vancouverites. We can give you a different perspective on what is happening in our communities. I'd like you to see neighbourhoods where all the old family homes have been replaced by empty mansions. I'd like you to see what you can get for $1.2 million in Vancouver. I'd like you to see what a person can rent for $1,000 a month. I'd like you to meet some young professionals who are being priced out of our city and our local economy."
Instead of arranging a visit from the premier, Clark's office responded with a form letter that said "Your comments will be shared with the premier so that she, too, is aware of them." Then it went on to describe B.C.'s AAA credit rating from Moody's Investors Service.
The original writer was nonplussed. "Thank you for your message, even though it addresses none of the points in my letter," said the April 12 reply.
During the spring legislative session, the BC Liberals rejected private members' bills from the NDP and Delta independent MLA Vicki Huntington that sought campaign finance reform.
On May 4, Conflict of Interest Commissioner Paul Fraser decided the party, not Clark, had benefited from exclusive fundraising events, and that the premier was not in a conflict of interest, after complaints from the NDP's David Eby and Democracy Watch's Duff Conacher.
Attorney General Suzanne Anton asked Chief Electoral Officer Keith Archer to gauge the feasibility of real-time reporting of political donations, but the BC Liberals themselves resisted media efforts to obtain lists of donors who paid $500 to $1,000 to attend some of the biggest pre-election party fundraisers.
Those included the annual Vancouver Leader's Dinner on June 6 in Vancouver, the Leader's Invitational Golf Tournament on June 20 at a Pitt Meadows course owned by the Aquilini family, one of the party's biggest donors, and a May 25 event billed as "Dinner At Home With Minister Amrik Virk" and four other cabinet ministers, including Anton, in Surrey.