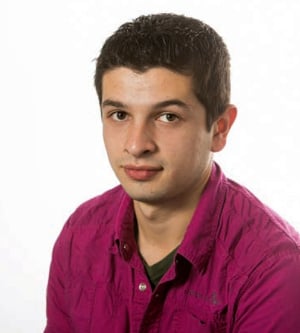 A group of refugee and immigrant youth in British Columbia have a few ideas to help Canada meet its refugee goals in the coming months.
"We have three very basic recommendations that we think can open up a broader conversation in this federal election -- but also beyond this election -- with whichever party forms government," said 19-year-old Diego Cardona, a member of the Fresh Voices Youth Advisory Council comprised of 60 refugee and immigrant youth.
The recommendations include forgiving refugee transportation loans; creating a national select standing committee for governments, non-profits, and private interests to discuss immigrant and refugee strategies; and speeding up the family reunification process.
Cardona was joined by other youth at a press conference in Vancouver yesterday to announce the recommendations in hopes of bringing even greater attention to the issue.
The recommendations are drawn from a 2013 Fresh Voices report on improving outcomes for young newcomers in B.C. But given the exploding global refugee crisis -- with over 60 million refugees worldwide, including four million people fleeing Syria -- they have a renewed urgency, Cardona said.
The group strongly emphasized the need to speed up family reunification, a process that takes an average 31 months in Canada and as of 2014 had an estimated waitlist of 80,000 applications.
"This is the fastest way of meeting our UN commitment of resettling refugees to this country," said Irwin Elman, Ontario's provincial advocate for children and youth who attended yesterday's press conference, as these refugees already have family ties in Canada and the government has the necessary documents to approve or reject their claim.
Unfulfilled pledges
In 2013, the Conservative government pledged to bring 1,300 Syrian refugees to Canada by the end of 2014 -- a goal that wasn't met until March 2015. Then, in response to a United Nations call to resettle 100,000 refugees globally, in January the government pledged to bring in 10,000 Syrian and 3,000 Iraqi refugees over three years.
In August, the party promised to bring in an additional 10,000 refugees as part of its election campaign platform.
According to the Toronto Star, as of Sept. 3 Canada had brought in only 1,000 of the 10,000 Syrians the government pledged to accept in January. The majority of those refugees were privately sponsored and therefore economically dependent on private entities, such as churches, non-profits, and their families.
Both the Liberal and Green parties have pledged to bring 25,000 Syrian refugees to Canada -- with the Liberals promising to start the process "immediately" should they form government. Neither party mentions refugees from Iraq. The NDP, on the other hand, is promising to start processing 10,000 refugees by the end of this year.
Harmonizing pledges
But it isn't just a federal issue. Last month, Ontario Premier Kathleen Wynne announced that her government plans to accept 10,000 Syrian refugees by 2016, while Quebec announced it would triple the number of Syrian refugees it took in this year to 3,650.
B.C. Premier Christy Clark said it wasn't possible for the province to increase the number of refugees it sponsored, but pledged $1 million to help with private refugee sponsorships.
Vancouver Mayor Gregor Robertson also entered the conversation in September by calling on the Canadian government to accept 20,000 refugees every year by 2020.
The conflicting opinions over how many refugees Canada could and should accept is why Fresh Voices maintains Canada needs a national select standing committee on refugee and migrant issues -- particularly youth issues.
"There are different conversations happening at the municipal level, at the provincial level, at the non-profit level, at the private level with people who want to sponsor refugees," Cardona said. A standing committee organized through Citizenship and Immigration Canada would bring those conversations together, he said.
"We feel that the establishment of a select standing committee to allow us, as a country, to never stop having a conversation around these issues."
A truly fresh start
The final recommendation, forgiving refugee transportation loans, has less to do with bringing refugees to Canada and more to do with ensuring they are successful after arrival.
Cardona himself came to Canada from Colombia with his mother and sister as government-sponsored refugees in 2005. Unlike privately sponsored refugees, the federal government covers travel and medical expenses for those it sponsors.
But it isn't a free trip. Canada is the only country that still maintains interest-accruing transportation and medical loans for government-sponsored refugees.
Although their mother passed away three years ago, Cardona and his sister, 18, are still struggling to get the government to forgive their mother's loan while paying off their own.
Over 90 per cent of refugees successfully pay back their loans. But it comes at a price.
Both Cardona and his sister have worked since Cardona was 15 -- legally and illegally -- to help their mother, who was on disability, pay off their loan. While both siblings managed to graduate from high school and now attend university, Cardona said other families have to put their education on hold to pay back the government.
"Do we want refugee families who are settling into the country to pay back the refugee loan because we feel that's the best way to invest their time, or do we want young people in those families to invest their time in getting an education and going to post-secondary?" he asked.