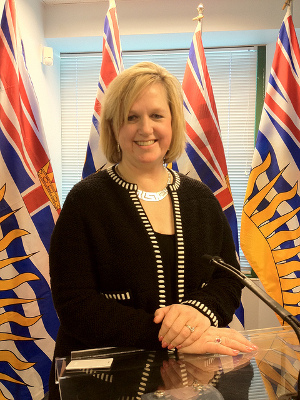 A document leaked to the opposition New Democratic Party details significant management problems at the office of the auditor general for local government, an office Premier Christy Clark created in 2012.
"We've lost $5.2 million to create an office that clearly doesn't function well," said NDP leader John Horgan. The opposition received the report in a brown envelope, he said. "The evidence in this initial report would suggest there's a leadership vacuum."
The office is mandated to audit local governments and provide them with advice on how to improve their performance.
The report was written by a human resources director in the Ministry of Community, Sport and Cultural Development and dated Jan. 2015. It directly contradicts what Minister Coralee Oakes told The Tyee in a Feb. 16, 2015 interview about the functioning of the auditor general for local government office.
At the time, The Tyee asked Oakes if there were management and human resources problems at the auditor's office. Oakes said there was none. The office is headed by Basia Ruta.
Oakes said then she had met with Ruta and the board that governs the office, and that it was on track to deliver 17 overdue audits. Of the 18 audits the office has announced, so far just one has been completed and publicly released.
"I can tell you that we are working closely with the board in making sure we are successfully moving forward," Oakes had said.
Management trouble
But now, the report by Shelaina Postings, the director of strategic human resources in Oakes' ministry, makes clear that if the minister was not aware of the problems, she should have been.
The office, which has a budget of $2.6 million a year, has 10 employees. Nine participated in the work environment review. Of those who participated, 78 per cent "disagreed or strongly disagreed that they were satisfied with the organization."
The same number were "somewhat negative or very negative" on executive-level management.
The report said that for three weeks in January "a Human Resources Representative maintained a presence within the AGLG office with the primary purpose of ensuring a respectful workplace for all employees."
Many staff struggled with shifting priorities and unclear direction from management. "Priorities lose focus or shift focus causing time lags and delays in the work," the report said.
"Almost all employees shared examples of preparing work based on direction to find out that the direction had shifted and the work wasn't needed," it said. "In addition there was a common theme regarding a lack of scope definition or scope expansion causing inefficient use of consultant and staff resources."
Employees felt the amount of time spent discussing timelines and managing the work limited their ability to actually complete the work, it said. "This was an evident frustration."
Employees wasted time by preparing documents that were similar to information they'd already provided, the report said. "Employees described multiple requests for the same document; a lack of reading documentation provided; and new requests for similar documentation that would share comparable information in a different style or format."
Waste of money
Oakes told reporters today that the Public Service Agency is also reviewing the auditor's office, and the government is allowing that process to take its course. "We do not ever want as politicians to get in the middle," she said. "Obviously, HR problems have been put forward and it's important we take those serious."
The government continues to believe in the office, which is part of its commitment to efficiency for taxpayers, Oakes said.
Asked why she told The Tyee in February that there were no problems with the office, Oakes said, "It's critically important to note if there are HR issues, if there are human resource issues, there's a process in place. A politician isn't the first person you come to if there's an HR issue. There's a Public Service Agency."
She declined to say when she knew about the problems. When it was pointed out the report produced in her ministry was dated two weeks before the Tyee interview, Oakes said, "At that point I did not know there was a review because the process had gone to the Public Service Agency."
In an interview, Ruta said that she initiated the work environment survey herself and that it will help her office to improve. "Any leader of an organization, sometimes you have to make calls and judgements that are not always liked by everyone," she said. "It goes with the territory."
Ruta said she is disappointed her office hasn't released more audit reports, but added more are coming in the next few months. Local governments are very diverse and her office has learned a lot in the two years it has existed about what it takes to do its work, she said. "You don't know exactly what you're going to find when you go in."
Horgan said the auditor's office has been a waste of money. As more reports on the office come out, that will become even more obvious.
"Once we see this in the cold light of day it may become abundantly clear that the office isn't adding any value whatsoever to the people of British Columbia," said Horgan. "There was no need to create this, it was a vanity exercise by the premier and it's costing us five million bucks."