"I've developed an allergy to asking people for money," said Kirsten Meagher, treasurer for the Tecumseh Elementary School Parent Advisory Council. "The thought of doing it again makes me want to crawl into bed and pull the covers over my head."
In 2011, Meagher and eight other parents raised over $80,000 in four months for a new playground at Tecumseh Annex, a kindergarten to Grade 3 feeder school for nearby Tecumseh Elementary on Vancouver's east side.
School districts are generally responsible for funding playgrounds, but after a dozen years of near-chronic budget deficits, there is no money left in the Vancouver district to pay for them.
The B.C. government has offered grants for playground building in the past, with $8 million in one-time funding announced in 2011. Last December, it announced another $11 million in PAC grants that could help cover playgrounds.
But no provincial funding was available for Tecumseh Annex's playground. Instead, over half the money came directly out of parental pockets, scraped together through fundraising events like barbecues and a tiki night.
The fundraising stress caused Meagher to lose nine pounds over four months. A year later her eldest son, now 13, started at Tecumseh Elementary. Meagher joined the PAC and immediately began fundraising for that school's new playground.
In 2013, the Vancouver District Parent Advisory Council surveyed 110 individual PACs on fundraising. Eighty-three per cent said their schools didn't have enough money for school programs, while 71 per cent said they fundraised more than $10,000 for their school a year, for things like playgrounds, library books, field trips, and art and music classes.
PACs are supposed to help parents provide schools with feedback on their children's education and build a relationship between parents and the school. Vancouver School Board chair Christopher Richardson said he's heard from parents that fundraising both helps and hinders community building.
"If you have parents who are shying away from being involved because of the expectations in terms of volunteering and expectations in terms of raising money, that could in fact be detrimental to the operation of a PAC," he said. "On the other side, a number of people have said it's community building, it's a healthy relationship."
Kids 'shortchanged'
Since 2012, Meagher and a handful of parent volunteers at Tecumseh Elementary have raised $75,000 for the new playground through walkathons, weekly student pizza lunches and donations from local businesses.
But they've also re-directed PAC money from other areas like field trips, library books, and music, sports and art programs -- educational tools and experiences the district can't afford -- to the playground fund.
"There are kids that might have left [the school] that were completely shortchanged, because we were saving for a playground that they're never going to use," said Meagher, adding field trips aren't frills -- some Tecumseh students have never been to the beach, let alone visited the Vancouver Aquarium.
The Tecumseh PAC hopes to purchase playground equipment this year. But a glimpse at the predicted $14.77-million budget deficit for the Vancouver School Board next year shows that fundraising will have to continue. The district blames cuts on the B.C. government downloading costs like teachers' raises and increases to the Medical Services Plan fees without increasing education funding.
In addition, the 2015 provincial budget requires that B.C.'s 60 school districts cut $29 million next school year, and $25 million the year after that from administrative spending. That translates into $2.9 million and $2.5 million in cuts for the Vancouver district alone.
"This is reasonable, it's achievable, and to keep education funding sustainable and targeted to classrooms, it's the right thing to do," reads a Feb. 26 press release from Education Minister Peter Fassbender.
Wealthy schools not immune
A heavy reliance on PAC fundraising isn't just an East Vancouver problem. Across town at beautiful Maple Grove Elementary School, a three-storey brick and yellow stucco heritage building with a large steel playground in the wealthy Kerrisdale neighbourhood, parents have raised $20,000 of their own money to pay for things like art and music classes, library books, and Montessori supplies.
But it isn't enough. Inside the building, a broken stairwell window is partially covered with plywood because the school can't afford to replace it. Library furniture is repaired with duct tape, and school computers are five to 10 years old and outdated.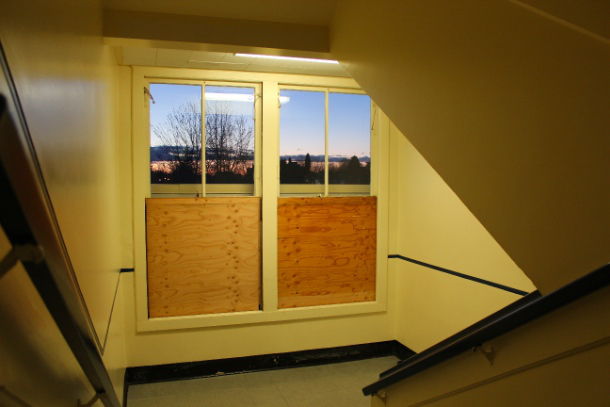 Monica Tang, co-chair of Maple Grove's PAC, said many parents at Maple Grove don't understand that most of the average $8,819 per child provided to school districts by the government in 2014/15 goes toward staff salaries, benefits, and school maintenance costs.
Looking at district budgets, Tang determined that after those costs were covered, Maple Grove received about $58.05 per student this year. That covers other expenses such as photocopying, technology, books, and furniture. The district couldn't confirm this number by deadline.
"I always assumed that PAC fundraising was for the extras, the sprinkles and the icing on the cake. And I feel like that's not the case now," said Tang, whose two daughters, seven and nine, attend Maple Grove. "It's not for the cake, it's for the bread."
In addition to fundraising, many PACs apply for and receive provincial gaming grants of $20 per student annually. But some are more successful than others in developing relationships with corporate donors and foundations like some inner-city schools.
"It's not realistic. There are lots of schools with varying levels of need that aren't going to get picked for Adopt-A-School," said Heather Legal, a member-at-large for both Tecumseh PACs, referring to the Vancouver Sun Children's Fund grants for B.C. schools.
'Prepared to start a movement'
Each September, Maple Grove's PAC asks parents directly for $100 per child in the regular stream and $250 per child in the Montessori alternative program to pay for things like Montessori classroom materials, library books, art lessons and a choir instructor, because Maple Grove doesn't have an art or music teacher.
PAC representatives from Tyee Elementary, Henry Hudson Elementary and Tecumseh also reported asking parents directly for money either currently or in the past. Some schools, like Tyee, had 65 per cent of parents donate what they could this year, while Tecumseh gave up on direct asks after only 10 parents donated a few years ago.
"I think we all grew up with this idea that public education was free and was public, and it's no longer on the free side, it seems," said Tang, whose family puts aside $1,000 annually for donations and field trips.
When she asks for money for the school, some parents look at her "as if I were fundraising for Canada Post."
The Tecumseh Annex and Tyee Elementary PACs have both created advocacy sub-committees to educate parents about how education funding works in B.C. and what school programs PACs are funding.
Legal, a mother of three with one son in Grade 8 at Gladstone Secondary and two children, 10 and eight, at the Tecumseh schools, said she's done with fundraising. Instead, she'll dedicate her volunteer hours to advocacy.
"I'm prepared to write letters to my MLA. I'm prepared to start a movement," she said.
"We all have families, we have jobs. We want to focus on raising our kids and supporting our communities, not raising money all the time. This has become our lives. It keeps me up at night."