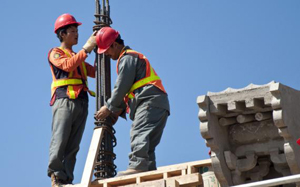 A Chinese diplomat's comments that took aim at Canada's tight visa restrictions for foreign workers has prompted observers to point out that Beijing's own visa regulations are far stricter.
Last week, China's consul general in Calgary, Wang Xinping, told the Globe and Mail that Canada's strict immigration rules were, in part, to blame for lower profits for Chinese energy companies that have set up in Alberta. He said those companies want to bring their own workers from China to keep costs down, but they can't get the necessary permits.
However, The Tyee has found that it isn't easy for foreigners to move to China to work in similar labour positions.
And a non-profit organization that works to ease trade between Canada and China said many Canadian companies would welcome a simplified visa process for business personnel posted there.
Sarah Kutulakos, executive director of the Canada China Business Council, said the biggest demand for visas to China is at the managerial level. It's rare for Canadians to seek labour positions in China because those wages are lower.
And while it's relatively easy to obtain business visas for Canadian staff to go to China, each year the visas must be renewed, which can cause problems, Kutulakos said.
"It's often not easy to get more than a one-year multi-entry visa," she said. "The expense and time of continuing to reapply for visas is something we'd like to see reduced."
The ideal, she said, would be a ten-year visa, similar to those allowed by a deal the United States recently signed with China during the Asia-Pacific Economic Cooperation summit in Beijing this month.
In the Globe interview, Wang said Canada's high wages, particularly for local skilled workers such as technicians, have hampered profits. Wang said Chinese companies, such as PetroChina and Sinopec, have invested billions of dollars in Alberta's oilsands. But the state-owned energy companies aren't performing as well as hoped.
Wang made similar comments to the editorial board of the Calgary Herald last summer.
Kutulakos, who helps Chinese companies navigate Canada's business landscape, said Chinese companies would "love" to bring cheaper workers from their home country.
Low wages in China
However, the chances of the reverse happening -- of Beijing loosening its visa restrictions to foreigners -- are slim.
Kutulakos noted that Canadian companies in China must adhere to rules that maintain a certain ratio of Canadian to Chinese employees.
Since 2007, new employment regulations protecting Chinese employees have been in effect, she said.
One of them makes it nearly impossible for companies, whether local or foreign, to fire someone.
"If someone isn't performing it's not that easy to get rid of them," she said. "You'll have to pay them a lot of money to go away."
By contrast, it is much simpler for companies in Canada to fire employees. Last year, hundreds of Canadian workers were laid off at a Husky Energy project in Alberta and replaced with cheaper workers from outside Canada.
Gil McGowan, president of the Alberta Federation of Labour, said resource sector labour, whether done by a foreign or Canadian company, should include hiring Canadians.
McGowan said Wang's comments are part of a "thinly-veiled" attempt to import Chinese labour practices to Canada.
Workers killed in accident
The federation has spoken out in the past against the labour practices of Chinese-owned firms, including after Sinopec was handed a $1.5 million fine after two workers from China died on the job when a roof collapsed north of Fort McMurray in 2007.
"If companies like Sinopec can only turn a profit by importing Chinese labour standards and Chinese health and safety practices and Chinese wages to Canada, then frankly, we don't want them," McGowan said. "I'm hoping that our leaders will have the backbone and the good sense to simply say no."
According to China-based consultants contacted by The Tyee, the Chinese government doesn't mind saying "no" to foreign companies trying to bring in labour when Chinese workers are available.
Lin Dan of the consultancy company A Path to China in Shenzhen, China, says there's no law barring foreigners from holding labour jobs in the country, but there's almost no chance of getting a visa for such work.
"This kind of job is not done by foreigners," Lin said in a phone call. "A Chinese person can do it."
Lin says work visas are pretty well exclusively handed out to people in managerial positions.
The company also said the chances of bringing in a Canadian workforce to work in a Chinese coal mine or oil field are minimal because those enterprises must be in partnership with a Chinese company that holds the majority of shares in the company.
Chinese companies aren't likely to hire foreign labour and Beijing even recently raised the bar for such employees in sectors that employ foreigners.
The Tyee left a message with the Chinese consul general in Calgary, but it was not returned by press time.