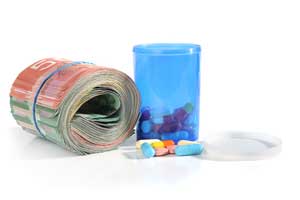 Hepatitis C patients in B.C. are waiting to hear whether the province will cover new drugs doctors say represent society's first real chance to wipe out the disease, but which are impossible for most people to afford.
In November, Health Canada approved a treatment called Sovaldi, manufactured by Gilead, and another similar drug called Galexos manufactured by Janssen Inc. In combination with another drug, they've been shown to cure hep C 90 per cent of the time.
Dr. Mel Krajden, a hepatologist with the B.C. Centre for Disease Control, said the new treatments are a public health "miracle."
He said they have the potential to "eliminate" hep C, which in public health speak means reducing it by 90 per cent. That includes those with cirrhosis, an advanced form of liver damage caused by the disease.
Approximately 242,500 people in Canada have hep C, a serious, sometimes fatal infectious disease that can cause liver failure and is spread through contact with infected blood.
Hep C disproportionally affects marginalized populations. In Vancouver's Downtown Eastside, approximately nine in 10 injection drug users have hep C, and a recent study from the B.C. Centre for Excellence in HIV/AIDS called the rate of infection among Vancouver street youth "alarmingly high."
For years, the only option for hep C patients has been interferon therapy, a treatment that kickstarts the body's immune system to try to flush the disease out, but which has debilitating side effects.
The new medications are the first interferon-free drugs available outside of a clinical trial. The catch? The 12-week treatment has a price tag of approximately $55,000, making it prohibitively expensive for most patients.
Manufacturer Gilead has defended the price of Sovaldi, saying it's cheaper than the long-term cost of treating the damage hep C does to the body.
"Sovaldi reduces total treatment costs... and it represents a finite cure, an important point to consider when comparing the price of a pill or bottle to the lifetime costs of treating a chronic disease," a spokesperson for the company told Reuters.
Many patients have waited for decades for such a treatment. But unless they have excellent private health plans, it will remain out of reach.
The way it used to be
When C.D. Mazoff was diagnosed with hep C in 1996, he was in the middle of finishing his doctorate at McGill and training for triathlons. He was relieved when he got the diagnosis, because he could finally put a name to what was happening to him.
But it didn't take long to realize that wasn't enough. Medical information on the virus was thin. The only drug on the market, an interferon called Intron A, was hellish to take. There was rampant stigma about the disease and not much of a support community.
So he worked to create one. Mazoff was one of the founding members of the B.C. patients' advocacy group HepCBC and now works for HCV Advocate in the United States.
Today, after four failed treatments, he's intimately familiar with the difficulty of finding one that works. Years ago, he tried to rid his body of the disease with the only treatment on the market, which was an interferon. But rather than boost his immune system, it gave him debilitating fevers and headaches. The drug was so strong it was nearly impossible to do anything else.
"I moved out west, because it was cheaper to be broke," he said. "I lost everything. You get sick and you're waiting for three years to get your disability, and what are you living on?"
He spent his days on the inner walkway in Victoria. "I used to sit on the benches. That's about all I was good for. I couldn't read for years. I just was so tired."
Over the years, he's tried a number of different treatments and clinical trials, but they always involved an interferon. His second treatment combined an interferon with a drug called Ribavirin.
"It had a lot of side effects. It could make you crazy. It could trigger autoimmune diseases," he said. Subsequent treatments helped, but side effects, including heart problems, always dogged him.
Today, he said the new treatments hitting the market could be the only real option for patients like him who have gone through hell on interferons. "I won't take that stuff anymore," he said.
In US, treatment is a 'non-starter'
In B.C., the conversation about how to pay for Sovaldi and other new hep C treatments is just beginning. In the U.S., where federal law requires Medicaid to cover all drugs approved by the U.S. Food and Drug Administration, it's already in full force.
Matt Salo is the executive director of the National Association of Medicaid Directors, which represents all the state agencies that deliver Medicaid. He said within current Medicaid budget parametres, delivering Sovaldi (which costs $84,000 in the U.S.) to all three million Americans who have hep C, is a mathematical impossibility.
"It looks like for the first time in history, we actually have a cure for this public health threat, and it's very exciting," he said. "[But] providing it for everyone at this cost is a non-starter. It is simply not going to happen."
Right now, a number of states are trying to figure out how to deliver the treatment without overwhelming their budgets. In many cases, that means deciding who gets it first.
One Medicaid director in Oregon recently claimed that if the state covered Sovaldi for all the patients who need it at its current price, it would almost completely eat up the state's Medicaid pharmacy budget, leaving nothing for other disease treatments.
"If the simple math equation of $1,000 a pill times three million people doesn't change, then we've got real problems," Salo said. Either manufacturer Gilead needs to drop the price, or patients must wait until similar drugs come onto the market, he said.
Though not an expert on pharmaceutical pricing, Salo said he suspects the treatment has been priced so high precisely because it has the potential to eradicate the disease. Even when treatments from other drug companies appear on the market, he expects those companies will see the opportunity to make an astronomical profit and take it.
"There'll probably be some reinfection here and there on the margins, but for the most part, if you can actually cure hep C and you do, there really isn't much of a market for your drug," he said.
BC decision pending
B.C.'s provincial PharmaCare plan recently asked patients to submit comments about the new medication. That's part of a consultation process that happens every time the province considers adding a new treatment to the plan.
"Since this drug has a very high price -- about $640 per pill, or $55,000 to $110,000 per patient for treatment -- it is important to fully review this product and its potential benefits," said a spokesperson from the B.C. Ministry of Health.
A recommendation by the national Common Drug Review, an expert body which makes suggestions to provinces and territories about which drugs their public plans should cover, is expected by early fall. The provincial Drug Benefit Council will make a recommendation after that, and B.C. PharmaCare will then make the final decision.*
"Depending on the recommendation through the Common Drug Review process and B.C.'s own review, the ministry may engage in Pan-Canadian Pricing Alliance negotiations with the manufacturer to try to secure a lower price for this product," the spokesperson said.
If it becomes more affordable, Mazoff predicts the possibility of a real cure will drive people living with the disease in secret to start treatment.
"It would mean that all those other people who are living in the closet who have hep C might go get treated," he said. "It would be huge."
*Correction, July 28 at 11:15 a.m.: A previous version of this article incorrectly stated when the final decision on the new treatments would be made.