Like many individuals his age, Dustin Robinson, 22, struggled to find a place he could afford in Vancouver, B.C. They were either too expensive or too far off the beaten track.
That was until the North Island College business student came across a strange ad on Craigslist for a three-bedroom house. In the description, there was a note: "House is being demolished in August/September."
"I had never seen anything like that," he said. "There were no pictures, but the rent was cheap, so I asked Kyle [a friend] to go down and take a look at it. It wasn't so bad, so we rented it."
The two then activated a network of friends to find others who might be lured by the low rent. The level of interest was well beyond what they expected, and in the end, four young people made the cut: Tyler, Terry, David and Holly.
Since May 1, the six tenants have been living on the "generally posh" Larson Road in North Vancouver, in a house that will soon be nothing but rubble. It's an inventive, albeit temporary solution for a group of renters facing few affordable housing options and a competitive job market.
On the outside, the house resembles some of the older properties in the neighbourhood, sharing a blue-white colour palette. An overgrown front lawn makes the property almost look abandoned.
Inside, there's a mismatched collection of furniture items, all acquired for less than $50. A 50-inch television hangs on the wall above a very dusty fireplace. In each of the tenant's rooms a mattress is laid on the floor, often with no blankets or covers. There are no closets, no desks -- just the bare minimum.
In total, they pay $1,500 a month for the place, plus utilities such as water, electricity, Internet and cable. Rent varies within the house, with some tenants paying as little as $200 a month depending on space.
"For what you give up, you gain a lot more," said Robinson. "First, there is the rent. Then, there is the prime location. And on top of that you don't have to worry about damaging the house, because it's going to get torn down anyway."
Since moving in, Robinson and his friends have done some work on the house. "We've fixed up two bathrooms, erected a temporary wall and built some furniture from the scraps of materials left by previous tenants," he said.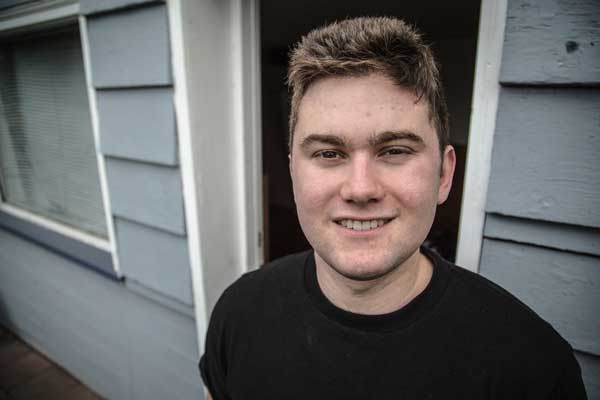 "It's definitely not living in luxury, but the compromises are worth it," added Tyler, who is also a student at NIC.
"We are young. This is the time to do things like this."
Modern day nomads
While living in a demolition house is a new experience for Robinson and his friends, there are others who have adopted it as a lifestyle.
Emma Law, a 21-year-old cook, has lived in Vancouver tear downs in the past. "It's like we are modern day nomads, jumping from place to place," she said.
Law currently lives with three other people and a dog in a house off Commercial Drive. They were told they could live there for a year before the property comes down. In total, the four tenants pay $2,000 a month, plus electricity.
"Nowadays it's really hard for young people to find housing that is affordable," she said. "How I see it, my house is cheap and it puts a roof over my head. That's good enough for me."
The websites Craigslist and Kijiji are best for finding potential tear downs to inhabit, Law said. Most landlords don't use a third-party to find renters because of the short lease, which vary on a case-by-case basis.
Robinson and his friends signed a month-to-month lease, so they could face eviction before August if their landlord decides to rush the demolition. Law, on the other hand, signed a six-month lease, so she is guaranteed housing for that period of time. Once that expires, she'll be in the same boat as Robinson.
The extra money helps tear-down owners cover property taxes while they wait for a demolition permit, Tyler explained. And in some instances, it's also a strategy to keep intruders away.
Law admits there are downsides to nomad-living. She's had to get rid of some belongings to make her luggage more mobile.
"It's really a pain to move. I don't spend too much time fixing my things up because I know it will be temporary," she said.
"But this is what has to be done at this point. This is what I can afford."
Plenty of options
According to data from Statistics Canada, 2,054 single-family detached homes were demolished in Metro Vancouver in 2013, providing plenty of opportunities for young people like Robinson and Law to find cheap rent for a few months.
Of those properties, 518 (25.2 per cent) were located in the City of Vancouver, 430 (20.9 per cent) in Surrey and 304 (14.8 per cent) in Burnaby.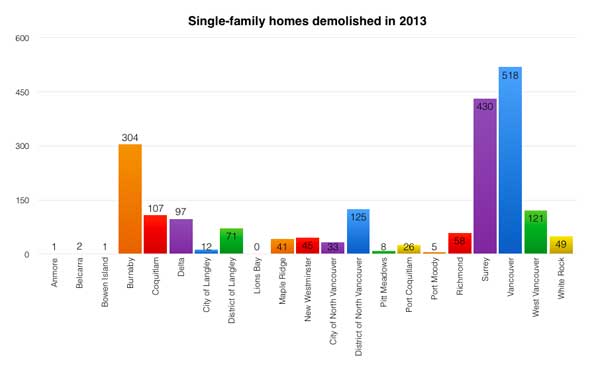 Most of these homes sit on very valuable land, sometimes worth over 50 times the value of the housing structure. In these cases absolute destruction becomes more than a probable fate; it's also a wise business move.
At the Larson Road home, the house itself is worth a meagre $33,700, but the land is assessed at $744,000, making demolition a good idea. This is true for a lot of the properties in the area, some of which date as far back as the 1940s.
Down the block from the Larson Road home, for example, four houses have already come down. They were rezoned in 2013 to allow the construction of 12 single-family detached lots.
A 'foothold,' for now
Robinson said being a tear down kid isn't just about affordable housing. "What we are making today, with the jobs we can get, is not enough to cover the costs of living in Vancouver," he said.
"If you are lucky, when you get off school you will get a job. If you are even luckier, you will get a job that relates to your degree. Even then, often times what you get paid does not make up for years of investment in your education," added Tyler.
That's why the group is exploring other ways to cheapen their lifestyle. Ideas wildly range from buying a live pig and slaughtering it for meat, to going full on vegetarian. They've also floated the idea of starting a window cleaning business.
"It's a fluid way to live," said Robinson. "I don't know what's going to happen in a couple of months. I know we have to be adaptive."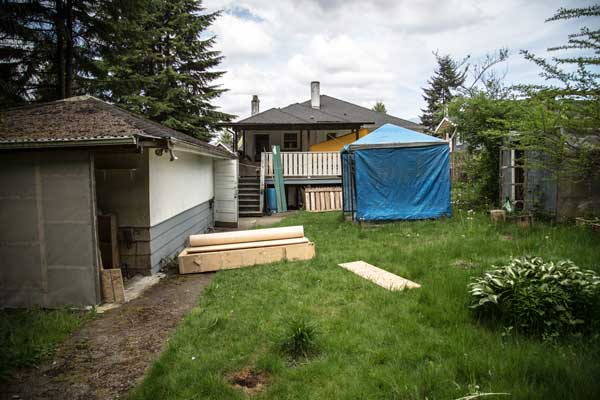 In the end, the business student and his friends say the arrangement is not permanent.
"You are doing what it takes to stay alive until you find something stable enough to move forward," said Kyle, who works in the film industry as a greensman. "The way I see it, this place is a foothold to something else."
"It's all about progression," added Tyler. "I don't mind if I eat canned food for the next month if it means there is something better in the future."
For now, though, Robinson and his friends say they are hooked on tear downs.
"We are thinking of doing this again," said Terry. "There are so many old houses around here that we might just end up moving down the street."