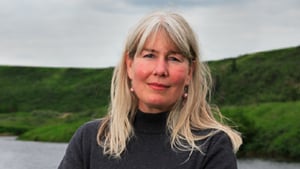 Lawyers representing oil patch consultant Jessica Ernst have argued in an appeal briefing that Alberta's powerful energy regulator not only owes a duty of care to landowners to protect groundwater, but cannot violate the nation's Charter of Rights and Freedoms.
Nor is the regulator, which oversaw the development of the oilsands and is now mired in a fracking controversy in the city of Lethbridge, immune to civil action.
The 29-page briefing filed yesterday is the latest in Ernst's ongoing, $33-million lawsuit, which alleges that Encana drilled and fractured shallow coal bed methane wells directly in the local groundwater supply near her Rosebud, Alberta home between 2001 and 2004, polluting her water well with enough chemicals and methane to make it flammable.
The suit also alleges that two provincial regulators, the Alberta Energy Regulator (formerly the Energy Resources Conservation Board) and Alberta Environment, failed to act on documented and repeated violations of the law, and that the ERCB ceased all communication with the oil patch consultant on the grounds that she posed "criminal threats."
The suit also alleges that the energy regulator violated Ernst's Charter right to freedom of expression by "punishing her for publicly criticizing the ERCB and by arbitrarily preventing Ernst from speaking to key offices within the ERCB."
Last September, Alberta Chief Justice Neil Wittman struck down Ernst's Charter claim as well as her negligence claim against the regulator.
But Wittman allowed claims of negligence against the government of Alberta and Encana, a pioneer in fracking and mining of unconventional hydrocarbons, to proceed.
A clause in the regulator's legislation exempting its actions from public litigation does not "provide immunity from valid Charter claims," argue Ernst's Toronto-based lawyers Murray Klippenstein and Cory Wanless in the briefing.
"The Charter guarantees not only fundamental freedoms, but crucially, also guarantees the right of Canadians to seek a remedy when fundamental Charter rights and freedoms are violated. These constitutional rights cannot be taken away by a mere statutory enactment purporting to grant immunity to the Energy Resources Conservation Board," they write.
A battle foreshadowed
The appeal arguments foreshadow what could become a major and significant court battle this May between the energy regulator and Ernst's lawyers in the oil town of Calgary.
In many respects, the appeal hearing pits the rights of landowners who either want to ban hydraulic fracturing or improve groundwater protection against the interests of industry-funded regulators and a government dependent on hydrocarbon revenue.
(Alberta's Energy Regulator is funded 100 per cent by industry and run by a former Encana vice president and the founder of a major oil lobby association.)
Ernst's lawyers argue that Justice Wittman made errors in his September ruling, which concluded that the regulator could not be sued by landowners for negligence.
They say the regulator's statutory immunity clause "cannot provide immunity to a government from valid Charter claims. The Charter guarantees not only fundamental rights and freedoms, but crucially, also guarantees the right for Canadians to seek a remedy when these fundamental Charter rights and freedoms are violated. These constitutional rights cannot be taken away by statutory immunity in a provincial statute."
Justice Wittman also ruled that it was "plain and obvious" that the regulator owed no duty of care to Ernst because it wasn't in a relationship of sufficient proximity.
But Ernst's lawyers disagree, arguing that not only did the regulator interact with Ernst, but encouraged her to rely on its enforcement and investigation protocols.
The regulator also repeatedly assured the businesswoman that it had rules for protecting groundwater from contamination by industry drilling and fracking. Its mandate says it must protect "all freshwater aquifers from adverse impacts caused by oil and gas activities."
Ernst's lawyers add that "the Supreme Court has repeatedly held that once a government agency, such as the ERCB, has established an investigation or inspection mechanism at an operations level, it will owe a duty of care to carry out that inspection without negligence, failing which the authority can be held liable."
The briefing cites various cases where the courts have found that mine regulators owe a duty to miners to inspect the mines; that municipalities must enforce building codes; and that agricultural boards owe a duty to farmers to inspect for potato viruses.
Alberta's energy regulator "is responsible for ensuring that oil and gas operations do not contaminate potable groundwater," add the lawyers.
"The ERCB established an inspection and enforcement scheme in part to protect potable groundwater… And yet, when faced with complaints that Ernst's water well was contaminated with flammable levels of methane, the ERCB arbitrarily and without reason failed to implement its own inspection and enforcement scheme and failed to conduct any form of investigation into the causes of the severe contamination of Ernst's well water," reads the briefing.
Ernst 'reliant' on regulator, say lawyers
One of the final arguments will likely resonate with thousands of landowners embroiled in disputes with oil and gas companies about the space, scale and regulation of fracking.
"Ernst, like all rural landowners who live near oil and gas development, has little say in where oil and gas operations are located or how such activities are conducted. She has no ability to inspect operations, or to make sure that the operations are conducted in a safe manner, and only a limited ability to respond to protect herself or her property when something goes terribly wrong.
"In this case, Ernst was completely reliant on the ERCB to protect her and her property from adverse impacts caused by negligent oil and gas activities. Where citizens have no means to protect themselves from a real danger, they should be entitled to rely on government agencies tasked with inspection and enforcement."
Based on Wittman's ruling last September, Alberta Environment has filed an application to strike out the Ernst case against the regulator, now claiming, like the ERCB, no private duty of care and immunity. The government waited three years to make this argument and the hearing is set for April 16, 2014 in Drumheller Court of Queen's Bench.
Due to a lowering of royalties for unconventional hydrocarbons (now just five per cent), horizontal multi-stage fracking has increased dramatically throughout Alberta. According to the Canadian Association of Petroleum Producers, "out of the 3,107 new oil wells placed on production in 2012, horizontal wells, including those using multistage fracturing techniques, accounted for 2,379 or 77 per cent."