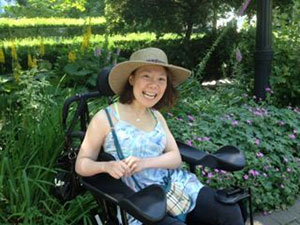 [Editor's note: Crawford Kilian has been following Ji Won's remarkable progress each year on The Tyee since 2005.]
Eleven years after she was nearly killed in a random attack in Stanley Park, Ji Won Park is planning to celebrate her 32nd birthday next month with her mother and brother in South Korea.
It won't be an easy journey. She needs a wheelchair and personal care, so the flights (almost 12 hours each way) will be difficult. South Korea is not a very wheelchair-friendly environment. But the thought of seeing her grandmother and old friends after a dozen years in Vancouver is enough to override everything.
Determined to get better
The initial attack, in May 2002, was shocking and widely covered both here and in South Korea. Park had been out for a jog in Stanley Park when she was accosted and strangled by a random stranger. The assault caused severe brain damage, leaving her in a coma from which she wasn't expected to emerge. Yet she did, and gradually she came to terms with her situation.
For years, an anonymous benefactor has paid for sessions with Dr. Paul Swingle, a Vancouver neurotherapist; Ji Won believes her vision has recently been improving as a result. Cortical blindness makes it difficult for her to recognize images and impossible to read, but she is getting better at recognizing shapes and colours.
The B.C. government provided Ji Won, her mother Jackie Lim and brother David Park with an apartment designed for people with disabilities, and they've lived in it for several years. But she likes to get out as often as possible, especially on hot summer days, to go for walks, or shop, or hang out at Starbucks.
Her Facebook page shows many photos of her megawatt smile, but a recent one shows her glaring with determination as she recovered from surgery; the operation enabled her to open her left hand, where the thumb had been pressed into her palm.
In earlier years Ji Won had tried physiotherapy and speech therapy, but now her focus is on two yoga sessions a week, when a teacher visits to show her how to relax, and how to control her feelings as well. "She can get depressed and angry," her brother David told The Tyee during a recent visit.
The yoga is also helping her improve her very limited flexibility -- caused partly by the brain damage from the attack, and partly from years in the wheelchair. She demonstrated by lifting her left arm (bent at the elbow) above her shoulder; raising her right arm required far more effort for less result. As well, she goes to aquatherapy every week.
Communicating in "Jiwonese"
Apart from outings, Ji Won spends time listening to music and watching TV and movies -- where she follows the action in large part through the dialogue. Reading and writing are still beyond her ability, though her personal caregiver Brenda keeps her in touch with friends by determining what she wants to tell them on Facebook or email.
She can't speak, but she takes an active part in any conversation; the attack damaged her brain, but not her mind, which is sharp in two languages. She responds to questions in "Jiwonese": closed eyes for no, a big smile for yes. Her facial expressions are powerfully expressive.
When the family returns in early October, it will settle into its routine: David will commute to his Coquitlam job as an accountant, while Jackie looks after Ji Won and plans to take more English courses in the new year -- she can read very well but isn't confident about writing in the language.
Jackie is also exploring some long-term solutions to Ji Won's disability, perhaps through stem-cell therapy to replace lost brain cells. She and Ji Won understand there are no quick fixes, no clever computer solutions to let Ji Won communicate fully again. But perhaps in 10 or 20 years, who knows?
Until then, Ji Won Park will continue to experience life as few of us ever have, trapped in a very special kind of solitary confinement. Some day, somehow, she will break out of her imprisonment with a story that will horrify us even as it tells us what the human soul is capable of enduring -- and overcoming.