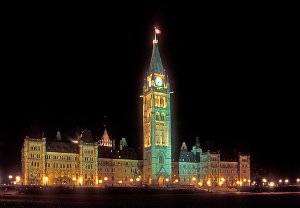 You might not know it from a glance at the nightly news, but scandals, audits and intrigue aren't all that is taking place these days on Parliament Hill.
As boiling controversies continue over a Senate expense scandal, the involvement of the Prime Minister's Office, and a continuing investigation into fraudulent automated phone calls from the 2011 election, MPs away from the cameras and headlines are in the midst of a marathon push of extended parliamentary hours.
Some 14 votes on budget legislation were scheduled for late Tuesday afternoon, part of a day that was not expected to wrap up before 2 a.m. in the House of Commons.
The Conservatives moved Parliament to an extended daily schedule -- routinely sitting until midnight -- on May 22 and will maintain the pace until the summer recess, currently scheduled to begin June 21.
The result is a sudden torrent of bills becoming law after months during which Prime Minister Stephen Harper's governing majority was accused of listless drift.
"Our government's one where we like to get judged by what we actually get done, what we deliver results on," Peter Van Loan, the government House leader, said in an interview Tuesday.
"In this case, we decided that if we wanted to be where we wanted to be after two years in (majority power), we were going to have to sit some extra hours to deliver on the commitments we made to Canadians. So that's what we're doing.
"We're staying focused on our agenda and not being distracted and getting the job done."
Clearing the legislative decks also smooths the way for a potential cabinet overhaul this summer. There have been rumblings for more than a year that Harper would use the midpoint of his mandate to prorogue Parliament and deliver a new speech from the throne next fall to refresh his governing agenda.
Prorogation kills all government legislation still in the works, so getting as much passed as possible before the summer break plays to the scenario.
Van Loan does not dismiss such talk out of hand.
"Whether that's what it does or not, I look at it from the other direction," he said. "As House leader, this is the plate of work on my desk -- the pile that is there -- and I'm trying to get the work done."
What's set to pass
Last year at this time, ramming through the first of two massive, omnibus budget bills was the big political story in Ottawa.
By contrast, the current legislative flurry -- and Van Loan's systematic use of time allocation in the House to, in his words, "put certainty into debate" -- has all but disappeared under the cloud of scandal hovering over Parliament Hill.
Among the bills either passed in recent days or set to pass:
-- Another omnibus budget bill.
While not nearly the scale of last year's budget implementation bills, C-60 includes some highly controversial stand-alone items, such as giving the cabinet a direct hand in contract negotiations with Crown corporations, including the CBC. The bill also phases out tax breaks for credit unions over five years and folds the Canadian International Development Agency into the Foreign Affairs Department.
-- A bill hiking the victim surcharge levied on offenders.
-- A bill permitting the faster removal of foreign criminals.
-- Changes to RCMP accountability measures.
-- Legalizing mixed martial arts prize fighting.
-- Legalizing single-game sports betting in Canada.
-- A massive bill making various technical tax code amendments.
-- Changes to the witness protection regime.
-- Changes to the military justice system.
-- Changes to the Freight Rail Services Act.
-- Changes to matrimonial property rights for First Nations women.

'Out of control': Cullen
"They're out of control," said Nathan Cullen, the NDP House leader.
"They're having a really bad time because the chickens are coming home to roost. They figure that slamming down on Parliament, Canadians won't hear about it."
He cited Bill S-2, the First Nations real property rights legislation, as an example of the government pushing through a highly controversial change without proper scrutiny.
Variations of the legislation have been around since 2007 without ever being passed, and the current version remains opposed by some native women's groups.
"A bad bill doesn't get better just because you shut down debate," said Cullen.
Dominic LeBlanc, the Liberal House leader, said in his 12 years as an MP he's never seen such systematic use of time allocation.
"The Liberals have come to the conclusion that, in many ways, it's a mad dash to the reset button," said LeBlanc.
"While people aren't looking, they're using mechanisms to limit the debate ... to force stuff through at a rather alarming rate."
Few could argue that getting through the spring sitting and into the 12-week summer recess will be a welcome reprieve for besieged Conservatives.
The prime minister leaves Ottawa next Tuesday for an eight-day European trip that will see him address the British parliament and attend a G8 summit in Ireland, among other stops.
The way the calendar is shaping up, opposition leaders may have just two more question periods this week to grill Harper on the Senate expense scandal before the government escapes the House of Commons hotseat for an extended break.