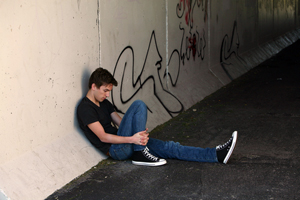 So far in this election campaign, politicians from across the spectrum have failed to make foster care and child protection -- two major government services -- a central talking point. Many of the up to 100,000 British Columbians involved in the system have not made the same mistake. See this report on what's at stake.
The Tyee Solutions Society contacted three insiders to chew over what those who want to run the province and the $270-million child protection system should be talking about.
They are: Nova Kaine, a young mom who has insider knowledge of the foster care system; Kate Hodgson, the executive director of the Downtown Eastside's Network of Inner City Support Services; and Scott Clark, former president of the United Native Nations B.C.
Tyee: Nova Kaine, as a young mom, and as a former foster kid, you have a front-seat view of the system. How helpful has the system been to your own parenting?
Nova Kaine: I have found [social workers] to be helpful and unhelpful. They were extremely helpful, though slightly intrusive at first, but also taught me and helped me get a solid support network for my family. I have heard of much worse. . . horror stories. When the ministry comes in there's no option there, whether you need help or not. If you reach out for help with no open or previous file, you are screwed.
Tyee: Kate Hodgson, before you were the executive director of Vancouver's Network of Inner City Support Services, you were a frontline worker here, and a street outreach worker in Winnipeg. What do you see on Vancouver's streets that reveals the state of the system we have?
Kate Hodgson: I see a lot of children and youth that are not included in their communities, especially in Vancouver's inner city where poverty and race collide to create a climate where young people and their families are not included in "civic life"-- our community centres, schools and other institutions. These are the youth that are on the street, are seen as "problems," are attending school seldom or not at all, and are victims of violence and exploitation. I also see second and third generations of children in the care system, which speaks to the fact that we are not intervening at the root and addressing issues in a way that can make a real difference -- in ways that support children and youth in the context of their families, their communities and with a view to healthy transitions to young adulthood.
Tyee: Scott Clark, since leaving your post as president of B.C.'s United Native Nations Society (which represents off-reserve aboriginal people), you've become a critic of handing aboriginal agencies power over child protection. This is widely considered to be a Liberal success story; the numbers of aboriginal kids cared for by aboriginal agencies has tripled over their watch. What's the problem?
Scott Clark: We supported transferring services to off-reserve Aboriginal agencies throughout B.C. and negotiated an agreement. Since then we have seen limited success. Some have argued issues have gotten worse. Since there is no strategy in place, many agencies treat our citizens as deficit clients and continue to work in silos and segregation. We seek a strategy of empowerment and peer support in the design, delivery, evaluation and modification of a strategy. Making issues more difficult is the lack of cooperation within aboriginal agencies and between non-aboriginal and aboriginal community representatives.
Tyee: The B.C. Liberal government made some pretty significant changes to the foster care system since taking office in 2001. Yet child protection hasn't been a talking point so far in this election. Why do you think that is?
Nova Kaine: I think it's because they either don't know how bad it is, or they don't know how to fix it -- or care to.
Kate Hodgson: I think child protection has not been addressed in this election because of how completely broken this system really is. The state has been a parent that has been particularly neglectful of the children in its care -- the type of parent that they would remove children from. The child protection piece is part of a larger, complex issue where there are no easy wins and no silver bullets -- not easily digestible in a soundbite or in "program" funding announcement. The government that we have after May 14 will have to address not only the complete failure of the existing system, as shown in report after report by the Representative for Children and Youth, it will have to protect vulnerable children by implementing changes across many ministries and systems, with support of communities and residents. This will take a shift in thinking and some serious changes to our existing funding streams.
Tyee: How much faith do you have that any government can repair the challenges underlying foster care? In other words, are the system's poor outcomes the fault of the system or something else?
Nova Kaine: I strongly believe that the system's poor outcomes are the fault of the system's poor strategies. There's so much that has been messed up, for decades. . . half a century. I believe they should be trying to educate and help the families instead of the "take the kids, ask questions later" method. It's disgusting how many families I've seen torn apart over easily solvable problems, yet other kids are being looked over.
Kate Hodgson: While there are larger forces at play -- economically, primarily -- things have not always been this way. We have created systems that are not accountable to communities or to young people. The systems are not focused on creating healthy, engaged youth who will as adults will be leaders and role models. The system is in "reactive" mode, and that is something that can be changed. However, the current system is focused on "silos" and does not see how not investing in a plan that really works with a child to ensure they have supports to finish school and access to proper health services now means that we will be paying much more down the line in our jails, mental system and emergency room costs. Complex problems require comprehensive solutions, but these are well within our grasp and have other living examples from other places to prove this. We need champions to take this on!
Scott Clark: The ongoing violence to our youth in the inner city is but a prime example of how MCFD [the Ministry of Children and Family Development] and its client agencies are continuing to fail our vulnerable children and families. I note the Sept. 21, 2012 suicide pact involving 30 children, all aboriginal and mostly between the ages of 12 to 15. Since this suicide pact was stopped, we have seen and heard of many other incidents in the area of the ongoing violence, be it older men preying on these kids, gangs in the area, police attacks and so forth. Over 80 First Nations bands refuse to support the existing relationship of MCFD and are seeking alternate ways to work with their children and families.
Tyee: If you were going to propose one single, simple solution to breaking the link between foster care and youth homelessness that is achievable by the provincial government, what would it be?
Nova Kaine: Listen to the kids! There is a huge issue about foster families versus families fostering their own relatives. The foster families get more than a family fostering a family member. I find that slightly off. Shouldn't it be the same, being that both styles of home placement is taking care of the same youth? Keep the families the priority! Also I believe that training and education are essential for staying off the street. Life skills, work skills, trade and employment, and most of all people skills. I would like to see more funding to get families working together, and also more in-depth parenting classes for first-timer parents and those that just need the help.
Kate Hodgson: Change the current funding models that only tackle symptoms and move to a "place-based" model that has taken root in Australia, in Harlem and other jurisdictions. The place-based model involves communities in creating solutions and recognizes that one size does not fit all -- that what will ensure children are supported and successful in a northern, rural community will be different in a large urban centre. It can tackle issues of poverty that really underlie our failures for children and youth in care. It can focus on prevention -- early childhood education, early assessments of special needs, support for young parents -- and in bringing together multiple systems like health, education, housing and foster care systems in each place can have some effective and cost efficient solutions that do not ignore the environment children are growing up in and how complex the issues they face are.
Scott Clark: [Along with supporting the place-based model], it would be great to see the provincial and federal governments enhance revenue-sharing with cities so they can use the resources to leverage others to fund a strategy, as opposed to funding programs and projects in isolation of a comprehensive strategy. The system's poor record is a direct result of the ongoing dysfunctional, segregated, competitive model. Resources need to target the families -- not build a parallel [aboriginal] system in the city. Each agency must develop an urban aboriginal strategy within the agency.