*Editor's note: This story was changed on March 13, 2013, in the interests of clarity.
Today, a child or youth in or recently released from the care of the Crown in B.C. is likely to die or be "critically injured."
That chilling conclusion is unavoidable after reviewing a succession of easily available public reports.
Between June 2007 and September 2012, according to B.C.'s Representative for Children and Youth, 504 children and youth perished while receiving care. Some were in foster care; others were receiving or had recently received services from the Ministry of Children and Family Development (MCFD), or a Delegated Aboriginal Agency. Over the same period, there were 1,136 critical injuries. (At any given time, approximately 10,000 B.C. kids are in care.)
About every four days, in other words, a child or youth in the care of B.C. dies (including those who have received services within the last year). And at least every two days, one is critically injured. Kids and teens in care are about four times more likely to die than other B.C. young people, according to another public report.
Sometime this month, B.C.'s current representative for children and youth, Mary Ellen Turpel-Lafond, will release her latest report -- the last before the provincial election. It will detail the critical injuries and deaths that happened in care in the fall and winter of 2012. It is expected to report no break in the decades-long toll of tragedies.
Stretching from the 1992 inquiry into Matthew Vaudreuil's untimely death, through the 2002 death of Sherry Charlie, to the case of a child heinously abused in care reported by Turpel-Lafond last month, the reading is grim. Yet these "incidents" are among the few opportunities the public gets to assess the services delivered by the Ministry of Children and Families. Privacy legislation usually protects individual case files.
Who is dying, and why?
A report prepared by the Provincial Health Officer and Child and Youth Officer for B.C. asserted in 2006 that, "About 30 per cent of the in-care deaths were due to congenital anomalies, nervous system diseases and childhood cancer -- conditions that have not been highly amenable to prevention." The Ministry of Children and Families maintains the true proportion of such "natural cause" deaths is closer to half.
Of those who died in 2012, for example, 33 perished for "natural" reasons, while 24 were accident-related, suicides, homicides, and undetermined deaths, according to the ministry website. In 2011, 46 of 79 deaths were "natural."
That many such deaths happen among the young and disabled was echoed in an email to The Tyee from the B.C. Coroner's office: "Many of the children who die while receiving support from MCFD are supported through the Ministry's 'At Home Program,' described on the Ministry website as designed to 'assist parents with some of the extraordinary costs of caring for a child with severe disabilities at home through a range of health supports and services.'"
Those deaths are reviewed in-house by MCFD. Summaries of the reviews can be found here.
Of the 40 kids and teens who died during the summer of 2012, 11 cases were also designated for further review by the B.C. Representative for Children and Youth (decisions are pending on whether three additional cases will be reviewed, according to the report).
Nonetheless, many deaths occurred while the victims were in the charge of a government department with a legacy of crucial errors.
The one that many will recall occurred 21 years ago. Matthew Vaudreuil died in 1992, while the NDP was in power in B.C. His horrific injuries sparked the Gove Inquiry into Child Protection in B.C. It reported that Matthew, "nearly six years old at the time of his death, weighed only 36 pounds. His face, arms, legs and back were covered in bruises. There were what appeared to be rope burns on his shoulders and wrists, as if he had been bound. Matthew had been tortured and deprived of food before he was killed."
At the time, the inquiry also found: "The response by ministry social workers to every report of concern for Matthew's safety was inadequate."
Sherry Charlie died a decade later in 2002. By then the Liberal Party was in power in B.C. Sherry was beaten to death at 19 months old by her great uncle to whom she had been entrusted by a delegated agency. Her story motivated the Hughes Review.
Turpel-Lafond has written several reports detailing other deaths since 2007.
From a 2008 report on the death of Amanda Simpson, age five: "Examination at the hospital in Prince George revealed that Amanda had a severe skull fracture with associated bleeding in the brain. Some of the injuries were consistent with shaking. For example, there was bleeding in both retinas and the optic nerve sheath. Amanda also had a fractured collarbone and severe abdominal injuries consistent with blunt force trauma. There were numerous bruises on her body."
The report also notes that "During this period, the North region of the Ministry was experiencing significant human resource challenges. There was a high annual staff attrition rate. In the second half of 1998, 21 child protection, resource and guardianship workers had been hired. By October 1999, 10 of those staff had resigned. Only 161 of the 222 staff positions for child protection, resource and guardianship worker positions were filled. Approximately 30 per cent of those workers had less than two years experience. In seven offices in the North region less than half the staff were permanent. Temporary workers filled some positions, while other positions were left vacant."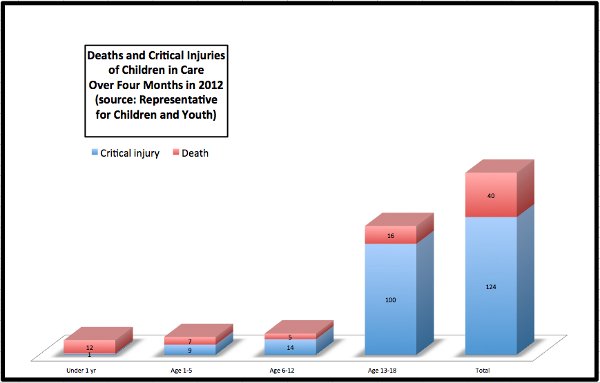 A report the next year was titled, Honouring Christian Lee. No Private Matter: Protecting Children Living with Domestic Violence. It detailed how Christian Lee died at six in a murder-suicide at the hand of his father.
It also reported that, "MCFD took the approach that because Christian was with his mother and his father was not living at home, the boy was safe from physical harm. Ministry staff concluded his mother was willing and able to protect him. While this approach reflects the way our child protection legislation is structured, it does not allow for a full recognition of the dynamics at play in domestic violence cases. Christian was not safe because his mother was not safe. She was an immigrant depending on her abusive husband to explain the social service and legal systems in British Columbia, and she had limited confidence in her ability to express herself in English."
A 2011 report, So Many Plans, So Little Stability: A Child's Need for Security, tells the story of a four-month-old infant who died, again while in the care of a court-approved relative. "In this case," that report says, "many plans were made. Few were carried through. Sixteen social workers touched this case before the infant's death, as did lawyers and the family court. Eleven different placement decisions for the infant's care were made over a four-month period, ranging from the infant being cared for by various different relatives to the infant being brought into the legal care of the ministry.
"Most of these decisions were later abandoned. The infant's file was transferred between MCFD and the DAA (Delegated Aboriginal Authority) five times. Generally speaking, interventions were episodic, and there was an overall failure to see the big picture."
Another report that same year, Fragile Lives, Fragmented Systems: Strengthening Supports for Vulnerable Infants, reviewed 21 infant deaths that had occurred between 2007 and 2010.
The families of these victims, it found, "were known to have been facing significant life and parenting challenges, yet somehow the risks to their children associated with these challenges were ignored or not dealt with effectively. Too often ... professionals from the public health, medical and child welfare systems saw these families and noted part of the issue, but didn't connect the dots to create a whole picture that would have clearly revealed a fragile situation where intervention and additional supports were critically necessary."
A year ago, in March 2012, Honouring Kaitlynne, Max and Cordon: Make their Voices Heard Now identified a series of failures in the months leading up to the murder of three children, ages five to 10, at the hands of their father, Allan Schoenborn.
Schoenborn had had numerous violent outbursts and encounters with police before one in 2007, "began an escalating year-long involvement with the criminal justice system, the child protection system and others. This year was marked by domestic violence incidents, violent or threatening confrontations involving Schoenborn and others, miscommunication among the various systems, ineffective case management, and passive responses by those charged with protecting the mother and children. In the week leading up to the children's deaths, Schoenborn was arrested three times. The escalation ended with the deaths of three children."
Then just last month, yet another report, this time titled Who Protected Him? How B.C.'s Child Welfare System Failed One of its Most Vulnerable Children, told how police tasered an unnamed 11-year-old boy in a group home, causing him "critical" injury. "Shortly after taking the child into care as a two-year-old, the ministry placed him in a foster home, where he again suffered physical and emotional abuse and neglect for more than three years," this report recounted.
"The ministry later failed to follow through on a potential adoption opportunity for the boy. Instead, inexplicably, the seven-year-old child was returned to his mother -- from whose care he'd been removed five years earlier -- even though there was no evidence to suggest that her ability to parent had improved.
"Rather than follow the advice of professionals who recommended that the child be placed in a supported therapeutic foster home, the ministry instead placed him in a series of staffed residential facilities that continually failed to address his special needs or his past trauma. In many instances, it is likely he was re-traumatized by the use of a "safe room" to manage his behaviour, despite the fact no policy or legislation exists in B.C. to permit this measure under these circumstances.
"This child has very complex needs as a result of developmental disabilities, hearing loss, a heart condition and mental health problems. The Representative acknowledges that finding a suitable, nurturing residential placement for him is a challenge. But such a challenge is the core business of the ministry -- to protect and nurture B.C.'s most vulnerable children... not a discretionary service."
In that case, the representative found that not only were the child's needs not being met, but the public was paying for services he never received: "Group home care for [such] a child ... can be very expensive. In his case, the child's most recent placement cost $400,000 per year. Even though the child has not been residing in his group home since August 2012, that empty bed continues to be paid for by the ministry."
More than two decades after Matthew Vaudreuil's horrific final days, it's evident that children continue to suffer and die while in the care of B.C.'s government ministries.