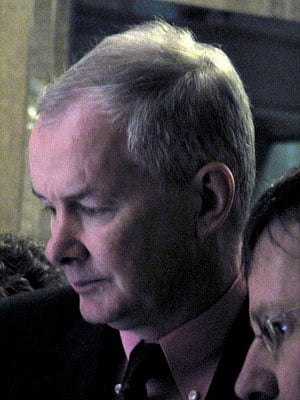 Five days after angrily denying accusations he abused students at a Burns Lake Catholic elementary school -- and refusing to take reporters' questions -- Vancouver 2010 Olympics chief John Furlong posted a missive on his website combating claims of inconsistencies in his 2011-published memoir.
"The past five days have been humiliating and demeaning beyond anything my family and I have ever experienced," Furlong said in what is billed as his "final" statement. "My loved ones in Canada and Ireland have been subjected to scrutiny, sarcasm, disrespect and outrageous invasions of privacy. The story is a disgrace beyond words."
The Sept. 27 Georgia Straight story relied, in part, on eight affidavits from aboriginal ex-students that accuse Furlong of physical and verbal abuse. A separate complaint of sexual assault was filed with Burns Lake RCMP in July. The RCMP confirmed that it is investigating.
Furlong intends to file a defamation lawsuit against the Georgia Straight and writer Laura Robinson, who revealed that Furlong arrived in Canada from Ireland as an 18-year-old Catholic missionary to work at Immaculata elementary school in 1969.
The opening chapter of Furlong's book, Patriot Hearts: Inside the Olympics That Changed a Country, only mentions his 1974 arrival in Edmonton and subsequent settlement in Prince George.
On his website today, under the title "Setting the Record Straight on my Life and Family," Furlong said he "treated everyone in a fair, appropriate manner and at no time unlawfully or harmfully" during his time in Burns Lake.
"I have never denied nor purposefully omitted speaking publicly of this time," said the statement.
Different versions of bombing nightmare
Furlong attempted to clarify his story about his father Jack's role in identifying the body of his cousin, Siobhan Roice, after she died in a May 17, 1974 terrorist bombing in Dublin. (Furlong's book errantly said the incident was May 14, 1974.)
In Patriot Hearts, Furlong wrote, with Globe and Mail columnist Gary Mason, that Jack Furlong identified the body and died less than a month later of a heart attack. "The bombs had ripped people into pieces. Body parts were stuffed in bags. It was a ring on a finger that helped identify Siobhan," according to the book.
In Robinson's story, Furlong's cousin Jim Roice said his father Ned, not Jack Furlong, identified Siobhan Roice's body. Ned Roice died last June, survived by his wife Johanna.
A Dec. 13, 2003 Irish Independent story headlined "The last moments of our beloved Siobhan," said Ned Roice "spotted his daughter immediately, her body mercifully intact" at the morgue.
"'The minute I went in, I recognized her right away. It was as if she had called me,' he says. 'She was lying there perfect. It's 29 years ago, but it's the same as if it only happened yesterday.'
"Siobhan Roice was brought home to Wexford for burial. Her mother Johanna was so heartbroken that she could not attend her daughter's funeral even though the church was just across the road from her home."
Furlong's Tuesday statement said that to "protect" Siobhan's mother, "her family told her that Siobhan had died quickly with little suffering from a heart attack."
"The story I've shared countless times is the true account of a tragedy that shaped my life forever," Furlong wrote. "We came to Canada as landed immigrants grateful for a fresh start and a new beginning. A customs officer's simple welcome to the country has inspired me for a lifetime."
Finally, Furlong charged Robinson with "open contempt for the Olympic Games and male authority figures in sport."
"At VANOC we accepted her scrutiny -- biased as it consistently was -- as part of the job. We thought our interaction with her ended with the Games."
Robinson announced Sept. 29 that she would countersue because she said Furlong wrongly accused her of inadequate research and holding a vendetta against him.
Robinson had not read Furlong's statement when contacted Tuesday by The Tyee, but she said:
"My work has been vetted by many professional editors over my career and I feel that I live in a country where free speech is a very important aspect. Mr. Furlong has every right to say what he wants about me and he'll be hearing from my lawyer."
Neither Furlong nor his lawyer Marvin Storrow took questions from reporters at the Sept. 27 news conference. The Tuesday statement said "any future statements and/or comments will be made" by Storrow.
Olympics role led to current positions
Furlong was CEO of VANOC, which relied on $188 million extra taxpayer funding to balance the $1.884 billion operating budget for the 2010 Winter Olympics and Paralympics. In 2007, before the Great Recession hit, Furlong said taxpayer revenue would not be needed for operations.
The Games began Feb. 12, 2010 with the death of Georgian luger Nodar Kumaritashvili at the Whistler Sliding Centre. The back of Kumaritashvili's head fatally struck an unpadded pole after he lost control and flew off his sled near the end of his last practice run.
"Never in our wildest dreams did we imagine the death of an athlete on opening day," said Furlong's book.
In February 2011, CBC's Fifth Estate found that the International Luge Federation expressed its concerns in March 2009 about the design of the track and the excessively fast speeds athletes reached. "An athlete gets badly injured or worse and I think the case could be made we were warned and did nothing," Furlong wrote in a March 2009 email to senior VANOC executives.
After the Games, Furlong was appointed a director of Whistler Blackcomb and Rocky Mountaineer Railtours, companies that did business with VANOC before and during the Games. Furlong was promoted to chairman of the luxury tourist railway. He is also on the board of directors of Canadian Tire. Furlong chairs Own the Podium, the body that uses taxpayer funds to finance high performance Olympic sport in Canada, and became executive chair of Major League Soccer's Vancouver Whitecaps in April.
Furlong also derives revenue from speaking engagements where he promotes his book.
He is scheduled to speak Oct. 13 -- the day after his 62nd birthday -- at the Alberta Sport Development Centre Northwest Sport Recognition Banquet in Grande Prairie, Alta.
A Freedom of Information request found that Furlong was paid $20,000 to deliver his "Vision That Changed a Nation" keynote presentation to the 2011 Alberta Sport and Recreation Leadership Summit in Banff.
[Due to the sensitive nature of this story, comments are closed.]