On July 12, Greg Utzig made the two-hour drive from his home in Nelson, B.C. to his cabin at remote Johnsons Landing on Kootenay Lake. Lake levels in the region were extremely high, and he wanted to check on a few things there -- his storage shed and his deck. He thought he might have to deal with some floating logs or debris on the shoreline.
He picked up his friend Bill Wells in Kaslo and they left for Johnsons Landing an hour later than planned. If they'd been on time, they might not be alive today.
Traveling along the road not far from the trail down to Utzig's cabin, the pair was stopped short.
"The road had been taken out by a slide in Gar Creek and there were people milling around. There was a pile of broken logs and trees down. Where there had been a dense stand of cedar down into the valley with the road on the other side, that was all completely gone. It was just a gully with bare soil and pieces of broken trees," Utzig recalls.
It was a shocking scene, with both personal and professional impact. Utzig is a soil scientist -- a terrain stability specialist with decades of experience that includes having mapped the soils and terrain in the area above Johnsons Landing. He also co-authored a recent study on how West Kootenay forests may be affected by climate change.
Utzig soon learned that several houses had been demolished by the landslide, including that of his neighbours, Christopher Klassen and Mandy Bath. Their house sat at the mouth of Gar Creek, and Utzig had planned to go there before attending to his own cabin.
But then he heard something really mysterious.
"There were a few locals who were talking about other places the slide had hit, which seemed impossible because one would assume the slide would have been contained by the gulley, but they were talking about damaged houses that were not remotely close to the gulley."
They told him some people had already attempted to search four completely destroyed houses and several seriously damaged ones, despite the risk. This was long before search and rescue officials later cut off access and decided not to search themselves because of instability in the slide area.
Utzig's first concern was his neighbours, so he and another Johnsons Landing resident walked down the creek to their home. They found that what been a two-storey house was now about two metres high.
"Both floors were collapsed and the roof was on the floor, and the floor was on the ground. It had basically been squished diagonally."
They climbed through the debris. Utzig was looking for Mandy. He knew Christopher was away in Oregon.
"There were places people could have survived inside. They had a beautiful oak kitchen table that has holding up the roof. One part of the roof was intact. There were eight-by-eight beams holding up a deck which was recently built, reinforced with quarter-inch steel gussets. The posts were snapped off and the gussets were folded back like they were paper," he says.
"But ironically sitting on the edge of the deck were a row of plants Mandy had, flowers, and they were still sitting there as though nothing had happened. I don't believe their house was violently pushed over. It was slowly pushed over because it was right at the toe of the slide and I think debris just built up behind it and put pressure on it until it collapsed, whereas some of the other places were taken out violently."
Utzig later found out that Mandy left for Kaslo the day before.
"But Christopher's sister was there in a cabin on the property, and she was extremely shook up. She had actually heard it coming, ran toward the main house, and then thought better of it and went back, and it was the right decision to make because the slide debris took out the whole yard, took out the house, and actually ended right against the cabin. It was pretty drastic."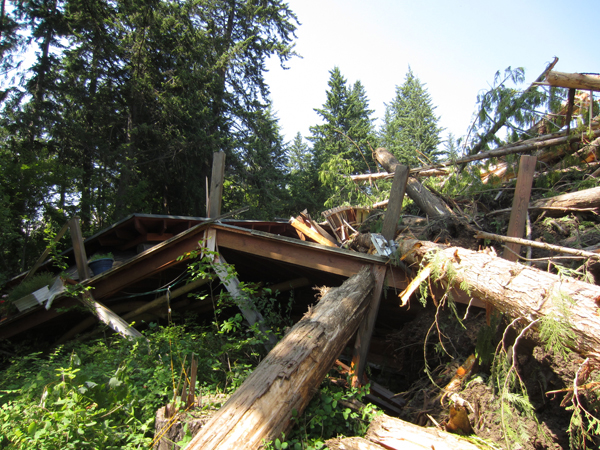 Even more drastic than he knew at the time. The huge slide resulted in the deaths of four people: Petra Frehse, 64, Valentine Webber, 60, and his daughters Rachel, 17, and Dianna, 22. It destroyed four homes, seriously damaged several others, destroyed much of Johnsons Landing's water system, took out the road and cut off over half of the residents for a week (there are still some without access), and cut off power (some still have none). And it traumatized the residents of a little piece of paradise.
At the end of the road
Johnsons Landing is not a town so much as a collection of acreages, with about 45 permanent residents. The nearest major community is Kaslo, population just over 1,000, about an hour's drive away (or 40 minutes by boat). Johnsons Landing is perhaps the most remote community in the Kootenays. It's at the end of the road.
Algot Johnson founded it by building the area's first home there in 1906. His house still stands.
"There is a certain type of person who ends up moving to a community like that," says Utzig. "People who are self-reliant, people who want to get away from things. Initially it was farmers and miners and logging. When the road was built, I think in the 1950s, other people began to arrive because of the Quaker community nearby in Argenta. There were back-to-the-landers associated with that. Now it is some retirees, and some younger people who want to get away."
Utzig and his partner Donna Macdonald found it a spectacular place. They liked the mix of "old-timers and back-to-the-landers," and bought property there 20 years ago.
The day of the landslide was like so many others in Johnsons Landing -- sunny and beautiful, though on this day the air was noisy with helicopters. After checking out the neighbours' home, Utzig and Bill Wells decided to take a canoe out into the lake to get a different view. Wells is a professional colleague of Utzig's: a soil scientist and terrain specialist as well, retired. He lived in Johnsons Landing for many years before moving to Kaslo.
"I spend lots of time in a kayak or canoe out there, and it was so surreal for it to be such a perfect day, staring at that devastation," Utzig says.
What they saw shocked and dismayed them.
"This is not what you would call a geological proportion slide like the Hope slide, but the normal kinds of landslides we have around here are usually contained in gullies. It was an order of magnitude bigger than that. Bigger than anything we had seen around here," Utzig says. "We knew the chances were pretty slim of anyone surviving in those houses, because it was so violent, with a such a tremendous amount of power."
Utzig and Wells knew the region well, having worked on terrain maps of the surrounding hillside in the 1980s.
"We were familiar with the area the slide had originated in. Just the size, and realizing there were large portions of the slide that had not completely moved yet. We thought it was likely there would be more slide activity."
And there was. That was evident in a startling news clip in which a Global TV reporter barely escaped one of several later slides in the same area.
How it happened
Utzig explains that landslides often start with a part of a stream bank sliding into a creek and impinging on it, becoming saturated as it gradually blocks the creek's flow. This can happen progressively, and a dam builds up, perhaps over a period of days. Then it breaks.
In this case, a huge slide of water, mud, rocks, and trees headed down Gar Creek, picking up speed and more material as it went.
At one point the creek takes an abrupt right turn, to run more directly down toward Kootenay Lake. But the landslide had so much momentum by this time that a major portion of it did not make that turn, says Utzig.
"It went up over a ridge that is at least 30 metres high. It must have hit that with a tremendous amount of speed and force. I would say that it was probably airborne when it went over the top of that. Then it spread out, and that is where most of the houses were damaged and where people were killed."
The more liquid parts of the slide made the turn on the creek, and went down Gar Creek valley, taking out Utzig's neighbours' house at the bottom.
"We went back to Mandy's house and we looked at the house more closely then and we still didn't find anything. By then it was afternoon and we went back up above, and it was a zoo up there -- two ambulances, paramedics, search and rescue people, at least a half dozen RCMP, and two or three sets of news media, it was a circus."
Utzig talked to other neighbours who had been involved in the more extensive search in the morning, and learned there was little hope of survival in those places -- including the Webbers' house.
"We could not conceive of why [the Webbers' home] had been hit, because it was a big distance from where the landslide left the creek draw. It is further away and the least likely to be hit of any of them. But when we looked at the topographic maps there is actually a subtle swale, you would not call it a gully, but it shows up on a topographic map, and it ended up directing the debris right toward their house. In retrospect it makes sense, but you would not have picked that up."
The danger factor
After the disaster, there was much discussion in the media about the risks of building homes in areas so susceptible to slides. But Utzig says Johnsons Landing is not as risky as some areas in the Kootenays that are much more populated.
For one, Algot Johnson's house has been there for 100 years. And people living just outside Nelson on the north shore of the West Arm of Kootenay Lake have all built on fans (the flood plain of a stream), living with a far higher risk of a slide, from his professional point of view, than those in Johnsons Landing.
"Landslides have three elements that you look at. The first is steepness of slope. The second is saturation or likelihood of it because most soils lose their strength when saturated, and the third is the characteristics of the soil itself, how strong is it and how likely to lose strength when saturated."
Where the Johnsons Landing slide originated is very steep, he says.
"From a moisture point of view, we've had 120 to 140 per cent of normal snowpack depending on where you are. We know that June was extremely wet; I have seen quotes of two to three times normal. And June is always the second or third wettest month anyway, so it is normally a wet month. A lot of that precipitation came as torrential rains, which is not unheard of here, but we have had a lot of that lately."
There were also extremely high temperatures in the week preceding the slide, causing quick melting of the snowpack.
Utzig thinks there may be an additional reason for the slide. He says there is a significant amount of karst topography in that area -- limestones and dolomites that allow water to move through bedrock. His theory is that snowmelt from the preceding week of extremely hot weather may have travelled through this topography to help saturate the slide area.
The climate change connection
And then there's the issue of "weird weather."
The apparent increase in the number of slides, windstorms, and torrential rains in the Kootenays this year is a reminder that climate change scientists have for decades predicted increases in such weather, Utzig says.
Think of weather events, whether in terms of temperature or precipitation, as a typical bell curve, he says. Most of the time we have average climate, and rare events are at the edge of that bell curve -- those are the extremes of heat or cold, wet or dry, that happen less frequently.
"What happens with climate change is that the whole temperature curve shifts toward warmer, but you still have the same bell curve so you stop getting so much extreme cold."
Utzig says there is data to show that "since 1950, not only has the curve been shifting to the right, but it has also been flattening. That means we get less average weather and more extremes.
"The fact that the curve is flattening as well as moving to warmer makes a big difference. You can do the same with precipitation. You will get dryer droughts and bigger floods."
Does that mean the Johnsons Landing slide, and several other "weird weather" events this summer in the Kootenays are caused by global warming? Utzig says that the probability of an extreme weather event is greater, perhaps two or three times greater, than before.
"That is what you can say from a scientific point of view. In terms of this spring and the weather we have had in the Kootenays, the likelihood of it is much greater. The Johnsons Landing slide might have happened before but it might have been a one-in-a-thousand year event, and now it might be one-in-a-hundred years."
Planning for future risk
Utzig says we should be planning for that increase in probability. In some more populated parts of Kootenay Lake, some planning has already been done.
"For instance, there are flood plain restrictions here in the West Arm of Kootenay Lake under the regional district's planning guidelines. We have also done most of the fans in the West Arm in terms of flooding potential, and you will notice that in some places we have built structures to try and contain floods and debris flows, to protect structures. What we need to do in those situations is reassess those, given the likelihood for greater floods and more frequent floods. But for places already built, you are in kind of a quandary. I mean it's a small risk -- a one-in-50 or one-in-a-100 year event."
He says the risks could be studied, and planned for, across the Kootenays, but instead of laboriously covering every mountain and valley, he recommends a new look at the areas considered most risky.
"Once you have identified the areas you consider high risk, you say, 'OK, what are the climate conditions that are going to likely create those risks,' and when you get those climate conditions you send out a notice to people. You identify which homes are potentially at risk and you have some sort of early warning system that only kicks in, for example, if the snowpack is more than 100 per cent of normal. Or if you get a series of rainfalls like we had in June, a notice should have gone out. You should be monitoring these creeks. It could be local or government people but in those extreme situations there would be somebody checking these things.
"In Johnsons Landing, that could have made a difference."
Ongoing rescue effort
Utzig estimates that between 15 and 20 households in Johnsons Landing are still without water because the slide destroyed their water systems on Gar Creek. Those residents are now hauling water from the lake or from neighbours who get theirs from other sources. There are a few springs that can supply small amounts of water.
These strategies will only work for a while, and August will bring the need for irrigation.
"Gar Creek has quite a bit of sediment in it because it is still down-cutting through the debris. And in the upper portion, although the large slide is slowly stabilizing and drying out as it down-cuts through the material, there are small slides occurring and material falling in to the creek."
Utzig and Wells recently spent a couple of days meeting with other residents to discuss how to get water back into their houses -- what source, what kind of system, and what route. The options, Utzig says, are complex and still being mulled over.
But Johnsons Landing has no shortage of people with technical and other expertise. The old-timers understand the intricacies of rural water systems, and the young offer energy. Together, they continue to mend their home.