When Abbotsford's mayor publicly lashed health officials last week over how to deal with needle-using drug addicts, he reinforced the stark divide between his city and many others in B.C., most notably Vancouver, a North American pioneer in harm reduction policies just 74 kilometres down the Fraser Valley.
Since 2005, Abbotsford has kept a controversial anti-harm-reduction bylaw on the books -- prohibiting services like needle exchanges, marijuana dispensaries and supervised injection sites.
It is a one-of-a-kind land-use bylaw, one that has prevented the local health authority from implementing services for drug users, said Fraser Health Authority public health director David Portesi. "If we institute harm reduction services in a hostile environment their effectiveness is diminished considerably," Portesi said.
Fraser Health is looking to increase the distribution and collection of needles in Abbotsford to mitigate the high rate of Hepatitis C infection -- the city has the third highest rate of HCV infection in B.C., according to Fraser Health data.
Abbotsford Mayor Bruce Banman has said that he understands the value of needle exchange services from a medical and humanitarian perspective, and that he is open to needle exchanges. But he has yet to welcome them into his city. He's more eager to create more local drug detox options. And he draws the line in opposing injection sites.
In an interview earlier this spring, Banman challenged the harm reduction assumption that addiction is primarily a health issue, saying, "You are, if you are a drug user, a criminal. You're not a helpless victim. You are, and choose to be, a criminal. It is an illegal activity that you are doing. If you are a pedophile, you are a criminal. And how we deal with criminals is we lock 'em up."
Banman's skepticism about harm reduction finds support among other council members. "Harm reduction, in my view, doesn't really offer a lasting solution to the tragedy of addiction," according to Councillor Simon Gibson, who says detox is his top priority.
Since Abbotsford passed its anti-harm-reduction bylaw, Fraser Health has urged city council that it be repealed. Pivot Legal Society, too, has questioned whether the law is legal.
Recently, city council agreed to conduct a technical review of the law and to allow a delegation of speakers to present before them, and that set the stage for last Monday's charged afternoon at the Matsqui Auditorium.
Opening 'Pandora's box'
Looking out at attendees, some taking notes, others holding placards, Mayor Banman described the council meeting as an opening of Pandora's box and warned that bad behaviour would not be tolerated.
Among those in the audience was Barry Shantz, who earlier expressed his belief that the controversial bylaw was part of a "scheme" by Abbotsford's government "to cleanse themselves of undesirables."
Shantz belongs to the Abbotsford chapter of the BC/Yukon Association of Drug War Survivors, whose 450 active and former drug users meet bi-weekly at a community services building downtown. Members have been working closely with Fraser Health and local service providers to share information and put together a proposed harm reduction plan for the city. The Drug War Survivors have agitated against the bylaw for years, dumping needles at city hall during one protest.
As the speakers took their turns, people in the audience wept over the personal anecdotes of community organizer Brian Gross, and they booed David Berner of the Drug Prevention Network for speaking against the practice of needle distribution and exchange. Heads cocked sideways over the complex legal arguments put forth by Pivot Legal Society lawyer Scott Bernstein, in which he argued that the harm reduction bylaw is illegal for jurisdictional reasons and that it likely violates human rights to health. Dan Small spoke on behalf of the Portland Hotel Society, urging council to repeal the bylaw.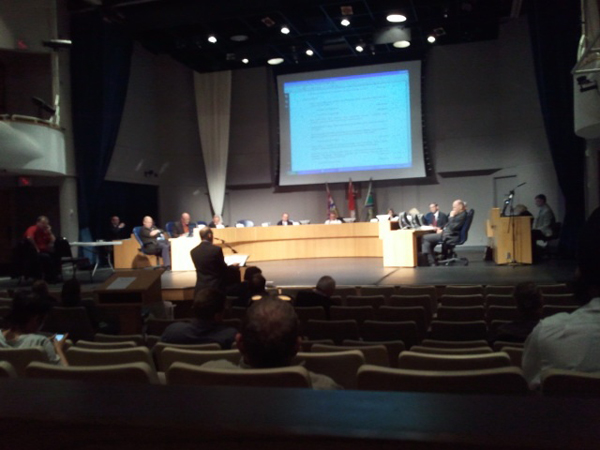 David Portesi was last to the podium. He stood at the foot of the stage, back to the audience, his PowerPoint visible for everyone to follow. Portesi proposed to council how the authority plans to implement needle distribution and exchange services, in a phased approach, over a period of two years. The plan would depend on partnerships -- with the city, with community organizations, with the local drug user group. Portesi presented a litany of Fraser Health facts and statistics, assuring council that all proposals were based on BC Centre for Disease Control best practices.
'Maybe they're from my city, maybe they're not'
Council's questioning first was directed at the statistical aspects of Portesi's report, notably that the city was presented as having the third highest rate of Hepatitis C in the province.
Mayor Banman was especially skeptical about the methodology and accuracy of Fraser Health's statistics, citing his own medical background as a chiropractor and understanding of epidemiology.
"Those numbers in my mind aren't accurate. Are they in Abbotsford or are they in New Westminster? You know these people travel around. Maybe they're from my city, maybe they're not."
The hepatitis prevalence in Abbotsford should not be perceived as a value judgment on the city, Portesi stressed.
"I think what I saw yesterday, and my interpretation, somewhat from the mayor but certainly from another councilman, was there's this perceived value judgment because they have higher rates of Hepatitis C. I think what I really want to stress to folks is it's not a value statement around somebody doing something wrong and that's why they have Hep C."
"We look at the data as here's the truth, here's what's happening, what can we do to impact that? And in Abbotsford we do think the absence of harm reduction plays at least a partial role in higher rates of Hepatitis C."
Council's criticism did not stop at statistics.
While Mayor Banman insists that "needle exchange is well worth looking at in regards to harm reduction," he was especially critical towards Fraser Health and Portesi overall. "Fraser Health Authority, in my opinion, needs to bring their A-game a little bit better," he said.
"He's pissed," one woman whispered from the audience.
"I don't blame him," another replied.
Demanding detox
Banman said he was "insulted" that Fraser Health did not bring a representative to address the possibility of bringing a detox centre to Abbotsford, and said the authority needs to "get their act together."
In drug policy, detox services are not typically categorized as a harm reduction service, rather as a treatment method. However, several councillors brought up the topic of detox services during the question period.
Abbotsford does have mobile detox services, but no in-patient site. The closest treatment centre is the Creekside Withdrawal Management Centre in Surrey. This has created access issues for low-income users and people in distress, said Maureen Accleton with Abbotsford Addiction Services.
"We have sent people there in a taxi when they're in a real crisis," she said.
It appears that additional detox services might be used as a leverage point in the harm reduction debate, said Portesi. "And certainly in Fraser Health we're willing to have discussions around that."
"But I don't think it's required to have detox beds in Abbotsford for harm reduction to work. In fact, I know it isn't. Harm reduction is all around making sure they're not exposing themselves to a communicable disease at that moment in time by not using a dirty needle."
In Mayor Banman's eyes, "true harm reduction is getting people off drugs."
"If you're going to say to me that I'm putting people in harm's way because I'm not doing something right, if there's that big of a problem in this community, then detox needs to be part of the solution. If they're not part of the solution then all Fraser Health is doing is just overturning the apple cart as far as I'm concerned. You're not going to put my community through this kind of turmoil and not offer a decent solution to this as well."
'This should not be a political issue'
Members of the public were not able to speak at Monday's meeting, their participation limited to applause and hushed discussion from the theatre. Mayor Banman said that a public consultation session is being arranged by city hall. This will likely take place in the next couple months.
"I would not put a health service up to a popular vote," said Portesi. "This health service of harm reduction is not popular for a variety of reasons but the fact is it serves a very marginalized part of our community that at the end of the day is still very much a part of the community. So my belief is that this should not be a political issue but a health care delivery issue."
Dr. Evan Wood echoes Portesi's sentiments. "It's like having public forums to decide whether doing hip replacements for elderly people that have fractured hips is a good idea. I simply can't think of another health issue where the evidence is so clear, but it's being opened up for debate."
Working out of the BC Centre for Excellence in HIV/AIDS in Vancouver, Dr. Wood is a heavily published health researcher. Among his many ventures, he is an associate editor of the International Journal of Drug Policy and an advocate for evidence-based drug policy.
Wood cites that needle exchanges are a proven and cost effective intervention, universally recommended by organizations like the World Health Organization and the United Nations -- with notable support from the UN's largest crime organization, the United Nations Office on Drugs and Crime.
"It doesn't really seem appropriate to have public forums debating the merits of whether local municipalities should be preventing the spread of HIV. I think individuals are being elected with the assumption that they will protect community health and safety... Unfortunately, I think some politicians out there have been living in a bubble and simply must not be aware of the universal recommendations coming out of the United Nations and other international public health and safety organizations."
A brisk market for needles
Regardless of the outcome of this bylaw debate, the distribution and collection of needles in Abbotsford is increasing exponentially. A freshly drafted memorandum of understanding has brought together a coalition of local service providers and organizations that have committed to provide harm reduction services regardless of the bylaw. By supplying needles and other materials to drug users these distributors will be at risk of being fined by police and/or bylaw officers.
Fraser Health has committed limited funding to support this coalition in their efforts.
The increase of harm reduction supplies for Abbotsford drug users will likely reduce the black market buying and selling of needles that has emerged on the downtown streets.
Christine Reid, member of the Drug War Survivors, says she makes it a habit to carry clean needles when she goes downtown, even though she's not an intravenous user. She says she carries them to keep people safe.
"I've been offered 20 bucks for a new one at night. I say I don't want your money but I'll find you a new one. You know, they will beg people to go get them a new one."
There has been no known enforcement of the anti-harm-reduction bylaw to date. Still, during Monday's meeting Mayor Banman, recognizing that he is only one of nine on council, declared that council has the right to keep the bylaw on the books if it chooses.
After the meeting had ended, Banman was asked for his reaction. He said nothing presented had changed his perspective.