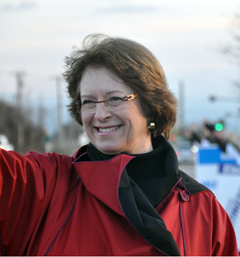 A development company appears to be betting it will be able to remove 226 hectares of prime Delta farmland from protection in British Columbia's agricultural land reserve, said independent MLA Vicki Huntington.
Records compiled by staff in the Delta South MLA's office show Lamington Heights Investments Ltd. has agreed to pay nearly $100 million to buy 11 packets of land from six different owners if it proceeds.
"[Land title documents] just prove the fact the land has been optioned, that farmers have accepted large amounts of money and the intention is to move full speed ahead as soon as the options have been exercised," said Huntington.
There's $30 million for 65 hectares owned by Felix Farms Ltd., $22 million for 50 hectares belonging to two people named Kular and $15 million for 33 hectares the Badyal family's B.K.S. Enterprises owns. Other options are also in the millions of dollars.
Huntington said she doesn't blame the farmers since anyone would be tempted by the large amounts of money Lamington has put on the table.
All but one of the options expire on Nov. 30, 2013, just six months after the next provincial election, she noted. "I found that very telling."
'We understand there are issues': developer
Lamington's sole director according to corporate registry records forwarded by Huntington's office is real estate broker and developer Ron Emerson.
"Mr. Emerson has been involved in the majority of significant industrial transactions in the lower mainland," according to the website for Emerson Real Estate Group.
He specializes in industrial real estate, it said, noting "Mr. Emerson has worked with many municipal jurisdictions in order to effect a change in zoning of key properties to a higher and better use."
In a telephone interview Emerson said he's the point person for a group that has been optioning land in Delta. "We have a confidentiality agreement amongst the people involved," he said. "I'm not at liberty to say who is part of the group."
The group doesn't plan to option or buy more land before it proceeds, he said. "At this point we're going to move with what we have. It will be interesting... Vicki's painted a fairly negative picture. We'll have to move along and see if we can build consensus."
Getting land out of the ALR for the project will need a compelling argument, support from the community and agreement from all levels of government, he said. "We understand there are issues and we have to deal with those as we move along."
Agricultural land and migratory birds
The optioned parcels border land B.C. Rail acquired in 2009 and former ALR land that was transferred to the Tsawwassen First Nation as part of its treaty settlement.
A map provided by Huntington's office shows that the much of the land between the coast, Deltaport Way and Highway 17 has either been optioned, belongs to the TFN or belongs to BC Rail.
Huntington said the plan appears to be to use the land to expand the port capacity for companies like CN Rail, CP Rail and Western Stevedoring. Involvement of the federally owned Port of Metro Vancouver could make it easy to remove the land from the ALR, she said.
Emerson said his group has been talking with the companies Huntington named and the port, and the plans could involve a logistics space, warehouses where goods can be sorted for distribution.
The province may be reluctant to publicly champion removing land from the ALR, but it appears to be working behind the scenes to support Emerson's project, Huntington said.
"The government knows all about this," she said. "They're supportive of it."
The land, which is also part of a migratory bird flyway, should be left in the ALR, she said.
"It has to be protected as the prime agricultural soil that it is," she said. "With a government that refuses to look at the environmental values, it's hard to force them to review the use of this land for anything but Gateway."
Prime agricultural land and habitat for migratory birds can't be replaced with land elsewhere, Huntington said. "You can't move that land and satisfy those values elsewhere. You can move the Gateway operation or the logistics park."
People need to have say: MLA
Emerson said he met with Huntington recently and had hoped she would wait to raise concerns publicly. "In the scheme of things it's not a huge amount of land," he said. "I think she understands the need for land for the gateway, but she's also very passionate about the migratory bird flyway as she calls it and the agricultural land reserve."
However, he said, people need to be able to work to make a living. "The gateway is important," he said. "The world's changing so quickly, but even high tech goods still need to get from point A to point B." Expanding the gateway will take land and all the places it can come from are in the ALR, he said.
Much of the land his group has optioned in Delta is used for blueberry farms, Emerson said. "There's a lot of blueberries in the Fraser Valley."
As things are now the farmers use canons to frighten the birds away, he said, adding that any development plan will have to protect bird habitat. "I believe the ecosystem is important."
Huntington going public may force the government to take a position, he said. "The government will probably have to make a statement. It will be interesting to see what that is."
Emerson said he doesn't think the province supports the plan. "We've got a ways to go to convince the government," he said. "If you want jobs and you want tax base, you don't get it from the farmland."
The plans appear to be in line with the provincial government's B.C. Gateway Transportation Strategy released this week, the Pacific Gateway Strategy and the B.C. Ports Strategy, Huntington said.
These kinds of decisions need to be made in full public view, Huntington said. "I think it's up to the people, but this government is not known for listening to the public," she said. "The province has already made up its mind about the value of the agricultural land in Delta, obviously. Now the people have to decide."
A call to the transportation ministry seeking comment from minister Blair Lekstrom was not returned by publication time.