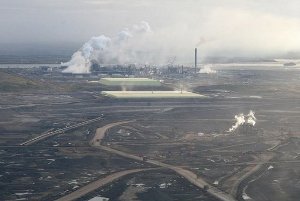 Contrary to industry and government views, the oil sands industry won't be able to restore valuable wetlands or replace their multi-billion dollar biological services, according to a new study by some of Canada's foremost scientists.
Drawing from environmental reports filed by 10 oil sands mining companies, the Proceedings of the National Academy of Sciences study found that 64 per cent of the mineable landscape, an area the size of Rhode Island, currently supports peatlands.
These valuable and rare landscapes, which take thousands of years to form, filter water, feed caribou (an endangered species in the region), store carbon, concentrate mercury, recharge groundwater, protect biological diversity and act as flood protection.
But data filed by companies now digging up 167,044 hectares of the forest show that industry won't be replacing much of these services after they've mined it.
In particular, reclamation plans from four of 10 mining projects in the region show that industry will replace largely low boreal wetlands with dry man-made highlands. Instead of bogs and fens, the industry will build hills topped by plantation forests and fill large man-made lakes with toxic waste bordered by shrubs and salty marshes.
"It's a completely different landscape," says study co-author Suzanne Bayley, one of Canada's top wetland ecologists and a University of Alberta professor.
The original boreal vegetation will change from tamarack, spruce, sedges and Labrador tea to planted aspen, jack pine, blueberry and low-bush cranberry. The shift to a drier landscape also means more fire hazards.
Reclamation claims 'greenwashing': co-author
The Canadian Association of Petroleum Producers (CAPP), the industry's big lobby group, recently claimed on its website that oil sands companies will "return the land including reclaiming tailings ponds--to a sustainable landscape that is equal to or better than how we found it."  
"But that's not possible and it's greenwashing and the company data prove it," adds Bayley. "CAPP changed their website yesterday," she claims.
Natural Resources Canada has made similar statements but hasn't yet removed them.  
A 2011 brochure (titled Oil Sands: A Strategic Resource for Canada, North American and the Global Market) says industry will "remediate and reclaim 100 per cent of the land after the oil sands have been extracted so the area can sustain vegetation and wildlife such as that which existed before its development."  
The wetlands study, co-authored by Canada's foremost water scientist David Schindler, says that the carbon storing services provided by peatlands will be destroyed forever and not replaced. This loss of carbon storage represents a debt of nearly $2.5 billion.
The study found that carbon released by the destruction of the peatlands could top 174 million tonnes and equal "seven years worth of mining and upgrading emissions at 2010 production levels." (The project, Canada's fastest growing source of atmospheric pollution, now emits 46 million tonnes of greenhouse gases a year or nearly as much as the entire nation of Norway.)
"A Shell television ad infers they are creating good native habitat," adds Bayley. "They are putting in seedlings, no peatlands, poor quality marshes, invasive species and lots of channels to send run-off to these end-pit lakes."
An end-pit lake is an old mining hole filled with acidic waste and then capped with freshwater. It is an untested toxic water disposal scheme.  
"They have not been proven as fish replacement habitat," adds study co-author Schindler.
"Despite that, the Alberta government has shamelessly approved 27 without proof they will support fish or other organisms," he told The Tyee.
No compensation policy
Under Alberta law, oil sand companies only have to replace mined out boreal wetlands with something called "equivalent land capability." It has no legal definition.
Unlike most developed countries, Alberta does not require mining companies to pay for the wetlands they destroy by contributing to a special bank that funds wetland restoration somewhere else.
"That's what Exxon Mobile has to do in the United States," says Bayley, who has studied wetlands across the province and in the oil sands. "They have to compensate right there and pay into a fund and not wait for 40 years for something to happen."  
Alberta, which has lost 60 per cent of its wetlands in the southern half of the province (that's analogous to an individual losing 60 per cent of their kidney function, says Bayley), currently has no provincial wetland policy. Nor does it have a proper inventory. As a consequence, there is no program to compensate for wetland losses in the oil sands.
"If we sacrifice all the peatlands for revenue and jobs, then the public should know what they are losing," adds Rebecca Rooney, a 28-year-old wetland ecologist who spent weeks trying to find data for the study in government basements. "The public shouldn't be told that there will be no environmental damage."
To date, 104 hectares have been officially reclaimed in the region at a cost greater than $100,000 a hectare. That site, an old soil dump, is not representative of the difficulties associated with reclaiming millions of tonnes of petroleum coke, quicksand-like clays, tailing ponds or billions of barrels of toxic mine waste.
The government's reclamation fund holds a billion dollars. Yet the Pembina Institute, an environmental watchdog and industry consultant service, estimated that it would cost more than $15 billion to reclaim just 68,674 hectares of disturbed land in 2010.
For years, the oil patch and the Alberta Chamber of Resources has fought any wetland policy that would require industry to replace every hectare of wetland lost in oil sands by paying for reclamation elsewhere.
A 2008 letter by CAPP to the Alberta Water Council calculated that restoring wetlands equal to 800 square kilometres to 2,500 km worth of peatlands destroyed by oil sands mining "would exceed billions of dollars."
The CAPP letter also admits that "it is impossible to replace peatlands with peatlands, as these wetland ecosystems depend on slow-growing plant species."
Bayley says that the Alberta government to date has no pilot projects on how to build high-quality marshes to replace peatlands. Because companies don't start reclaiming until they've mined for 40 years, industry is building a "large reclamation debt" and won't be able to tell if their efforts will be successful 50 to 100 years down the road.
Both Rooney and Bayley called for an effective wetland compensation and policy, as well as a better reclamation program based on standardized facts and accurate evaluation of costs and benefits.
"I acknowledge there will be oil sands development," says Bayley. "But if we are going to do it, we should have the best and fastest reclamation efforts."
[Tags: Energy, Environment.]