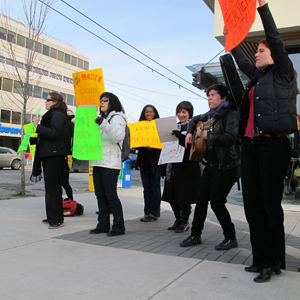 When Education Minister George Abbott announced last week he would be legislating a collective agreement for the province's teachers, he said it was because of concern over harm to students and their parents caused by the teachers' job action.
But a poll of 400 British Columbians from across the province commissioned by the BC Federation of Labour questions Abbott's sources. Released this weekend, the poll revealed 52 per cent of those polled were against government imposing a contract on teachers, increasing to 62 per cent if that contract were to include a wage freeze, weakened seniority provisions, and other concessions.
The BC School Trustees Association is uncomfortable with the idea of legislation, too. A vote held on Saturday shows trustees from across the province are in favour of introducing a mediator to negotiations rather than legislating yet another contract and further fracturing government's relationship with teachers.
Both Abbott and the BC Teachers' Federation (BCTF) expressed hope at the beginning of negotiations last year that the two parties could reach a settlement this time around. After all, they managed to do it in 2006. But critics have pointed out that's the only negotiated settlement the two have managed since provincial negotiations were introduced under the New Democratic Party government in 1995.
To many, like Ann Whiteaker, president of the BC Confederation of Parent Advisory Councils (BCCPAC), this means the system is broken.
"What we are concerned about is repeatedly over time this process does not appear to be working, and noting that we [could] be back in this situation in a year from now, we are starting to go 'Look, what have we learned, what can we improve, and what can we do to this process so that this does not have this type of effect on our students again?'" she asks.
Net zero isn't negotiating: Cohen
As far as political science professor Marjorie Griffin Cohen is concerned, the government was never prepared to let teachers negotiate.
"They're not allowing teachers to strike formally, and they don't allow them, through their whole approach to public sector bargaining, to bargain wages, and they specifically don't allow them to bargain on class size or working conditions," says the Simon Fraser University professor, adding that zero wage increase means teachers are losing money due to the rate of inflation.
"The government has, in essence, prevented the teachers from bargaining, and this has happened incrementally and despite Supreme Court ruling [on Bills 27 and 28], so I find this really quite strange."
But while Cohen believes the government has been preventing good faith bargaining, the teachers have damaged their own chances by failing to get the message out about issues outside of their own salaries.
"I think it's extremely important that the message around the working conditions gets out really, really clearly. I know they always say it, but somehow the wage issue seems to be dominant, and I think that for the teachers to have dominant support the other issue has to be much more visible," she says.
Previous negotiations judged unworthy
The unpopularity of Abbott's proposed legislation has forced him to ease up on his hard line legislation stance, telling the CBC Monday afternoon the legislation may be about a negotiation "cooling-off period" instead.
This wouldn't be the first time the Liberal government has gotten into trouble over its negotiation tactics. Last year the Supreme Court of British Columbia ruled in favour of the BCTF, saying the government's imposition of Bills 27 and 28 in 2002, under-then education minister Christy Clark, was "unconstitutional."
Four years earlier the B.C. government had it's hand slapped by the Supreme Court of Canada when it ruled that Bill 29, also introduced in 2002, violated the Canadian Charter of Rights and Freedoms by removing key bargaining rights from unionized healthcare workers in the province.
Although the BCTF requested permission from the Board of Labour Relations last night to upscale their limited job action to a full-blown walk out, president Susan Lambert has said in the past that taking the province to court again over a legislated contract would not be out of the question.
Michelle Stack, a professor in the department of education at the University of British Columbia, says government has wasted a lot of money on these court cases and she's concerned their rhetoric about how expensive teachers' demands are glosses over this fact.
"It concerns me that it's hard to even have a rational discussion about this because it's such a PR campaign," she told The Tyee.
"Last week the minister of finance was proudly talking about how we have one of the lowest corporate rates in the country. Well, we could make a decision that maybe we don't want to be proud about having the lowest rate in the country, maybe we want to be proud of adequately funding education."
That sentiment was echoed by the dozen or so teachers from Lord Tennyson elementary school marching at Broadway and Granville in Vancouver Monday afternoon.
"If I could speak to Minister Abbott, I'd say from the perspective of a new teacher in her first five years of teaching, it is completely discouraging," said Joelle Perras. "I have worked with youth 14 years of my life in different contexts, never in the classroom until three years ago, and when I hit the classroom... I have a lot of skills working with youth, and even that isn't enough. The resources aren't there. The prep time that I have is almost nothing. I have five students who need help, some of them are designated [special needs], I shouldn't even have that many in my classroom.
"I burnt out last year. I burnt out last year from work. I had to leave. It was no longer safe for me to be there because of the situation, and people should know that."
Months late for mediator
The BCTF has requested a mediator to assist in reaching a negotiated settlement, something the BC Public School Employers' Association -- the government's bargaining agent -- has agreed to. Abbott says he's open to the idea, but the results would have to meet a net zero mandate.
Whiteaker agrees there should be a mediator, but says it should have happened months ago.
"Perhaps rather than waiting till the end, after seven months of failed negotiations to appoint a mediator, perhaps a mediator has to be appointed at the beginning. There is a long history of conflict between the teachers' federation and the government, and that being said, perhaps this is a tool that they could use in the future: just start with a mediator," she told The Tyee.
The public supports a change in negotiation tactics, too: 82 per cent of those polled by the BC Federation of Labour support the appointment of a mediator, while 89 per cent an agreement through arbitration if teachers end their job action.
Both Stack and Cohen agree the negotiation system is broken, and new methods need to be looked at for reaching collective agreements with the teachers.
"I think that there has to be negotiation, I'm not saying that the [BCTF] necessarily has to get everything or can get everything that it's asking for, but to not even negotiate, to go in saying zero is not negotiating," says Stack.
At the Monday afternoon rally of Lord Tennyson teachers, the group broke into a song they'd composed for the occasion: "We've got no money for our class / And we have no time to help them pass. / Mediation, help us find a way. / We don't want to strike, but it might be the only way."