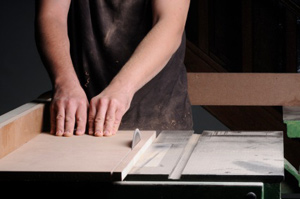 When Luc Ouellet made the decision to leave his job as an automotive mechanics teacher, it wasn't because he didn't love his job.
He was frustrated with a school system that cut corners and pushed class sizes from a maximum of 20 students to 24, a number he didn't think was safe in an auto workshop.
That was in the mid-1990s. Ouellet returned to teaching in 2006, assuming the demand for trades workers had translated to more resources and better conditions for secondary technology courses. Instead, classes had ballooned to 30 students, and textbooks were 20 years old.
"For the first couple of years I kept hoping it would change, and I thought rather than leaving again, I would try and become more of an advocate for it," he told The Tyee.
"If everybody bails on it, nothing happens."
But Ouellet did bail on the position, moving to career counseling earlier this year at Ballenas Secondary in Parksville, after the school tried to amalgamate his position with metalwork, without offering extra resources.
He hasn't, however, bailed on his cause to improve technology education -- which also includes woodshop, drafting, and computer-assisted mechanics -- and he's not alone in this fight.
Last week, the BC Technology Education Association (BCTEA) released their Best Practices Guide, calling on the ministry of education to improve funding for updating resources and old equipment, improve student safety, and for smaller class sizes.
While some may interpret this as another attempt by the BC Teachers' Federation to pressure the government in their fight against Bills 27 and 28, technology teachers insist this report was a long time coming.
"This is something we've been passionate about, we've been working on, and this is when it's come out. And it's really important to provide the kids with the best opportunities we can to move them forward, because they're going to be the generation that's out there working," says Paul Boscariol, a tech education teacher at LV Rogers Secondary in Nelson, and co-author of the BCTEA report.
Overcrowded, underwhelming courses
The BCTEA's Best Practices Guide says technology education has been underfunded since 2002, the year the BC Liberal government introduced Bills 27 and 28, and as a result districts were left with the difficult task of producing the same level of technology education with less resources.
"Funding for tech ed, like everything else that is material and project-based, has dropped significantly, and even though we're being told that money is put into education, the net results of seeing it at the classroom level isn't apparent," says Boscariol.
Where classes were once under 20 students, most of his classes now have 30 students, and often exceed the limit of three students with special needs per class. This means a room built for a maximum of 24 people will often have 30 students, a teacher, and a couple of teaching assistants all trying to conduct a class that likely involves dangerous equipment.
"Sometimes it's kind of like air traffic control; you're trying to keep the planes flying. More kids, there's more things to potentially keep your eye on and there's more things that could go wrong when you consider that in some instances, we have some facilities that really are poorly designed, because again there are no set standards as far as the design of the facility," he told The Tyee.
But where Boscariol tries to do his best to teach to the curriculum, Ouellet says he knows teachers who have had to water down their programs to accommodate the size, and age range, of their students.
"I know schools where they're teaching Drafting Grade 9, 10 and 11 all in one class, and they're also teaching electronics in that same class with 24 kids. There's no way you can do that realistically," he says.
"The kids are really missing the boat. Why would a student who is bright and ambitious and wants a career in [trades] think that that's where he wants to be when he's treated with programs that equate to nothing?"
Extend WorkSafe to students: BCTEA
The BCTEA is calling on the provincial government to improve student safety by reducing class sizes to 20 students for all technology education classes, with the exception of drafting. It's the number the BCTF recommends for technology education, as well as home economics and science labs.
But Boscariol is quick to point out that it's actually a larger number of students than what is allowed in post-secondary technology courses.
"Sixteen is the maximum, and even there we're dealing with 16 adults, whereas... you've got kids as young as 12 to 13 in the middle school level, to 16 to 18 in the senior secondary level; the maturity level isn't the same, the attention span certainly isn't the same," he says.
Tech teachers also want WorkSafeBC to cover students. Currently it covers teachers and education assistants, protecting their right to work in a safe environment.
"We're interested in ensuring that they're considered to be the same as employees in terms of safety and coverage, because for whatever reason that seems to override a lot of the expectations as far as a safe working environment. And when you've got 30 kids jammed into a workspace that's designed for 20 to 24 students, that's not a safe work environment," says Boscariol.
BCTEA is also calling for tech ed classes to be taught only by qualified teachers who have completed the appropriate training, as keeping teachers like Ouellet is difficult.
"A well-respected colleague teaching in a school district in the Lower Mainland was running a great woodworking program, and like the majority of shop teachers, was incredible at scrounging and finding materials for really cheap or free," Boscariol says.
"One day he was sorting through a dumpster of off-cuts from a manufacturing plant for stuff to use with his junior level kids, and he has an epiphany: 'What the hell am I doing? I'm here on my time, rummaging through a dumpster to keep my kids in materials because I don't have adequate budgeting and funding to run it. I'm using my vehicle, I'm burning my gas.' And we constantly do this stuff. It's ludicrous, and people say, 'This isn't what I signed up for.'"
B.C.'s future needs tech ed: Boscariol
On Friday, Oct. 21, the BCTEA presented Education Minister George Abbott with a copy of Best Practices. In an emailed statement to The Tyee, a ministry spokesperson wrote: "The Ministry will review the BCTEA's Best Practices Guide and its recommendations. Safety in the B.C. school system is paramount. School districts have a responsibility to ensure their students study in a safe environment -- whether that's in a classroom or a gym or a workshop."
Ouellet says his district did create a technology education fund after years of complaints from teachers, but it's still not enough. He admits, however, there isn't enough money for all technology programs in every school.
"We need to have all the teachers on the same page to say, 'Maybe it's computer assistance machining, maybe it's welding, maybe it's working on electronics and vehicles or robotics programs,'" he says.
In addition to BCTEA's recommendations, Ouellet would like to see industry invited into schools to evaluate tech programs, ensuring they're up to today's standards.
In his 28 years of teaching, Boscariol doesn't recall government ever putting a lot of money into technology education. But he does remember a push in the 1990s to put computers in schools -- a move that is more expensive than keeping technology education up to date.
"One of my colleagues has a thickness planer in the woodshop, and it's probably about 40-45 years old and the machine is pretty well worn out. Yet that one machine is about $20,000 to $22,000, and people go, 'Oh, my God, that's a lot of money,'" he says.
"However, if you average out that piece of equipment over the course of the 30 or 40 years you're going to get out of it, versus the $30,000 [computer] lab replacement costs [which] is done every four years, it's quite significant."
If money isn't put into technology education now, he argues, B.C. will be paying in the long-run through a decrease in high school graduation rates.
He cites research from the Association for Career and Technical Education, which links a decrease in dropout rates to the availability of adequately funded technology education courses. If these courses are allowed to flounder, he argues, B.C.'s graduation rate will decrease.
Minister Abbott's hint at a plan to improve education does mention more flexibility and choice, as well as a greater emphasis on learning through technology. Boscariol says that choice and technology must include upgrades to technology education programs, or B.C.'s future looks bleak.
"[For example], the recent announcement of the ship building contract for Seaspan, they're talking about 4,000 jobs over the course of 20 or 30 years -- where are those 4,000 people coming from?" he asks.
"If they're not being given a reasonable and quality education and an opportunity to learn in a good working environment, we're going to be behind."