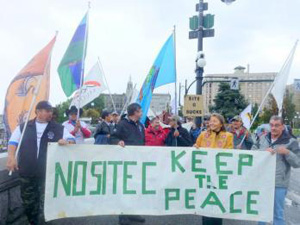 BC Hydro Corp. claims its latest annual report complies with internationally recognized human rights disclosure standards. But, when it comes to disclosing the state of BC Hydro's relationship with aboriginal communities, that claim doesn't appear to be entirely true.
As part of its image of being a good corporate citizen, the Crown corporation started using measures developed by the Amsterdam-based Global Reporting Initiative to report out on its behavior in 2003.
Those guidelines, which were tightened in 2006 and are used by companies such as Apple Inc., now ask organizations to disclose everything from the total weight of the waste they generate to their strategy for phasing out poisonous PCBs.
But BC Hydro has yet to report out on "the total number of incidents of violations involving rights of indigenous peoples and actions taken," as it is coming into increased conflict with the province's First Nations.
Boast of 'strong and sustainable relationships'
In particular, aboriginal communities in British Columbia, Alberta and the Northwest Territories are upset with the province's decision to proceed with the Crown corporation's Site C dam.
This potential dam is the third to be built along the Peace River in northeastern B.C. and will come at a high environmental and social cost to First Nations, according to aboriginal leaders.
Five First Nations in the Peace River area have said the Site C dam and other development in the region violates the Declaration of the Rights of Indigenous Peoples signed by Canada, and they have asked the United Nations to intervene to stop BC Hydro from going ahead with the project.
But, despite this concern, the project continues to move forward -- even as the Crown corporation insists "building strong and sustainable relationships" with aboriginal communities "remains key to maintaining a reliable supply of energy throughout the province."
GRI measure dropped, admits BC Hydro official
After repeated requests as to why BC Hydro hasn't reported out on its violations of indigenous rights, its aboriginal relations and negotiations director Lyle Viereck explained the corporation no longer uses that GRI measure.
Instead, it's adopting what he says is a more "rigorous process of review" under the Canadian Council for Aboriginal Business's progressive aboriginal relations program. Viereck said that new reporting system will track "success in advancing progressive aboriginal relations."
Still, reporting on success isn't the same as reporting on violations, says political commentator Troy Sebastian, who is also an advisor to the Ktunaxa Nation in the Kootenays.
"The fundamental reality is they don't want to admit the truth that the development of indigenous lands has occurred and continues to occur without our consent" -- something the Global Reporting Initiative's indigenous rights measure would show.
'We endeavour to report on all indicators': BC Hydro
BC Hydro didn't directly respond to a question about why the corporation's annual report claims it's compliant with the initiative's guidelines when it appears it isn't.
A spokesperson said, "We endeavour to report on all of the indicators recommended in the G3/EUSS guidelines."
But BC Hydro only uses those indicators as a "way to enhance our annual reporting and demonstrate how we manage our business in support of the three bottom lines."