[Editor's note: Tyee reporters will be filing additional, first-hand accounts of the post-game rioting later this evening. Check back.]
Parts of downtown Vancouver erupted in flames, explosive booms thundered through the air and looters smashed windows and ran amok inside department stores Wednesday after the city's Stanley Cup run ended in bitter defeat.
Weeks of well-behaved crowds watching the Vancouver Canucks march toward Game 7 of the NHL final ended abruptly in violence and vandalism that erupted even before the 4-0 loss to the Boston Bruins was officially over.
The riot shattered the wholesome legacy of the nightly parties hosted on the same streets during the 2010 Olympics -- an experience that had the city's mayor and police chief confidently proclaiming Vancouver had "matured" since similar riots in 1994.
Police officers from around the region flooded into downtown and Mayor Gregor Robertson said things were getting under control, but the images and atmosphere that lingered late into the night suggested otherwise.
Gregor said there had been no fatalities, though he had to be asked the question twice.
Fights broke out and people were seen falling on broken glass.
At the flagship Bay store, looters jumped inside and were seen grabbing T-shirts and anything else they could get their hands on. Young women were seen escaping with MAC cosmetics. One girl carried out part of a mannequin.
The landmark building was filling with smoke as rioters, their faces covered in bandannas, continued the violence. Almost none were wearing hockey jerseys.
For many, the ugly chaos added a vicious sting to an already painful loss.
"This isn't what the Canucks are about," said Chad McMillan, 31, a Vancouver resident and lifelong Canucks fan.
"This isn't what their fans are about, this isn't what this city is about."
Police in riot gear attempted to cordon the violence, but ambulances also appeared to be having trouble getting inside the zone to help the wounded.
The smoke from the fires and from police tear gas and pepper spray was choking.
Flames leaped from at least two flipped vehicles, which rested in the middle of trash-strewn streets, filling the downtown core with heavy black smoke in the moments immediately following the game at Vancouver's Rogers Arena.
"I heard a loud noise and turned and there was a car being stomped on by a bunch of guys," 18-year-old witness Brandon Sinclair said of the first few moments of violence.
"A bunch of guys started rocking it, then they flipped it over and five minutes later it was on fire and then they flipped another one. It was just out of control."
Bright orange flames were seen shooting nearly 10 metres into the air as bystanders tossed firecrackers, setting off intermittent barrages of staccato explosions.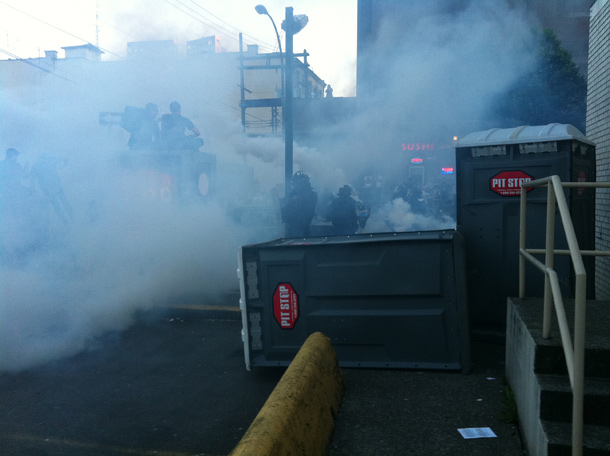 Live television images showed a large fire burning inside a parking garage, but it wasn't immediately clear what was ablaze.
Patrick Fleming, 15, from Richmond, B.C., said a small group of fans took out their anger on nearby cars in the game's dying moments, flipping over two vehicles and setting one on fire.
Another upturned vehicle was visible nearby as flames erupted from the exploding car, prompting bystanders to duck down in alarm. Fans who were trying simply to get out of the danger zone found their visibility reduced to zero by the thick black smoke.
About an hour after the game ended, some bold troublemakers started hurling garbage and bottles at police officers, who deflected the debris with riot shields. Protesters who rushed the police line were quickly subdued with blows from a truncheon.
Some protesters held what looked like pipes or hockey sticks over their heads as they jeered at officers. Newspaper boxes were wrenched off the sidewalk and hurled through store windows. Portable toilets were tipped as the stifling black smoke spread through the city's core.
Some seemed to revel in the rampage, recording the vandalism on cellphones and video cameras. A few congratulated those who tried to attack police, while others erupted with cheers every time something was damaged.
At one point, police were using flash-bangs -- grenades that are designed to distract and disorient, rather than injure -- to try to break up the mob.
There were no details about injuries, although live television showed images of at least one woman mopping blood from her forehead. Another report said at least one person had been stabbed. Fights and skirmishes erupted all over.
"You don't ever hope for a situation like this," said Vancouver police Const. Jana McGuinness.
"You celebrate the good times and you prepare for the bad times and that's exactly what we've done. Unfortunately, the tables have turned tonight."
Som Gosh, 16, said police blocked off the area and detained a number of people, but it did little to quell the violence.
"I think it was a few people... Everybody else is watching, some are cheering," Gosh said.
As he spoke, another fire erupted nearby in an area littered with abandoned Canucks memorabilia and hand-lettered signs expressing support for the team. The violence appeared to start when fans set fire to a stuffed bear decorated to symbolize the Bruins. Others sang a drunken tune as they danced on an overturned vehicle.
Some members of the crowd could be seen trying to hold others back as the rampage continued. Many -- including families with children -- tried to flee, panicked.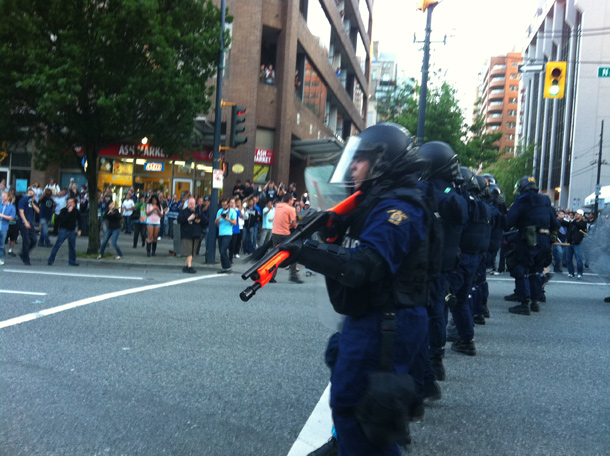 Most of the people in the downtown core wanted no part of the violence and headed in the opposite direction. A long line of police tried to hold the surging crowd back from the blazing cars.
Though the outcome of the game was no longer in doubt midway through the third period, a hail of beer bottles rained down on giant outdoor television screens as soon as the final buzzer sounded.
The scene was vividly similar to one in 1994, when a Game 7 loss to the New York Rangers prompted a similar stampede of boozy mayhem in the downtown core.
This time, police tried to nip the violence in the bud by closing liquor and beer stores early, but it appeared to have no effect.
Said McGuinness: "We will have to sit down and evaluate exactly what happened here. It's going to be a black mark for a very, very long time."
Pandemonium reigned as some fans chanted obscenities about the winning team, leaping over bonfires that raged in the street as riot police moved in to try to restore order. Isolated fights broke out between small groups of drunken fans.
Police and firemen stood nearby, but did not intervene right away. If a pedestrian happened to be heading in a direction of danger, however, officials warned them to turn around.
At least two young men covered in soot reported being roughed up by the police, but they weren't arrested.
Rivers of poured-out alcohol, broken glass and trash made navigating the streets of the downtown a treacherous task.