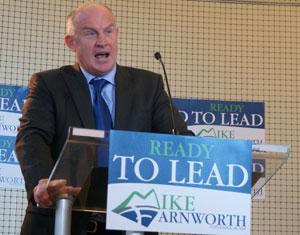 Mike Farnworth expects the New Democratic Party to form the next government under his leadership, and when they do, he says he'll appoint a Royal Commission to take a sweeping look at the state of British Columbia's education with an eye towards the future.
That firm commitment sets Farnworth apart from not only new BC Liberal leader Christy Clark but also his rivals running for the NDP leadership, as well as the leader of the BC Teachers Federation.
So on this one, is Farnworth a lonely outsider, or just well ahead of the curve?
"I think that it's time we as a province take a very comprehensive look at education in British Columbia, where it needs to be over the next 10 or 15 years, 20 years, and do a commission that looks at education in its entirety, so you're not just looking at K-12," Farnworth told The Tyee.
Critics cite everything from the time and money it might require, to education stakeholders' inability to get along, as reasons not to have another provincial commission.
Six major areas of focus
Farnworth has already released his commission plan as part of his leadership platform, addressing six major areas where the controversy around education in B.C. is focused: cost; class size, composition and assessments; changing technology; early learning; accessibility of post-secondary institutions; and preparing students for the modern world.
"We need to make sure that we are doing everything we can to ensure not only do we have the best education system in the country, but that we're preparing and we're looking at it in a comprehensive manner. I mean, the world changed since the last time an exercise like this was done in 1988."
The previous Royal Commission on Education: A Legacy for Learners, commonly referred to as the Sullivan Commission after Commissioner Barry M. Sullivan, was proposed in 1987 and completed the following year. But the B.C. government didn't officially respond to the report until 1989, and its implementation was cut short by the cancellation of the program by Premier Mike Harcourt in 1993.
That's too much time for the BC Teachers' Federation (BCTF) to wait to fix education.
"There are too many pressing issues that need to be addressed immediately -- and that can be addressed if people just started to work together about them -- that can't wait on a Royal Commission," says BCTF president Susan Lambert.
Fellow NDP leadership candidate Adrian Dix won't say a commission is a bad idea, but points out the kids who would most benefit from education reform would be much older by the time the commission were completed and reforms were put in place.
"I think as a party, if the election's aren't until 2013 then we should be developing that program and be ready to have it in place, and even if the election's this year, there are specific things we can do," Dix told The Tyee, adding class size and composition, replacing the Foundation Skills Assessments with random sample tests, and developing an antipoverty plan that focuses on children, as areas he would address without a commission.
"If the commission is in addition to action, that might be okay. But if it's an excuse not to act on key issues that we can deal with now, then it won't be as beneficial."
Short timeline eyed by Farnworth
Like Dix, George Davison, secretary treasurer of the Federation of Post-Secondary Educators, wouldn't oppose an education commission, but he worries waiting any longer to fix post-secondary issues such as underfunding, student debt, increased corporatization and faculty lay-offs, might cause more harm than good.
"What's happening to institutions on the ground now can't wait another three or four years for lots of hearings and people thinking about it and doing nothing," he told The Tyee.
"We'd need roughly a $200 million in injection in the post-secondary alone just to bring us back to [2001 levels]."
But Farnworth doesn't believe a commission takes that much time, however, if it is properly planned.
"You give it a timeline. And you give it a timeline to do the work that needs to be done," he told The Tyee.
"I think what you have to do is be committed to it, to recognize that one of the ways that a commission succeeds is by government indicating that they're committed to the outcomes, that they're committed to implementing outcomes."
'Furious agreement' on education issues: Abbott
The BC School Trustees Association (BCSTA) initially proposed the idea of a commission April when they passed a motion at their annual general meeting asking the ministry of education to hold one. But since that time, BCSTA president Connie Denesiuk says the government has responded by fostering discussion around 21st century or personalized learning, inspiring districts to think about the future of education already.
"I don't think these discussions will replace a commission. There needs to be significant follow-through and continuation of these discussions, and then of course there's the other piece of this and that's the support, the resourcing of 21st century learning," says Denesiuk.
"What I heard from trustees around the province is the need to continue to move forward in equipping our students in the best ways possible, and the Royal Commission is one of the ways that that could occur."
But former education minister George Abbott -- the only Liberal leadership candidate to respond to The Tyee's interview request -- says his short time as education minister taught him a commission would just tell people what they already know.
"I don't feel from my short period as the minister of education that there's any lack of shared vision among the partners. I think there's almost what I would call a furious agreement on a whole lot of things and I'd like to explore that," Abbott told The Tyee before the Liberal leadership vote on Feb. 26.
"We were on the cusp of putting some pretty exciting stuff together with our education partners and I think that I would want to devote our energy to doing that."
Robert Clift, executive director of the Confederation of University Faculty Associations also wonders what Farnworth hopes to learn from an education commission that isn't already evident.
"There have been any number of reports, done both on the K-12 side and on the post-secondary side that identify important issues. It's in my experience in doing government relations, it's not that the ideas aren't out there, it's that the political will isn't there to do them -- or the money," he says, adding his opinions are not representative of the Confederation, which has no official stance on a commission.
Leave the agenda at the door
Instead of holding a commission, Lambert suggests education stakeholders work together with the government, and the best way to do that is to increase education spending and give educators the respect she argues they deserve.
"[The government] has to understand that those who are implementing education policy in classrooms and schools across the province probably have the most sophisticated grasp of the issues and should be consulted and listened to respectfully."
Animosity between the government and the BCTF has stalled education policies before, however, and even brought the service to a standstill when teachers walked out illegally in 2005 over a government-imposed legislated contract, and it's entrenched bodies like the BCTF that NDP leadership candidate John Horgan believes will never see eye to eye with government.
"Our stakeholders can't sit down and agree on the size of a table and whether it be round or square," Horgan told The Tyee.
"I think that if we can't address the operational issues by having stakeholders: the government, trustees, educators, administrators, parents reflecting on those locally, then a commission doesn't really answer a problem, it just puts it off to another table, and that would be my primary concern."
Instead, like Lambert, he suggests government show a willingness to actually listen to what others have to say. Jameel Aziz, president of the British Columbia Principals and Vice Principals Association, says this would be easier if stakeholders promise to leave their agendas at the door.
"Everybody is in agreement that we want the best public education system possible, that we all want to make sure the system does its best possible to support children and families, and so the agenda of any particular partner group has to be left behind," he told The Tyee.
"Informally we've had the ability to do that, but formally it seems that we can't put those pieces aside to have the conversations, and I don't know what it's going to take, but I know certainly I have the willingness and our organization does, and I would suspect that many of the other organizations do as well."
Action possible away from commission: Farnworth
But Farnworth doesn't believe all changes to the education system must hinge on the commission, nor does he think all changes should depend on the opinions of a select group of stakeholders. He wants to hear from everyone in B.C. about where they think the education system should be heading, whether they have an entrenched interest or not.
"You've got the whole spectrum of people concerned about education right from K-12 through universities, and then you've got someone who's able to do a report with recommendations and government should express some commitment to that," he told The Tyee.
"I think if you have the right people, you're able to balance-off competing interests, and the funny thing is in many cases there's an awful lot of common ground, and I think to me it's not trying to pit one group against another, I think that's what we've seen too much of in this province, but rather it's finding areas of common ground.
"That to me is how you're going to end up with something successful."