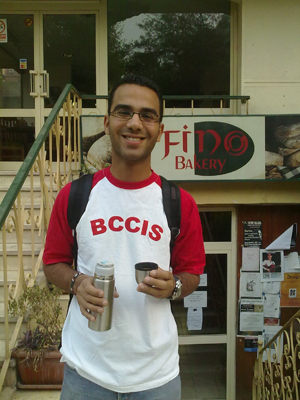 For over two weeks, the world's eyes have focused on a tiny patch of concrete in the sprawling metropolis of Cairo called Tahrir square. Images of violent and deadly clashes, burning buildings, and stories of beaten foreign journalists have captivated audiences around the globe as they watch revolution seemingly unfold in Egypt.
Some say the real revolution has taken place outside the square, where Egyptian people have put aside religious, cultural and class differences to band together for democracy.
Although the protest began as a pointed accusation of police brutality, it wasn't until police left their posts that the change really began, says Egyptian Mohamed Hasabo, a 26-year-old special education teacher at the British Columbian Canadian International School in Maadi, Cairo. Since 1952, Jan. 25 has been known as Police Day, and used to honor police in Egypt. Organizers chose this day specifically as a message that the police weren't honoring the people in return. Images of rape and murder at the hands of police had been spread like fire across the Internet, and the events in Tunisia fanned the flames of hope that things could change.
Even though thousands of people flocked to the square in the first few days, the protest had been widely publicized and expected, so it was business as usual for the rest of the 7-plus million residents of the city.
"[Most of us] didn't think it was going to be a big thing," Cairo-born Hasabo told The Tyee over the phone from Egypt. Although the event had widespread public support, no one really thought it would change anything. "We were thinking that it was going to be just a bunch of people who are protesting. We didn't know that those people really decided that they were going to make a difference." Hasabo continued to go to work for Tuesday, Wednesday and Thursday, while mostly peaceful demonstrations were held far away from the school in the downtown core.
'It was all crazy!'
And then came Friday. In the square, numbers swelled to hundreds of thousands, and clashes with the police became violent. Adding to a growing sense of fear and confusion, the government imposed a last-minute curfew (that many didn't know about until it was already past curfew time), and a city-wide Internet and cellular phone blackout, a telling blow for a protest that spread its information through Facebook.
"It was all crazy!" says fellow teacher, Canadian Laurie Hergott, who was in the square at the time. "Things were on fire. Most of us didn't know there was a curfew, so had to try to find transport once it had already started. [There was] tear gas, water cannons, lots of fires, etc... and thousands of people trying to get home, but no way to do so."
On Saturday, says Hasabo, the people woke to find all the police protection, not just downtown, but all over the city, was gone. "Okay, let's be honest with you, I was afraid," admits Hasabo. With the police presence gone, and hundreds of thousands of men camped downtown in the square, looters swooped in to take advantage of unprotected homes.
"The first night of 'looting' was stressful for us," writes Hergott in an email about her experience. "There were so many rumours that apartments were being broken into by groups of looters, convicts had escaped the prison -- turned out to be false -- and lots and lots of gunfire."
That first day without the police, says Hasabo, is when people realized that if they wanted to protect their houses they were going to have to do it themselves, and so, armed with sticks, they went on the streets. And that, he says, is when the real revolution began.
Spontaneous safety groups spring up
"We started just outside our own house. Having a stick in your hand, just to try to protect yourself, but then we started to meet other people around us." Neighbours who had never met began to talk, and groups of men with different religious beliefs, who wouldn't have spoken to each other before, formed alliances out of a common need for protection.
Hergott says that while she was afraid for the first night or two, watching the communities band together was "thoroughly amazing and inspiring. They formed groups in the streets on patrol, made blockades, and armed themselves with sticks, golf clubs and whatever they could find to fight anyone off. They took shifts so that there were always enough people. When anyone comes on foot or in a car, they check their ID, and search the car before they can pass -- it has been one of the most effective things I have seen in Egypt! There is a real sense of camaraderie on the streets."
When police abandoned their posts in Cairo, rather than exploding into chaos (as may have been the intention), Egyptians formed a stronger commitment to their common goal of having a democratic voice. In fact, according to Hasabo, it is because of these neighbourhood groups -- or public regans -- that the protests can continue.
"After a couple of days when the cell phone and Internet started to work again, people started to organize themselves in teams... those that would stay home and protect the people, and those who would go the Tahrir square to protest." Hasabo takes eight-hour rotated shifts with other members of his community, every day. Without the peace-keeping cooperation of the people outside the square, the pressure to stay home and protect their families and homes would have kept a vast amount of men out of the visible protests, and Hasabo asserts that the revolution would have ended.
'Safer now than ever'
Although it sometimes seemed on the news that foreigners were being targeted for attack, Hasabo says he thinks they were just in the wrong place at the wrong time. He says he is sorry that people have been hurt, but that on those days when "Egyptian people are fighting each other, and throwing rocks" even he wouldn't go downtown, not even to watch. In fact, rather than being targets of violence, Hasabo's experience is that many of the ex-pats feel safer in the city than ever before.
Hasabo's neighborhood, Maadi, is wealthy with a high percentage of foreigners. He says that over the past week, many of the residents have come up to personally thank him and express their amazement at having their fellow Egyptian neighbours rotate in 24-hour shifts to protect them.
Ms. Hergott concurs: "I feel safer in Maadi now than I ever have. People are friendlier, and -- as an ex-pat -- many more locals are acknowledging my existence and talking to me! They seem proud of their people, and are taking ownership for their country. They know that without the men protecting the neighbourhood, the others can't be protesting in Tahrir square day and night. They have a sense of purpose I have never seen before, and even my Egyptian friends verbalize this."
Over the weekend, things had quieted down on the streets of Cairo, and men who previously didn't interact spent their nights in the streets watching movies and playing soccer together. Food and water shortages had stopped, and the only gunfire was that of the army signaling each other. On Saturday the curfew was relaxed. The residents hadn't left their posts, but there was a sense that it was time to get back to their lives, and give the government a chance to stand by its promises of change. Hasabo believes that while some people want Mubarak to leave right away, most of his friends and neighbours feel that it would be better if he stays for the next four months to ensure a peaceful transition.
"I think that Egyptians now see that there is really a big difference from before the protest and after the protest. When the president gave his speech [saying he would not re-elect himself], it was not only Egyptians who heard that speech, but the whole world. So he gave his word not only for Egyptians, but also for the whole world. Everyone heard him, and I don't think he will go back on what he said, because I also think he now knows that the people of Egypt can do this again, but next time we can be bigger."
After the 25th
As a sign of how much things have already changed, both Hasabo and Hergott are willing to have their names linked to this article without fear of retribution. Hasabo also says that while images in Tahrir square show signs of conflict, his neighbourhood is almost back to normal. Businesses and shops are open, and many people are back to work (although his school is still closed). He says that the police and army have stepped back in to protect the streets, and he is getting some sleep for the first time in weeks.
"Before Jan. 25 democracy was not thought of in the same was as after Jan. 25," says Hasabo, who thinks that prior to the protest many people were just too busy trying to support their families, and fighting over differences between themselves to think about politics. "I think now we will be totally a democratic country, because the people who went to Tahrir square really made a difference. Now we know we can say what we want in public and nothing is going to happen."
It is obvious from the ongoing protests in Cairo that not everyone shares Hasabo's opinion. Facebook posts calling for the largest protest to date on Friday with a march to the president's palace have Hasabo and his neighbours on edge. "We are just waiting to see what will happen. It could be fake. We don't know who is posting. We don't know who will show up. But this is a country of 80 million people. It would be better to let the change happen slowly." This division, between those who want a "peaceful transition" and those who want immediate change, may ultimately have fatal repercussions within the cause.
With or without the immediate dismissal of Mubarak, the Egyptian people have transformed their political climate. They have proven that they are ready to stand together for their right to be heard, and won't be afraid to speak out again if need be.
In order to continue to fight for that voice, people with different views on how to pursue reform are going to have to continue to work together, lest Cairo descend into chaos.