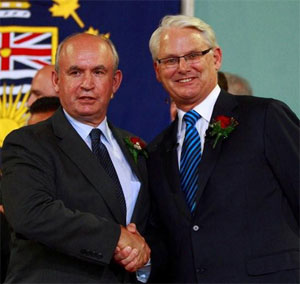 Fired British Columbia cabinet minister Bill Bennett compared Premier Gordon Campbell to a wife beater who intimidates his cabinet and caucus.
"You have almost a battered wife syndrome inside our caucus today, inside our cabinet," Bennett told reporters in a 37-minute scrum in Victoria, where he came after leaving the Vancouver cabinet meeting.
"I'm tired of the bullshit that goes on in politics and I'm really tired of the way Gordon Campbell thinks he can just run on people," Bennett said. "He can run on me, I'm a tough guy, I can take it, but I've seen him do it to other people in our caucus."
Women in particular have found Campbell's aggressiveness hard to tolerate, he said. "There's Christy Clark, there's Carole Taylor, there's Olga Illich," he said. "Three outstanding, intelligent women who should be here right now. They should be here serving British Columbians. They've got so much capacity."
Asked why they left the BC Liberal government, he said, "They're not here because of Premier Campbell. That's why they're not here."
He later added, "He's not a nice man. He's not a nice man."
Non-partisan proposal angered Campbell
Bennett said he didn't want to talk for other cabinet ministers or Liberal caucus members, but shared a couple of his own experiences, including one where Campbell spat in his face.
"He's been a magician at holding this caucus together all these years," Bennett said. "The problem with how he's held it together is he intimidates people."
Before he was in cabinet, Bennett floated an idea to start an outdoor caucus. "I'm an outdoor guy, I'm a rural guy. I hunt and I fish and I like to work with those people around the province. I think they get ignored a lot," he said.
The idea was to make it non-partisan, much like a similar federal caucus. "I not only got shut down, he was abusive in his response, especially in terms of me wanting to make it a non-partisan effort," he said. "He did his usual bully thing and that was the end of it."
Bennett got up in the legislature the next day and announced the new caucus anyway. "I didn't get back into cabinet for a year, year and a half," he said. "Those are the things that go on that you never hear about." Bennett told another story about being at a caucus retreat not long after he was first elected in 2001.
"We'd had our first caucus retreat and it seemed a bit lame to me," he said. "I thought there would be more opportunities for MLAs to contribute."
Bennett shared his thoughts with colleagues. "I made the mistake, I guess, of once again telling what I think is the truth. I said it to a couple of my colleagues and apparently they ran over and told the premier."
The meeting included a fundraiser held on former MLA Dave Chutter's ranch in Merritt. Campbell's assistant invited Bennett outside to meet with Campbell, Bennett said.
"[Campbell] took me behind the barn and he was outraged at me that I would have the temerity to actually criticize something that he had a hand in," he said. "I didn't mean my criticism to be disrespectful. I thought he truly wanted to hear from MLAs. He says he does, he'll tell you he does."
Premier spat on him behind barn
"He took me behind the barn and started to shout at me and got right up in my face and he was so upset that spittle came out of his mouth and got on my face," Bennett said, wiping the side of his face with his hand as he recounted the story. "I'm actually the sort of guy you shouldn't do that to."
He said, "I was just amazed, here he is the premier of the province and he's spitting on me."
He described driving back to Cranbrook following the meeting. "I was in shock. I just couldn't believe it."
Bennett said Campbell has treated many other Liberal MLAs in similar ways. "He's got a history of intimidating people over the years. People are not likely going to want to admit that, but I can tell you that he has. Many, many, many people have been intimidated.
"He is a very smart politician. I have seen him angry on many, many, many occasions. Sometimes it's in private, sometimes it's in caucus, sometimes it's in cabinet. There's a lot of pressure on him. We all lose our cool. I've lost my cool."
Bennett said he'd seen Premier Campbell reduce many of his colleagues to tears.
"I think I'm just the first person that's going to come forward," he said. "I think once the stories start to come out there are going to be more and more people who are going to step forward."
He added that he disagrees with how Campbell leads the party. "I think there's different styles of leadership and I think you should inspire people, not scare people," he said. "I think you're all aware he is a very, very intimidating human being and does have a temper. He does speak disrespectfully to people in caucus. I've seen him do it dozens and dozens of time. He's certainly done it to me."
Bennett not a team player: Hansen
Finance Minister Colin Hansen left the Vancouver cabinet meeting this morning to announce Bennett had been asked to leave the cabinet.
"There's important precedent that says that the cabinet has to operate as a team," CKNW quoted him saying. "It was obvious that Bill Bennett was not prepared to work as a member of that team and so cabinet as a whole made a decision that they would ask him to leave cabinet and he agreed."
Bennett had publicly criticized Premier Gordon Campbell for failing to consult with the Liberal caucus before the Oct. 25th cabinet shuffle and has been widely quoted in recent days saying Campbell should leave as soon as possible to make the leadership campaign less awkward for potential candidates.
"My cabinet colleagues didn't force me out," said Bennett. "I was fired by Gordon Campbell, there's no doubt about that. He's the only one who has the authority to do that."
Bennett said he'd been accused of breaking cabinet confidentiality and the "no surprises" rule where ministers are expected to warn their colleagues before speaking out on issues. He said he didn't believe he'd broken confidentiality, but had surprised his colleagues.
"I think that when I spoke out saying that Premier Campbell should go sooner than later that surprised some of my colleagues, so I broke that rule, that no surprises rule," he said. "I knew when I started to speak out three weeks ago it was a big risk for me, I might lose my job."
Bennett said he still believes he did the right thing. "To me no job is worth your self respect," he said. "To me it's more important to tell the truth than anything else. Being a politician for the past 10 years has been a challenge for me because I've always had a tendency to want to say what I think and what I think the truth is.
"I've been doing that lately and the system just won't put up with it so I'm once again a private member."
Libs lost their way under Campbell
The Liberal government has made some major missteps since the 2009 election, he said.
"I would kill the HST if it were up to me," he said. "I think it was good policy. We all voted for it. We all were in on it. Me as much as anybody else. Blair Lekstrom as much as anybody else. We all supported it."
However, he added, the government should respond to the public and back off on it, perhaps to try again more carefully in the future. "The people really don't like it and we brought it in in a very, very bad way."
He also called on the premier to reverse the 15 per cent income tax cut he announced on Oct. 27. As it happens, the premier announced a few hours after Bennett's scrum that the cabinet had decided to cancel the tax cut.
"The tax cut that was just announced was a desperate attempt to retain support by Premier Campbell and I think we should think about that one as well," he said. The province can't afford it right now, he said, adding the resource ministries are already starved for funding.
"You can't get your work done in any of the resource ministries," he said. Fighting child poverty and raising the minimum wage should also have been higher priorities than the tax cut.
Bennett criticized the Oct. 25 cabinet shuffle that reorganized the government as well. "It was very poorly thought out," he said. "In fact I don't think there was much thought given to it."
The changes were designed in secret, he said. "The two deputies who were in charge of that were actually told by the premier's office not to tell anybody about the work they were doing for eight months prior to this announcement and in particular they were told not to tell ministers.
"What kind of government is that? You don't talk to stakeholders? You don't talk to people whose lives are going to be impacted by that? You don't even talk to the elected people who are in charge of leading those ministries?"
He added, "It's just not the right way to do government."
The party's 'going down the toilet'
Campbell has been a good premier, but it's time for him to go, Bennett said.
"Here we have a party that's done a pretty good job in this province and it's going down the toilet," he said. "If we don't renew soon, if we don't have a fresh start, I fear the party's going to go the same way the Social Credit party went."
Bennett said he hopes that Campbell leaves soon and the Liberal Party can be renewed. "It is the coalition party. It is the only chance we have to keep the NDP from being elected if one thinks that's a good idea, and I do."
He said former finance minister Carole Taylor is his first choice to replace Campbell. "I think George Abbott and Kevin Falcon are both very, very capable people," he added. "I'm sure they're both going to give it a run. They haven't said so, so maybe they won't, but I think they will."
Bennett remained a member of the Liberal caucus, though he expressed doubts about whether he would be allowed to stay. "They're probably going to ask me not to sit in caucus as well, I would think. We'll see."
His priority remains to represent people in Kootenay East as their MLA, he said.
"I certainly recognized there was a big risk in telling the truth," he said. "You're not encouraged to do that in this business and sometimes you folks in the media are a little bit complicit in not encouraging political people to tell the truth."
Bennett acknowledged some of his colleagues are upset with him. "Loyalty and trust are very important values, but telling the truth is the most important thing and that's what I've been doing," he said. "I'd had enough of the way Premier Campbell runs his shop. It's disrespectful to the people inside, it's disrespectful to the people of the province. It is time that he goes."
Campbell's press secretary failed to respond to The Tyee's messages. Other media quoted Campbell saying you don't hold a coalition together for so long by being a bully, but by respectfully listening to people's opinions.
Natural Resource Operations Minister Steve Thomson takes on Bennett's Energy responsibilities.