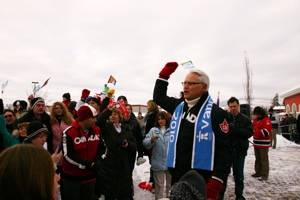 A mammoth shale gas processing plant is lumbering ahead in northeastern B.C., but a proposal to implement carbon capture and storage (CCS) at the site appears dead in its tracks.
The province's effort to curb greenhouse gas emissions is on course to suffer a 2.17 megatonne-per-year setback, after an environmental assessment (EA) certificate was approved for the $800-million Cabin Gas Plant last Thursday (Jan. 28). The green light to the EnCana-led project signals the onset of a shale gas boom in the million-acre Horn River Basin north of Fort Nelson.
Despite the scale of development, the carbon-intensive activity around natural gas is "actually a bridging technology that allows us to move to the new cleaner energies," Premier Gordon Campbell explained. He and Energy Minister Blair Lekstrom were in Tumbler Ridge on Sunday, January 31, during the Olympic torch's day-long visit to the oil and gas-friendly Peace River region. "It helps us in B.C., but it helps the whole Western corridor substantially," added Campbell.
EnCana's EA application indicates that when operating at full processing capacity of 800 million cubic feet per day, the plant would produce 2.17 million tonnes of greenhouse gases per year -- equivalent to a 3.27 per cent increase to B.C. emissions since 2006. That emissions increase doesn't square with the province's mandate to cut emissions by 33 per cent below 2007 levels by ten years from now. Without CCS in place, the interim reduction target of six per cent below 2007 levels by 2012 becomes significantly harder to meet.
"We have not moved off of our targets," said Campbell. "These are always challenging decisions to make; the important thing is there's nothing that's changed about our goals to reduce our greenhouse gases. Yes, this puts additional pressure in other areas, but it generates potentially some real benefits for the Western economies, not just in British Columbia but all over North America."
Venting gas the only option: EnCana
The mostly-uninhabited Horn River Basin covers a vast corner of northeastern B.C., beginning 40 kilometres north of Fort Nelson and stretching up to the Northwest Territories, and has anywhere from 250 trillion to 1,000 trillion cubic feet (Tcf) of gas in place, making it one of the top shale gas reserves in North America. It's also become a huge economic driver for the province: in 2008, more than 41 per cent of the record $2.66 billion in oil and gas rights revenue earned by the province came from Horn River Basin bids.
With CCS in place, the plant's total emissions at full production levels could drop 73 per cent to 594,000 tonnes of greenhouse gases per year. It's an argument the Pembina Institute made during the application's public comment period in July 2009. EnCana's response letter the following month said the meeting that level of emissions control "would effect an undue burden on new development."
"The only current economically and technically viable plan is to vent the process carbon dioxide in accordance with existing regulations," wrote EnCana environment regulatory and external relations lead Darcy Janko last August. The CCS option began sliding off the table as far back as April 2009, when a public consultation cast doubt on the possibility of CCS, as first reported in The Tyee.
While EnCana and the EA office agree that emissions from the plant are a significant environmental impact, Pembina's suggestions on expanding the scope of the assessment to include upstream and end-user emissions were rejected.
"The conclusion was that 'yes, there's a significant effect, but let's go ahead and do it anyways'," said Matt Horne, Pembina's director for B.C. energy solutions. "EnCana's working within the regulations that are there for the province -- in this case, there's a significant impact, but there aren't the regulations to stop it."
'Strengthen carbon tax' to apply to plant: Pembina
After the province's EA office gave the green light to the application on Dec. 14, 2009, Lekstrom and Environment Minister Barry Penner used most of their allotted 45-day consideration period before approving the application. The EA process allows for a project's downstream greenhouse gas emissions to be considered within the scope of an assessment, but didn't in this case, said Lekstrom.
"Sometimes when people look and say 'maybe it isn't as in depth as it should be', I'm not sure they know the full capacity of what this office does," Lekstrom said. "If I can get the questions answered that I need, and I have a comfort level based on all the information and the due diligence that's been completed, that's when I sign."
The Cabin plant's EA certificate dictates the plant's emissions will come under the Western Climate Initiative (WCI) cap-and-trade program set to begin 2012, but it's mute on any CCS requirements. Coal-fired power plants in B.C. require a commitment to zero-emissions technology before a permit can be issued, and a similar requirement for gas processing plants would be a good step, said Horne.
"I don't think it's responsible to approve that project on the hope that there's a solution down the road. I think we need those policies in place before going forward with the project," said Horne. "We could wait for the Western Climate Initiative, but an easier fix that B.C. could take immediately would be strengthening the carbon tax to include those emissions."
But questions remain as to whether the BC Liberal government will commit to incurring extra costs on an industry that's largely been lured to the province through generous subsidies and corporate breaks on royalties.
Carbon sequestration working in other plants
While EnCana, Campbell, and Lekstrom each emphasize the Cabin Gas Plant will be "capture-ready" should CCS prove cheaper in the future, Spectra Energy is already planning to retrofit their Fort Nelson gas plant (an emitter of 2 million tonnes of carbon dioxide each year) with a CCS system. Other Spectra gas plants in B.C. have been reducing emissions with CCS for nearly 20 years.
Until EnCana's split last September into two separate entities (EnCana GasCo and Cenovus Energy), the company's reply to emissions concerns has been to point out the much-heralded Weyburn Enhanced Oil Recovery (EOR) plant in Saskatchewan. That facility sequesters roughly the same amount of annual emissions that would be produced at the fully-operational Cabin Gas Plant. But the carbon sequestration carried out at the tired oilfields of Weyburn is undermined by the resultant squeezing of more oil from dormant wells, ultimately producing as much downstream emissions as what was initially locked away.
EnCana has emphasized the Cabin Gas Plant could "contribute to a net overall reduction in GHG emissions on a continental scale", due to the "probable replacements in downstream markets of higher carbon fuels by some component of the natural gas deliveries from the project."
Fort Nelson Chief opposed
It's an argument that likely won't hold water with Fort Nelson First Nation (FNFN) chief Kathie Dickie, who panned the plant in a Dec. 2009 Vancouver Sun opinion piece and was among the first to criticize the EA approval.
"The premier has made some really flowery statements about protecting the environment and cutting greenhouse gas emissions, as well as respecting aboriginal rights and title, and the decision being made as it is just flies in the face of all that," Dickie told Energeticity.com.
The carbon dioxide implications get larger when considering the end uses of the gas. The initial volumes of gas produced daily at the plant would add up to 7.9 million tonnes of emissions each year when combusted. At full production, that downstream emissions rise to nearly 16 million tonnes -- nearly 25 per cent of B.C. emissions, based on a 2007 baseline. Much of the gas will be exported to the United States.
The plant is being proposed by an EnCana-led consortium of several companies, collectively called the Horn River Basin Shale Gas Producers Group (HRPG).
If the plant receives regulatory permits from the Oil and Gas Commission as expected, construction could begin in spring 2010.