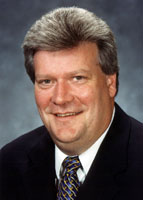 Housing and Social Development Minister Rich Coleman introduced legislation today that will allow police to force homeless people to go to shelters during extreme weather.
"This act will give police a tool to say, 'You have to go to the shelter,'" said Coleman. Once offered a bed and a meal, most people will choose to stay, he said. "We just think we need the tool to get them there."
Police officers are to give people they deem at risk a choice between going to an emergency shelter or finding other accommodation on their own, the Assistance to Shelter Act says. "If a person at risk refuses to comply with or fails to respond to the police officer's request [to go to a shelter], the police officer, using reasonable force if necessary, may transport the person at risk to an emergency shelter."
It defines a "person at risk" as someone who is at least 19 years old who "in the opinion of the police officer is suffering physical harm or is at risk of suffering physical harm because of the extreme weather conditions."
The bill says the definition of "extreme weather" will follow the definitions cities are using in their Extreme Weather Response Plans, but the provincial cabinet can make regulations to adjust the definition.
Criteria in Vancouver include temperatures near zero with rainfall making it "difficult or impossible for homeless people to remain dry." Sleet, freezing rain, snow, high winds or temperatures below negative two degrees Celsius also count as extreme weather.
An earlier draft of the bill, The Tyee reported, would have allowed police to arrest people who refused to go to a shelter.
Law will prevent deaths: Coleman
Coleman described how police officers will be able to use the new authority today's bill will give them: "If you're on the street and you walk up to someone and you say, 'You know, it's 30 below zero and you're going to freeze out here.' And they say, 'I'm not going anywhere.' You say, 'Well actually there's a shelter and I have the authority to take you to the shelter.'"
He said the power is needed to avoid deaths like the one of the woman known as Tracey who died last winter in Vancouver after a candle in her makeshift tent started a fire.
"What the minister doesn't talk about is the 1,000 other people who were on the street in Vancouver that night who couldn't find shelter or where the shelters in fact wouldn't allow them to bring their few possessions with them or bring their pet with them," said Shane Simpson, the MLA for Vancouver-Hastings and the New Democratic Party's critic for housing and social development.
The legislation is silent on whether police will transport people's dogs, shopping carts or other possessions, he said.
"I think what we need to do is create opportunities and encouragement to get people off the street in extreme weather," he said. "Nobody wants people on the streets in extreme weather. But I don't think you do that in a heavy-handed fashion."
Housing strategy needed: Coleman
Forcing people to go to shelters is unlikely to be successful, Simpson said. "If there is somebody who is reluctant to go to a shelter, and the police use 'reasonable force' and take them to a shelter, what's the possibility they're going to stay there?"
Many people have reasons for avoiding shelters, he said. "They may have had bad experiences with shelters," he said. Perhaps they couldn't bring their belongings in with them, or they felt unsafe, he said.
"If the minister actually wanted to do something he would supply the resources and work more closely to develop additional barrier free shelters and to tell us what the housing strategy is to get 2,000 people off the street in Vancouver who are living homeless today in the city."
Police may already apprehend people under the Mental Health Act, said Simpson. They have a tool to get someone off the street if they are deemed to have a mental illness and be a risk to themselves or others.
The Assistance to Shelter Act fails to say how it will work with the Mental Health Act, but Simpson said he could imagine them working in tandem. "Is the implication here that if you agree to come to the shelter then you must be of sound mind?" he asked.
Coleman seems to be telling people who refuse shelter they're likely to find themselves considered mentally ill, said Simpson. "If you're opposed to coming to the shelter in extreme weather, then you must have a mental health issue so I'll use this other piece of legislation to take action."
Charter challenge inevitable: BCCLA
The bill is outrageous, said B.C. Civil Liberties Association executive director David Eby. "The idea of police forcing anyone to report to the nearest homeless shelter is concerning to us to say the least."
He questioned the government's motives, saying the law will likely be used to remove visible homeless people from places visited by tourists during the Olympics.
"The idea the minister is concerned about people being outside in extreme weather is absurd," he said.
"There's no possible way this is about saving lives, because if it was about saving lives they would be opening shelter beds."
The BCCLA or another organization will challenge the Assistance to Shelter Act, he said. "It's inevitable there will be a charter challenge of this legislation."
Coleman acknowledged the bill may face a charter challenge in court. "Our advice is this one could be challenged and frankly I think that's healthy," he said. Canadians need to have a discussion about whether officials should be able to force people into shelter for their own protection, he said.
The bill comes to the legislature the day before the Olympic torch relay begins. Asked if it is part of a plan to sweep the streets of homeless people before and during the Olympic Games in Vancouver, Coleman said. "That always comes up but I'm going to tell you it's absolutely wrong... This has got nothing to do with the Olympics."
Simpson said he could understand why some people in Vancouver think the bill is aimed at cleaning up the streets before the games. Presenting a strategy to end homelessness would reduce that cynicism, he said. "This legislation meets the need of the minister to look like he's doing something, it doesn't meet the need of the homeless."