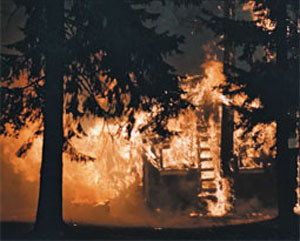 Deep into of one the worst fire seasons in British Columbia's recent history, dozens of local governments haven't prepared wildfire protection plans. And that's five years after a review recommended the province should require every community with a "high probability and consequence of fire in the interface zone" to have one. Some of the governments still lacking plans are in at-risk regions.
In extensive interviews conducted over the past six weeks, officials in those regions have said they don't have the money or staff needed to write those plans, which are partially funded by the province.
But Forests and Range Minister Pat Bell said if communities are having trouble bankrolling wildfire plans, it's not the province's responsibility.
Instead, he pointed to the Union of British Columbia Municipalities, which has been charged with handing out provincial funds to help with the task.
Meanwhile, as fingers are pointed back and forth, the province estimates it will spend six and a half times what it had budgeted in February to fight forest fires this season.
'Not enough hours in the day'
One of the places that doesn't have a protection plan is Fort St. James, a community of 4,757 people in the north-central Interior, on the shores of one of the province's largest natural lakes.
It's from there that fire chief Rob Bennett has watched the timber around his community "just go from green to red to red to gray" because of the mountain beetle, creating a fire hazard that could potentially put Fort St. James at risk.
That's why he wants to hire a consultant to prepare a protection plan that would recommend measures to reduce that risk, describing it as a "work in progress."
But applying to get the funding for that consultant is something that "has to be done off the corner of my desk. Unfortunately, there's just not enough hours in the day to get everything done."
Hope's fire chief Tom DeSorcy said the need for a protection plan in his community isn't as pressing. Although the reasons it doesn't have one are similar.
"It's just one of those things I'm doing off the corner of my desk and I only have so many corners," he said.
But even if it was at the top of his work pile, DeSorcy said Hope doesn't have the money or the staff to fund its portion of a plan.
How shared funding is supposed to work
Under the present system, the Union of British Columbia Municipalities will provide provincial dollars for up to 50 per cent of the cost of a plan, to a maximum of $15,000.
The rest of the money for the plan -- which usually has a total cost of $30,000 for municipalities and between $50,000 and $70,000 for regional districts -- has to be made up by the local government in cash or in-kind.
"I don't have the people. I'm the only paid person in the fire department. The rest of the fire department is volunteer," DeSorcy explained.
But the forests and range minister said last week if the Union of British Columbia Municipalities wants to help the "laggards" it could.
"There is no obligation for the BC Union of Municipalities to continue to fund under the model that they have now," Bell explained.
"If they choose to change the funding formula or the decision around that -- that would be their choice not ours. We don't have the ability to direct that at this point in time."
Bell wouldn't say, though, whether he thought such a change was necessary.
"As the funding authority who provided the money to UBCM in the first place, it wouldn't be appropriate for me to provide them with future direction," he said.
"If I did that, the auditor general would be saying that I would be interfering with the processes at UBCM."
Carrying out plans can be expensive
But funding concerns aren't the only reasons local governments haven't prepared protection plans.
Once such a plan is prepared, it needs to be acted on.
But officials have said they don't have the manpower or money to do that, especially for what is usually the costliest part of the plans -- fuel treatment, the thinning or clearing of wooded areas that, if left alone, could increase the chances or severity of a forest fire.
That's the case in the Columbia-Shuswap regional district, which is 30,180 square kilometres or about five times the size of Prince Edward Island.
Fire services coordinator Jack Blair explained, because of the district's size, "to even begin to implement that plan is possibly going to be hundreds of thousands of dollars."
"And, in a heavily wooded rural area to do that, it would tax the people to death. We just can't do that," he said, as he was driving past a fire just six kilometres away.
In fact, the forests and range minister estimated his hometown of Prince George has already "expended, I think, in the neighbourhood of $6 million already in reducing fuel loading."
"But they still have likely another $3, $4, $5 million to spend."
'Taxpayers up here don't have that money'
Some provincial and federal funding is available for protection projects. For example, the federal mountain pine beetle program will pay out $100,000 if the community picks up 25 per cent of the project's cost.
The province, through the Union of British Columbia Municipalities, will fund 50 per cent of the cost of fuel treatments -- or 75 per cent in a beetle-infested area.
"They're throwing money at it. But then they expect you, the taxpayer, to come up with the other half," Blair complained.
"And a lot of the taxpayers up here don't have that kind of money" -- especially since fuel treatments are an ongoing rather than a one-time expense, requiring local government to make sure wooded areas that have been thinned or cleared stay that way.
Another community that doesn't have that kind of money is the Fraser Valley Regional District, home to around 13,000 rural residents.
"We just don't have a population -- from a taxation point of view -- to bring that money in," said Lynn Orstad, its program manager.
Without that money "what happens is you've got people with their lovely binders. And they've got their lovely graphics. And they go, 'Look we've got a plan,'"
"And I smile and say, 'Yes, and?' 'We have a plan.' 'Yes, and?' And they get a glazed look and go, 'We hate you Orstad.'"
"It's not that we don't think it's important," she said. "But I'm caught between a rock and a hard place."
Some communities have tapped into provincial and federal economic stimulus programs to fund treatment projects without using local dollars.
Legal concerns voiced by local officials
But for those communities that can't cover the cost of those projects, there are legal concerns -- such as those raised by Brad Shirely.
He's the fire chief for the southern Interior town of Salmon Arm, where about 160 nearby residents were recently evacuated because of the Notch Hill fire.
"A number of us feel it might be a bit of a liability if you go ahead and get a plan done but then, if you don't do anything with it, are you liable?"
Forests and Range Minister Bell said the government has been "unable to find where any sort of legal precedent has been set that would place that liability back to the community."
In fact, the Union of British Columbia Municipalities distributed a legal opinion in June 2007 that said there was no liability in most cases.
But two years later, Hope fire chief DeSorcy and Columbia-Shuswap fire services coordinator Blair are still worried.
"What happens if we don't deal with these issues? What lawyer is going to have a field day in court if they realize, 'Didn't they tell you to fix this and you didn't?'" said DeSorcy.
"God forbid, you have a fire and you lose 10 houses," said Blair in separate interview. "Because the insurance companies are going to come back and say, 'Well, why didn't you implement the program? Because we're going to sue you now.'"
"So you've got this catch-22 situation. You're damned if you do, you're damned if you don't" -- or can't.
Over to you, UBCM: Bell
Despite passing responsibility for those plans onto local government, Bell maintained he believes "every community that has significant interface zones should have a wildfire protection plan in place -- there's no question about that in my mind. So I would like to encourage Salmon Arm and all of the other communities across the province to build those plans."
But doesn't it bother him that a community such as Salmon Arm doesn't have one?
"It would bother me if Prince George didn't have a wildfire protection plan because I live there," he joked.
"So I think what you're really asking is a constituent question. So I think that question is more appropriately asked of the people of Salmon Arm."