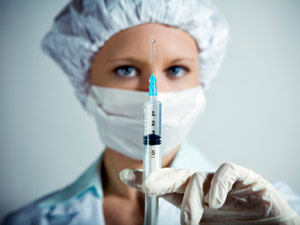 Late in July, the U.S. was busy setting priorities for who should get the scarce new swine flu vaccine when it becomes available this fall. One of the first groups will be, logically, healthcare workers.
The Public Heath Agency of Canada, however, has been more relaxed. With a guaranteed supply of vaccine, said chief public health officer Dr. David Butler-Jones, everyone will get a vaccination. So a Canadian priority list won't be needed until September.
No doubt we too will rank healthcare workers near the top of the list of those who should get the first shots. But many healthcare workers, Canadian and American alike, are likely to decline the opportunity.
Their reluctance to be vaccinated against influenza is far from new. It's been baffling health authorities everywhere for more than 20 years. The sudden arrival of swine flu last spring, and its likely return this fall, have only created a new battlefield in a kind of culture war between those who support vaccination and those who deeply distrust it.
Seasonal influenza kills 4,000 to 8,000 Canadians every year, but routine diseases don't raise much concern. So if doctors, nurses and hospital staff choose not to be vaccinated against seasonal flu, the public is rarely alarmed.
Achieving herd immunity
But perhaps we should be. To achieve "herd immunity," says one recent Australian study, vaccination rates should be at least 83 per cent. That is, the flu virus is unlikely to find an unvaccinated person in a population where four out of five have been vaccinated.
But recent reports suggest that at best only 60 per cent of Canadian doctors, nurses and staff get immunized against seasonal flu. In B.C., according to chief medical health officer Perry Kendall, only 40 per cent of healthcare workers are vaccinated. Since the 1980s, efforts to encourage healthcare professionals to get vaccinated have seen few results.
One ironic result is that the medical literature is now rich in research on healthcare workers' reluctance to follow a standard healthcare procedure. One survey of the literature found that easy access to free vaccine, and an in-hospital education program, tended to improve vaccination rates. But the survey also found a consistent, widespread misperception among healthcare workers about the risks of influenza and their own role in transmitting it to patients.
Another survey found only 42 per cent of U.S. healthcare workers were vaccinated in the 2005-06 flu season, and reported a number of reasons for the reluctance of nurses to get a flu shot. Some worried about the safety or efficacy of the vaccine. Others just believed they wouldn't get the flu, and didn't think about the risks that nurses, infected but with no symptoms, could pose to their patients. Many just didn't think flu was that serious.
Would bribes work?
The Australian study, published in January 2009, effectively refuted most reasons why healthcare workers don't get vaccinated. The study concluded that mandatory vaccination could be justified. But the legal problems would be horrendous and time-consuming. The best alternative, the Australians argue, is to offer "financial rewards, prizes, or public approbation." In other words, if logic won't work, maybe bribes will.
Here in B.C., the Hospital Employees' Union and the B.C. Nurses Union both officially endorse vaccination on a voluntary basis. In an interview with The Tyee, BCNU executive council member Margaret Dhillon said her union is doing a lot of planning for a return of H1N1, but vaccination has not been a major topic of discussion.
"We encourage members to be vaccinated," Dhillon said, "but it's up to them to accept or decline." She cited various reasons for declining: underlying health conditions, allergies, pregnancy, and doubts about the efficacy of the vaccine. The BCNU, she said, continues to educate its members about vaccination.
Similarly, the HEU encourages its members to get vaccinated, but its policy stops short of requiring them. In a 2004 newsletter, the union advised members who might have medical reasons for not getting the vaccine to submit proof of those reasons to their employer.
With a new vaccine being rushed into production, healthcare workers will have another reason not to accept it: It won't have been extensively tested. Health Canada doesn't see that as a problem: In effect, the swine flu vaccine will be just another lightly tweaked flu vaccine, with most of its components already known and predictable.
The vaccine skeptics
That won't reassure healthcare workers who already have their doubts about vaccines in general and flu vaccines in particular. And as the new vaccine rolls out, it's likely to encounter fierce opposition.
Vaccine skeptics march under different banners, and an article in Mother Jones listed some of them last year: Some distrust Big Medicine and prefer "natural" treatment of diseases. Some resent Big Government interference in their lives. Still others see Big Pharma as the villain, profiting from every scare about a new disease with yet another bogus cure. A few object on religious grounds. Advocates for autistic children and adults argue that vaccines trigger autism in some children.
The skeptics have already enjoyed some successes. They point to the swine flu of 1976, which killed one unlucky US Army recruit; the vaccine, given to 40 million Americans, seems to have helped trigger many cases of Guillain-Barré Syndrome, a sometimes fatal paralytic condition. In 1999, a mercury compound called thimerosal was removed from many vaccines thanks to pressure from the autism advocates.
But mercury compounds are evidently still in flu vaccines, according to the blog Age of Autism, and are therefore responsible for current cases of autism.
A Canadian site, Facing Autism in New Brunswick, recently cited a study suggesting that swine flu might change the genes of unborn babies, leaving them susceptible to autism and other disorders. It also raised the possibility that vaccinating pregnant mothers against H1N1 might also cause genetic damage to those babies.
Fears of Big Brother
Allied to the vaccine skeptics are various anti-government groups online like Prison Planet, which recently argued that swine flu will be used "as an excuse to implement martial law and a mandatory vaccination program."
If H1N1 does return in the fall, and our hospitals find their "surge capacity" sorely tested, the vaccine skeptics and their political allies will use the new vaccine as a target, doing their considerable best to discourage people from being vaccinated.
Scientists and medical experts will make their case for vaccination, but this is not a scientific debate to be won by hard facts and validated predictions. This is a culture war, in which victory goes to political clout.
In the hospitals and clinics, the clout seems to lie with the vaccine skeptics. As long as two or three out of five frontline medical workers decline to get vaccinated, and can go on working (away from influenza patients), the authorities can't do much about it. Even if they suspended such workers without pay, that would create an instant shortage of caregivers, just when they were most needed.
However long and intense the current pandemic may be, it will end eventually. But the culture war will go on.