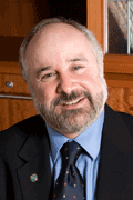 That a trust fund dedicated to northern development failed to publish its financial statements on time suggests possible political interference, says a Simon Fraser University business ethics professor.
"My sense is we do have a problem here," said Mark Wexler, who teaches at SFU. "Without a good explanation, the public is led to believe the Liberals have something to hide by putting it off until either just before the election when nothing can be put into the press or after."
"If they do deliver it one day before the election, that seems awfully convenient," Wexler added.
The BC Liberals founded the Northern Development Initiative Trust when they privatized B.C. Rail in 2004 to soften the blow to the already hurting northern interior of the province. The trust has received $185 million in taxpayer money, but Tyee columnist Will McMartin reported yesterday the directors failed to meet an April 30 deadline to publish their updated financial statements.
And, as McMartin reported, there is reason to believe the trust has lost tens of millions of dollars.
"If Campbell was in the opposition, I don't think he'd find it acceptable," said Wexler.
Release date 'could be Monday': Trust's CEO
But the NDIT's chief executive officer, Janine North, said the financial statements were submitted to the Auditor General's office on time and they will be published shortly with the annual report. Officials had to compile 300 project reports for the annual report, she said, and that took time.
"The legislation asks that we publish our report within four months and it will be done within a few days of that," she said. "I would say it could be next Monday. We'll post it as soon as we get it back."
The NDIT is free from political interference, she said. "We're not a partisan organization, so it's difficult to be pulled into that sort of rhetoric," she said, adding she did not believe The Tyee column was fair. "It's tough when you're doing your best."
Five of the NDIT's 13 board members were appointed by the Campbell government.
North described the board as including eight elected officials from central and northern B.C., as well as five business people. "They make their decisions very, very separately from government," she said. "I believe we're doing everything right to be a model for sustainable economic development for central and northern B.C."
Asked about how the trust's investments did in 2008, she said, "I don't think it's fair to say there's any money lost in investments." The portfolio fluctuates and the trust does not sell investments that are down, she said. It keeps enough money in cash and short-term bonds to meet its obligations for three years, she said.
Directors missed warning signs: Wexler
The fund has likely lost in the order of $25 million after directors shifted to a more risky investment approach, the Tyee's McMartin calculated.
Wexler said The Tyee's calculations looked about right. "They wouldn't have lost nearly as much had they maintained the portfolio they started with," he said. The directors kept a low-risk portfolio when the economy was relatively stable and moved it into higher-risk investments at a time when there were clear warning signs, he said. "Their acumen as businessmen is somewhat in question."
As community development minister in the B.C. Liberal government, Kamloops-South Thompson candidate Kevin Krueger is responsible for the trust. He did not return the Tyee's call by posting time.
Trust needed accountability fixes: NDP's Simpson
The NDP MLA for Cariboo North, Bob Simpson, said when the NDIT was first set up it seemed like "guilt-money" because of the B.C. Rail sale and was supposed to help ease hard feelings in rural areas. "There were no accountability mechanisms built into the trust at all," he said. "It was just a mess and there were no reporting out requirements at all."
Those mechanisms were added in 2006 under NDP pressure, he said, and he'd had the sense that the NDIT was gaining credibility as a funder of projects and an independent body.
It's surprising the annual report is late, he said. "I'm disappointed we have this situation and I'd like to hear Janine's explanation for it," he said. "That's unfortunate because it still gives people the impression, whether it's true or not, this is a guilt fund or a slush fund instead of being above political interference."
Related Tyee stories: