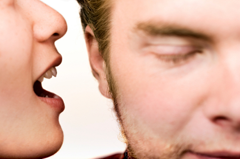 Officials with the provincial NDP and Liberal Parties are well aware that if they fail to vet their candidates thoroughly, their opponents will do it for them.
"My assumption is the Liberals have a team of people sequestered in some basement," said Jeff Fox, president of the NDP, talking about how he approaches checking out candidates.
With the election set for May 12, but not yet officially called, already the party's vetting processes are getting tested. Twice last week the Liberals raised old quotes to embarrass NDP candidates, and the Liberals earlier lost a candidate after details of his history emerged.
The NDP in particular had a reminder of the importance of background checks in the federal election when they lost three candidates, including Dana Larsen who was recorded on video driving while stoned.
Last week Mable Elmore was chosen as the NDP candidate for the provincial election in Vancouver-Kensington at a nomination meeting. The day after the meeting a five-year-old interview emerged where she referred to battling "vocal Zionists" in the bus drivers' union.
While there are those who will defend Elmore's use of the word, normally understood to refer to someone who believes Israel should exist as a Jewish state, NDP leader Carole James is not one of them.
"The party informed me this morning they had talked to our candidate and she's issued an apology," she said. "I'm satisfied with the apology. She should have known, yes. Were the comments offensive, yes." James added she was angry the apology wasn't issued sooner.
More substantial process
James being apparently blindsided by the issue raised questions about the NDP's vetting process. Asked how much confidence she had in the process, she said, "I'll be talking to the party about that."
There is a process in place, she said. "People talk about the kinds of things they've been involved in, the experience they've been involved in and you can talk to the party about other specifics." She believes the party does an Internet search for potentially embarrassing subjects, she said.
"Coming out of the federal election we understood we needed a more substantial process," said NDP president Fox.
Candidates fill out a long questionnaire covering things like where they live, what they own, their financial history and any potential criminal matters. "It's almost a small book," he said. The party then goes about verifying what the candidate has told them.
Liberals burned in Okanagan
The Liberal Party goes through a "pretty thorough" process too, said B.C. Liberal communications director Chad Peterson. People apply for a nomination and complete an "exhaustive" questionnaire before the party's election readiness committee can approve them.
The questionnaire looks at their personal and professional background, he said, "Just so we're all on the same page on where they come from."
The party did have one candidate, Joe Cardoso, whose candidacy in Okanagan-Similkameen was rescinded after it was discovered he'd written a letter to a newspaper that was critical of Liberal leader Gordon Campbell. He has since become the Conservative candidate in the constituency.
"He failed to disclose information that was pertinent on his candidate questionnaire," said Peterson.
"This candidate nomination process has been fairly smooth for us so far," he said. "I can say we hold our candidates to a very high calibre. That's something the public expects of us and something we expect of ourselves."
In the case of Elmore, the NDP's Fox said, the party should have addressed the issue ahead of the nomination meeting. "We were aware she had made comments, yes," he said. "We should have had greater sensitivity to that old quote."
Some people are offended by Elmore's use of the word "Zionist," he said. "It depends on the audience. Clearly there are some sensitivities attached to it or we wouldn't have had Monday [March 23] morning."
'You have no secrets'
"They vet you extremely," said Kathleen Stephany, the NDP candidate in Langley. "You have no secrets... They want to vet anything that could potentially be bad for you personally or for the party."
Stephany passed the vetting process, but that didn't inoculate her against attacks.
Liberal communications staff circulated an old Tyee story that included a quote Stephany denies having said. She claims the story incorrectly had her as saying she thinks abortions should not be paid for by the public. (The source of the quotes stands by them, the Tyee reported last week.)
"I have to admit I was really troubled by them shopping that story around," said Fox. "It was complete bullshit. They were attempting to discredit a sincere individual."
Stephany had acknowledged to the party that she had views on abortion that were not consistent with the party's position, he said, but her reasons for getting involved in politics do not include wanting to change abortion laws or funding.
"We are hoping to attract a diverse range of people," he said. That means people from many different walks of life, with a variety of views on various issues. "Quite frankly I'm damn proud of that."
The idea that every candidate has to mirror the leader is strange, he said. "I find that repugnant. If all we were interested in was attracting people who think exactly like us, I wouldn't vote for us. I mean, come on."
Related Tyee stories: