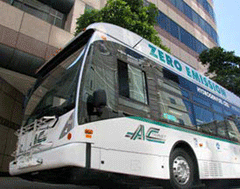 When Transportation Minister Kevin Falcon this week made the latest in a string of announcements about British Columbia's planned hydrogen highway, he billed it as part of a "zero-emission transportation solution."
While hydrogen vehicles may run cleaner than ones burning fossil fuels, they have a long, long way to go before they become as emission free as the minister asserts they'll be. And if the goal is cutting our greenhouse gas emissions and our contributions to global warming, say observers, there are many much more cost effective ways to do that.
Take the Dec. 10 announcement, for instance, where Falcon said parties had signed a six-year, $20 million deal for Air Liquide Canada Inc. to provide hydrogen to B.C. Transit. The transportation crown corporation is in the midst of buying 20 hydrogen-powered buses and is planning fueling stations in Langford outside Victoria and in Whistler, where the fleet will be used during the 2010 Winter Olympics.
As sources of hydrogen go, Air Liquide's is relatively clean. It uses electricity from the Quebec power grid, says company spokesperson Monica Bhattacharya, to run an electric current through water to separate the molecules into hydrogen and oxygen. Hydro dams supply most of Quebec's power, and Hydro Quebec's website says that in 2006 some 94 per cent of its electricity therefore came from renewable sources.
Shipped from Quebec
Whatever you think of flooding valleys and displacing First Nations folks, compared to Air Liquide's competitors whose hydrogen production depends on natural gas, coal-fired plants and nuclear fission, as Bhattacharya says, "It's a clean source of hydrogen."
The problem is getting it here. Air Liquide's hydrogen plant is in Bécancour, Quebec, across the St. Lawrence River from Trois-Rivières. It will be shipped to B.C. on trucks, says Bhattacharya.
The drive to Whistler, according to Google maps, is nearly 5,200 kilometres if drivers take the most direct route and pass through the United States. It's even longer if they stay in Canada.
Asked about greenhouse gas emissions from shipping the hydrogen, Bhattacharya says, "It was definitely a consideration. It's a temporary measure." Some time in the future the company hopes to have hydrogen made in B.C.
B.C. Transit's manager for the fuel cell project, Bruce Rothwell, says there are only four providers of hydrogen in North America and Air Liquide was the best choice. When asked if it will be shipped using hydrogen-powered trucks, he says, "Unfortunately we don't have any of those yet. Probably diesel powered trucks."
Still better than diesel
However, before entering the contract B.C. Transit did what are called "well-to-wheel" calculations, Rothwell says, looking at the total greenhouse gas emissions involved in getting either hydrogen buses or standard diesel buses on the road. The hydrogen buses do better.
To power a diesel bus, he says, generates the equivalent of 2,000 grams of carbon dioxide per kilometre. Using hydrogen, he says, even when it is shipped across the continent, emits 800 grams per kilometre. About 65 per cent of those emissions are from transporting the fuel.
"It's a 60 per cent reduction from diesel," he says.
That may be, says the David Suzuki Foundation's climate change specialist, Ian Bruce, but there are better options. Hybrid diesel-electric buses for instance, reduce greenhouse gas emissions by about 40 per cent, according to Translink's website, and they are much cheaper.
$4.5 million per bus
The province and B.C. Transit will spend $89 million for the 20 hydrogen buses. That works out to nearly $4.5 million per bus. Translink recently bought diesel-electric hybrids for $750,000 each, says Bruce. The province could have bought six of the hybrids for the price of one hydrogen bus. It would make more of a difference to buy the larger number of buses and improve the transit system, he says, which would get more people out of their cars.
"Part of our concern regarding hydrogen is the cost effectiveness of hydrogen at reducing greenhouse gas emissions," says Bruce. Between the buses, the filling stations and the hydrogen, the province is spending well over $100 million on this one project, and that doesn't include the large subsidies federal and provincial governments have already paid to research and develop the fuel cell technology. "We could be spending a lot of this money ramping up public transit so it's high quality, affordable and available."
Even once the filling stations are built, they are unlikely to find many users in the general public, he says. For one thing, personal hydrogen vehicles aren't yet on the market. When they get there, Bruce says, they will likely cost around $1 million each. That will come down, but, he says, "Hydrogen is a long ways from being commercially viable."
And for anyone who does buy a vehicle, there will be few places to fill it up. "Most people don't want to be restricted to just one station," he says. The infrastructure may catch up with the need, he adds, but not for many years. "This could be a solution in 30 years."
Practical options
Other clean options are much more practical and can be immediately adopted. Biodiesel is widely available today, says Bruce. Electric vehicles have some restriction on range, but plug-in gas-electric hybrids are expected to be available soon. "This could be really applicable for the majority of B.C.," he says. "Most people have access to electricity . . . It's a very practical solution. It's on the near-term horizon."
Money could also be spent on walking and biking infrastructure. Vancouver's Balaclava bike project, which will provide 19-blocks of connections to several existing routes is projected to cost $630,000. You could complete seven projects like Balaclava for the price of just one hydrogen bus.
"The government needs to be very careful as far as making the most efficient and effective investments of our public money into cost effective solutions to reduce greenhouse gases," says Bruce. "We shouldn't get distracted that hydrogen is going to be the solution . . . We could lose very precious time."
A bump for Ballard
While hydrogen may not be the answer to our climate problems, at least not yet, building the infrastructure does help a Vancouver company, Ballard Power Systems Inc. B.C. Transit's Rothwell confirms each of the 20 $4.5-million buses will have a fuel cell made by Ballard.
Ballard's stock price peaked at $160 in 2000. This week it is trading at around $4.85.
So while Transit Minister Falcon and Premier Gordon Campbell appear to believe in Ballard, a company that has donated to the B.C. Liberal Party, private investors lately have chosen not to bet on the company's success driving into a hydrogen-fueled future.
Related Tyee stories: