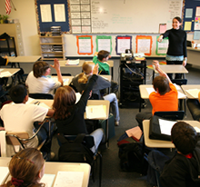 Too many secondary students have been squeezed into too few Vancouver classes, according to a study to be released this week by the Vancouver Secondary Teachers' Association. The report identified over 1,100 classes in which the total number of students, or the number of special-needs students, exceeds new provincial limits.
"Vancouver has the worst class size and composition in the province," said Anne Guthrie-Warman, vice-president of the union local. Preliminary surveys are finding a similar situation across the province.
The Vancouver study identified 402 secondary school classes with more than 30 students, the new limit established by the B.C. legislature earlier this year. Among the examples singled out by the teachers' union are a grade 12 physics class with 36 students and a calculus class with 37 students.
"Can you imagine how much marking and preparation that [calculus] teacher has to do to stay on top of an advanced placement class of that size?" asked Guthrie-Warman. "He hasn't got enough time to devote to his students individually. The wealthier students employ tutors. The rest are forced to make it on their own."
The teachers' association study also found 703 Vancouver classes with more than three special-needs students, another threshold established by the new law. These students require individual education plans (IEPs), and some demand more one-on-one attention than their peers. Among the examples noted by the teachers' union are a Grade 9 math class in which 12 of 31 students require individualized plans, and another in which nine of 32 students require the time-intensive plans.
In addition, the study found 92 classes that exceed both the 30-student size limit and the three-student composition limit. "That adds up to 1,197 classes in which teachers have less time to spend with students individually," Guthrie-Warman said.
Consultation versus consent
"We're not happy with the situation," replied Vancouver School Board chair Ken Denike. "But it's not a violation of the law. And I don't think it's the worst in the province."
Denike said that each and every teacher of an over-limit class had signed off on the additional student load, as required by the Education (Learning Enhancement) Amendment Act, which is better known as Bill 33. The May 2006 law permits schools to exceed class size and composition limits under certain circumstances. Teachers of Grades 4 to 7 must consent to the admission of additional students; teachers of Grades 8 to 12 must be "consulted" about expansion.
"In every instance," Denike said, "the teacher involved was consulted, as required by law."
Guthrie-Warman replied: "Consultation is only meaningful if the teacher and administrator can do something about the situation. Mostly, there's nothing they can do. So they squeeze in the students and hope for the best."
The teachers' union data, which was compiled by reviewing school district reports, presents a striking contrast between middle grades for which consent is required, and upper grades for which mere consultation is sufficient. According to Guthrie-Warman: "In Vancouver, there are no elementary classes with more than 30 students. None. Not one."
Vancouver school superintendent Chris Kelly refuted the suggestion that secondary school teachers were being unduly pressured. "They have every right to say no," Kelly said. "And if they say no, it's our responsibility as an administration to respond to that."
Kelly attributed the difference between primary and secondary class sizes to the complex nature of secondary school scheduling: whereas most primary school students spend their full day with one teacher, most secondary school students rotate from class to class throughout their school day.
Special-needs kids at issue
Guthrie-Warman said the secondary teachers will release their study this week, and will soon file a complaint under the grievance process provided for in their contracts. If the grievance does not yield a mutually acceptable resolution, the union's next option would be to take the issue to arbitration.
"We don't welcome that," superintendent Kelly said. "It can be a pretty estranging process. But in some cases both parties have to defer to an arbitrator."
Class size and composition were among the central issues that fuelled the contentious province-wide teachers' strike in October 2005.
Both sides already agree on one point: teachers and administrators are more concerned about the high ratio of students requiring individual education plans -- or so-called special-needs kids -- than the gross class size figures.
Guthrie-Warman cited, as an example, a metal fabrication class with 30 students, seven of whom require individualized plans. "This is a potentially dangerous situation," she said. "They are working with tools. That teacher is responsible for a class with serious health and safety issues."
"We do have a greater concentration of special-needs kids. Quite a few more. And those numbers are rising," Denike said. "We're checking in to some of the classes they [the teachers' union] are concerned about. We've got to give it a bit of play. We'll see what can be done, and what can't be done."
"We've got to transcend this debate about who's reaching the limit and who's not," Kelly said. "We need to spend the majority of time collectively...figuring out what we can do about it." The school superintendent said there are three options facing the overcrowded schools: shifting students to new teachers, adding supports such as teaching assistants, or, in extraordinary situations, hiring new teachers.
Bill 33 'a shell game'
Education Minister Shirley Bond did not respond to The Tyee's requests for comment.
A representative of the provincial Public Affairs Bureau did e-mail two news releases, both of which are seven months old. In one of those April 2006 releases, Bond said "...we are setting firm limits on class size and composition...while respecting local decision-making and ensuring that all education partners have a voice in improving students learning conditions."
The press releases from the spring also confirmed that, should all other measures fail to resolve a local school district's class-size problem, the province would appoint a special administrator, and that "the board may be dissolved and a trustee appointed to conduct the affairs of the school district."
MLA David Cubberley, the New Democratic Party's education critic, said the class-size problem is not limited to Vancouver. "The situation there reflects the numbers we're seeing across the province," Cubberley said, "In the 49 (of 60) districts for which we have data, more than 7,500 classrooms are above the cap of three special-needs kids. And more than 3,000 classrooms are above the 30-student limit."
Cubberley sympathized with the Vancouver district's pickle. "It's a bit of a shell game to say there's a cap then not have any kind of commitment to add resources where the cap is exceeded," Cubberley said. "That's the flaw in the bill."