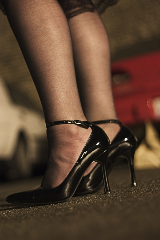 After running away from her sexually abusive stepfather and being evicted from where she was living, Christal Capostinsky was placed in a shelter in downtown Vancouver where she met women who introduced her to drugs and sex work. A few months later, at 19 years old, addicted to heroin and working in the sex trade, Capostinsky felt she had nowhere to turn.
"It was scary, very isolating, depressing," she said of the six years she spent working on the Vancouver streets. "I felt stranded - I had no family and friends down in Vancouver."
Now at 30, Capostinsky is back in her hometown of Prince George. She is a mother, a full time social work student and has recovered from her drug addiction, but she is still very connected to her old life on the streets.
Capostinsky is the founder of New Hope, an organization that provides practical support for women in what she calls "survival sex work."
She founded the organization last September after realizing that there are no resources exclusively for sex workers in the northern region.
"There are a lot of resources in the lower mainland, but not in the north, so we took the initiative to start something," said Capostinsky.
"It's a needed service in the community," said Si Transken, a social work professor at the University of Northern British Columbia. "Prince George has always been a travel-through location. It's a place where women come from small, outlying communities hoping for a better life."
Range of services
New Hope is a unique resource for sex workers as the focus is not on exiting the sex trade, but rather on providing practical support, such as food, clothing and harm reduction materials. They also hold skill-building workshops, refer patrons to health and legal services and advocate on their behalf.
"Women can't be pressuring into exiting. It doesn't work that way," Capostinsky explained. "You have to wait for them to come to you."
Instead, New Hope aims "to educate them and give them information so they can make healthier choices. If that means they continue to work, that's alright with us," she added.
The centre is currently open just four hours, one night a week, but Capostinsky plans to expand the hours in the future. "There is a huge need for it," she said, adding that they have seen over 40 women in the past six months. "They need a place where they can be themselves and not feel judged."
"They just want to feel accepted - they want their community to stop blaming them for all the social problems," she continued. "They want to clean up. They want to work. They want to be productive in society. They want to live a healthy life and it's really hard when you're continually oppressed."
Aboriginals at risk
Constable Gary Godwin from the Prince George RCMP estimates that about 100 women are sex workers on the Prince George streets. Almost all have drug addictions. This is one of the reasons Capostinsky refers to the trade as survival sex work.
"They are doing it for survival. They have no choice in the matter," she said. "When you're involved in drug use, you can't really cognitively make the decision to not work because you need money to get high."
Godwin also estimated that about 85 percent of the women are aboriginal, which Capostinsky attributes to continuing problems with colonization. "With aboriginal women, it's a cycle of abuse," said Capostinsky, who is also aboriginal.
Many of the women are also HIV-positive - a growing problem in Northern B.C., particularly among aboriginal people. "Right now there's an epidemic around hepatitis C and HIV especially with aboriginal women," said Capostinsky. She is HIV-positive, a result of sex work, and is currently employed as a Peer Support Worker for Positive Living North - the HIV prevention and support service in Prince George.
'Forced' decisions
Transken added that it's important to recognize the societal factors that force women into survival sex work. "When the provincial and federal governments abandoned vulnerable people by not providing adequate minimum wage, by not providing adequate housing, by not providing good health care…it forces them to make these kinds of decisions," she said.
Northern B.C. has gained notoriety for the "Highway of Tears," which runs from Prince George to Prince Rupert, where at least nine young women have died or disappeared since 1990.
Until February, 2006, New Hope was not receiving government funding, and the workshops, meals and necessities were funded through grants from other agencies. But since February, they've been receiving money from Status of Women Canada.
Capostinsky believes she is making a difference. She feels that as a former sex worker, she has the experiential perspective that allows her to connect with the women.
"It's made me stronger, it gave me the courage to help others," she said.
Carolynne Burkholder is a journalist in Prince George.