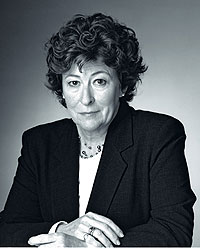 She told the U.S. to shut down its prison camp in Cuba. And she's being asked to make a bid to be the next leader of the Liberals, according to party insiders.
Former Canadian Supreme Court Justice Louise Arbour, head of the United Nations Commission on Human Rights, is seen to carry the iron-clad credibility the Liberals need in a post-Gomery world. Sources say a "Draft Arbour" campaign is in the exploratory stage and gaining momentum.
If Arbour does enter the contest, she would bring intellect and international experience to easily rival that of another "outsider" in the running: Michael Ignatieff. But Arbour would make a sharp contrast to Ignatieff, who has publicly backed the U.S. war in Iraq and even justified the use of "coercive interrogations".
Yesterday, Arbour's commission released a report strongly condemning the "arbitrary detention" in Guantanamo's prison of about 500 suspected terrorists. The way America captured and continues to keep prisoners violates international law, declares the report, with the U.S. government operating "as judge, prosecutor and defence counsel."
Arbour said she saw little alternative to shutting down the prison, and UN Secretary-General Kofi Annan backed her view, urging the camp be closed "as soon as possible."
The commission's 54-page report was prepared by five human rights experts investigating for 18 months. The authors conclude that Guantanamo's detainees should either be released or given a trial outside of the U.S. military tribunal system.
Noting that some detainees had been held for more than four years, the report slammed their treatment, including the use of excessive force, force-feeding during hunger strikes and other violations of mental and physical health.
The report was dismissed by White House spokesman Scott McClellan, who called it a "rehash" of criticism already leveled at the U.S., some of it from lawyers defending Guantanamo detainees. "We know that these are dangerous terrorists," said McClellan. "They are trained to provide false information."
From Montreal to The Hague
Born in Montreal and the mother of three, Arbour, 59, served as a chief prosecutor in The Hague, indicting then Yugoslavian President Slobodan Milosevic and a number of his deputies for war crimes. In 2004, she was appointed UN High Commissioner for Human Rights after her predecessor, Sergio Vieira de Mello, was killed in a bombing in Baghdad.
Those in the Liberal party trying to recruit Arbour to the leadership race view her as picking up where Lester Pearson and Pierre Trudeau left off: a former justice, now tough-minded international diplomat, helping Canada punch above its weight on the world stage. Arbour, they say, could extend a particularly Canadian vision of human rights internationally and refine Canada's role in foreign affairs beyond peacekeeping.
Beyond her gold plated profile on the world stage, Arbour is ideally suited to the task of restoring ethical credibility to the Liberal party, say her enthusiasts. She is a fresh face, free of the decades of deal making and politicking that enmeshed Jean Chretien and Paul Martin by the time they took the reins of the party.
But that same outsider status may hurt Arbour, who has no defined political base in the party, or across Canada, say sources. And it's not clear why the job would appeal to Arbour, given that the party is in debt by at least $5 million, while the Conservatives vow to expose further fiscal mismanagement in the gun registry and other programs in order to further hammer away at the Liberal party's credibility.
Arbour's fans among Liberals point to her stellar resume, including 27 honorary doctorates, and say she is comfortable, even charismatic, in the glare of the spotlight. In the works is a made-for-television movie Hunt For Justice, which tells the story of her quest to indict Bosnian war criminals.
David Beers is founding editor of The Tyee.