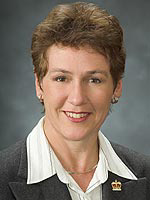 A tight race is shaping up in New Westminster-Coquitlam and Liberal candidate Joyce Murray says her party's latest poll shows her slightly ahead of NDP and Conservative candidates.
Murray, former BC Minister of Water, Land and Air Protection from 2001 to 2004, is running as a green candidate and champion of sustainability with endorsements and colleagues, but some environmental watchdogs say it's false branding, considering her record as environment minister for the BC Liberal Party.
Puzzling for Murray's critics is why some environmentalists are endorsing her now.
For example, Chris Rolfe, former executive director of West Coast Environmental Law endorses Murray on her site, saying:
Joyce Murray is genuinely committed to sustainability - integrating our environmental, social and economic aspirations. She understands the challenges of moving Canada toward sustainability…
But in the Royal City Record on Feb. 2, 2002, asked about the government's actions or lack thereof on pulp mill pollution, Rolfe says he awaits a response but is generally pessimistic.
"Unfortunately, it's one step in terms of many for environmental protection that are moving us back a couple of decades. We're kind of overwhelmed by the deregulation and emasculation of government. It's really quite appalling."
Life was hard
On Murray's page, other endorsements tend to say she was a good advocate for the environment in a government culture of "difficult circumstances", "fierce pressure" and "intense stress".
Murray herself says, "Those who worked with me know what I did and that's why they endorse me."
But Kathryn Molloy of the Sierra Club of Canada says Murray didn't fight hard enough.
"She was at the helm for the most regressive time of rollbacks for the environment in B.C. history," Molloy said in a phone interview.
Molloy gave Murray credit for conserving land in Burns Bog and the South Chilcotin Mountains during her tenure, but said these were extremely small victories compared to environmental protection regulations lost.
"Even that she was at the helm when they had the word environment stricken from the ministry says something," Molloy said. "We understand that she was in a hostile cabinet but we would have liked to see her stand up and be more gutsy."
'Without a peep of protest'
Gwen Barlee of the Wilderness Committee is even more scathing. "When she draws on her record to say she'd be a strong voice for the environment in Ottawa, she is most notable (in B.C. government) for being weak and ineffective," Barlee said in a phone interview.
"It (Murray's record from 2001-2004) was so egregious, if she had really been concerned, she should have resigned. Anyone with a backbone would have said I'm not doing any good here, it's an environmental wasteland."
According to Barlee, on Murray's watch, moratoriums on fish farming and the grizzly bear hunt were killed, regulations on pesticides and waste management were watered down, and 1,800 jobs were cut from the ministry, while the budget was reduced by over 30 percent.
Barlee adds Murray is stretching by claiming credit for driving the purchase of ecologically sensitive land in the Southern Gulf Islands, because money had already been set aside for it by the NDP, with the feds kicking in the rest.
"When you look at her record, it says she'll do whatever the party leader says and without a peep of protest," Barlee said. "Everywhere you look when she says she would be an effective champion; you look at her record, there is a chasm of difference."
Limiting the cuts
But Murray rejects the criticism calling it selective and politically motivated by people with provincial NDP ties.
"That is nonsense. I pushed forward a lot of things. I'm proud of what I did as environment minister," Murray said, adding Barlee is mistaken about the Southern Gulf Islands.
"The NDP signed a deal in 1995, and the whole deal was stalled…getting substantial investment in parks at a time we didn't have money to spend was significant, so she is wrong on that."
Murray also denies 1,800 jobs were cut, saying it was about 400, and while she is accused of standing back as forestry regulation was handed over for the companies to police themselves, she says she pioneered a new approach in forestry that freed her staff to be out in the field looking after forests instead of tied to desks monitoring things for forestry companies.
"We had a fiscal reality, and my goal was to find a way to be more effective with less budget," Murray said. "I was given a 35 percent budget cut and I went back repeatedly to the treasury to get it reduced to 24 percent."
Climate change champion?
However, when looking at Murray's environmental promises if elected to Ottawa, Barlee took issue with one especially.
On her website, Murray says she will be "advocating for the effective implementation of Canada's commitments to climate change," among other things.
Barlee said she doubts this claim, because the BC Liberals rejected the Kyoto Protocol with Murray at the helm of the environment portfolio.
Murray says it wasn't a flat rejection though.
"The BC government didn't reject it, we said it (climate change) is a problem. We said it is a concern. We weren't like Alberta; saying this is a non-issue and there is no science. But the federal government has to come up with a plan for the whole country to be implemented. We can't take actions that drive our businesses into Alberta."
Murray says we are now in a post-Kyoto era and new climate change solutions are necessary.
"I will accelerate our commitment for reducing greenhouse gases, but governments have been trying to sort out ways to do it with the least impact for economy," Murray said. "We have to have a workable international approach, with business and government and community groups hand in hand. Businesses are innovators. As environment minister, it was important for me to work constructively with companies that are out in front of the government."
Sam Cooper reports on politics for The Tyee.